Did you ever notice the care most of us take when organizing cabinets in a new home? Many of us spend hours adjusting dishes, cookware and food items, so they are just so. Over time, though, cabinets often become messy and disorganized. Some of that might be due to kids pushing things out of the way to grab what they need, and it could just as easily be adults doing that, too.
We can't lay the entire blame for disorganized cabinets on kids, spouses, roommates and others, though. Even those of us that live alone find cabinets quickly grow disorganized over days and weeks.
15 Products To Organize Your Cabinets
Consider these top-rated products to organize your cabinets and keep them that way. As always, the prices listed may fluctuate over time.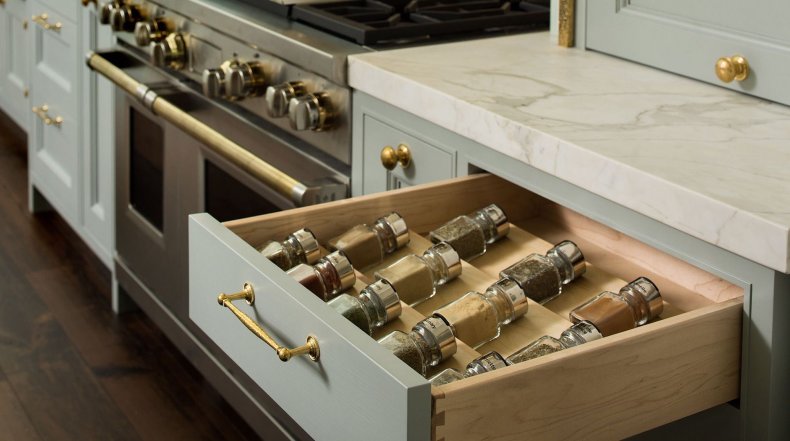 Spice organizers that are set on a counter or are housed in a pantry never seem to work for me. The ones set on counters take too much valuable space, and the ones in the pantry are sometimes forgotten. Rev-A-Shelf Adjustable Spice Jars Drawer Organizer solves that problem by turning any base cabinet drawer, under 24 inches, into a spice holder. You can drop the maple-colored insert into a drawer or use a table saw to trim it to your specifications. I had one and loved it. And I loved the ohhhs and ahhs guests gave me when they spotted it.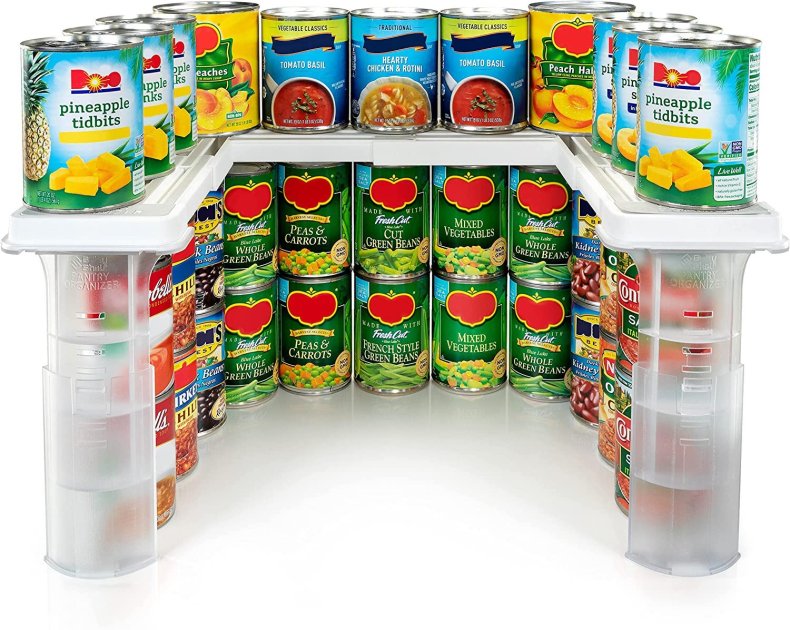 A well-organized kitchen pantry is perhaps the only thing better than a roomy one. Such a pantry not only looks great and allows you to find what you want quickly, but it offers enough space, so you don't have overloaded kitchen cabinets. Think of it as the trickle-down effect. The Spicy Shelf Pantry Organizer adjusts to the size you need, from 16 inches to 8 inches to 10 inches or 20 inches to 12 inches to 14 inches and holds up to 35 pounds of food. That means it fits your pantry and your lifestyle.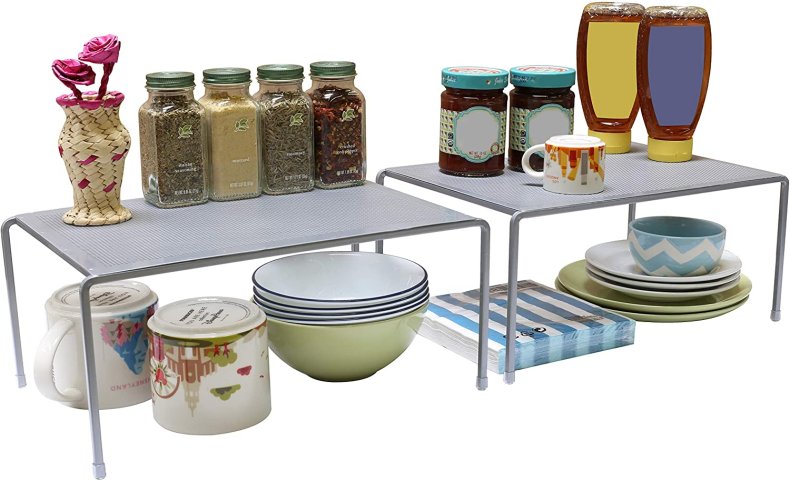 Yes, you can expand the space in your kitchen cabinets without tearing them down. The DecoBros Expandable Stackable Kitchen Cabinet Shelf Organizer is expandable. Buy a set of two in the size that best suits you. Choose the medium shelf that measures 12.5-inches to 8.5 inches to 5.75 inches or the large that measures 13.75 inches by 9.25 inches by 6.25 inches. Whichever you choose will give your kitchen organization a big boost.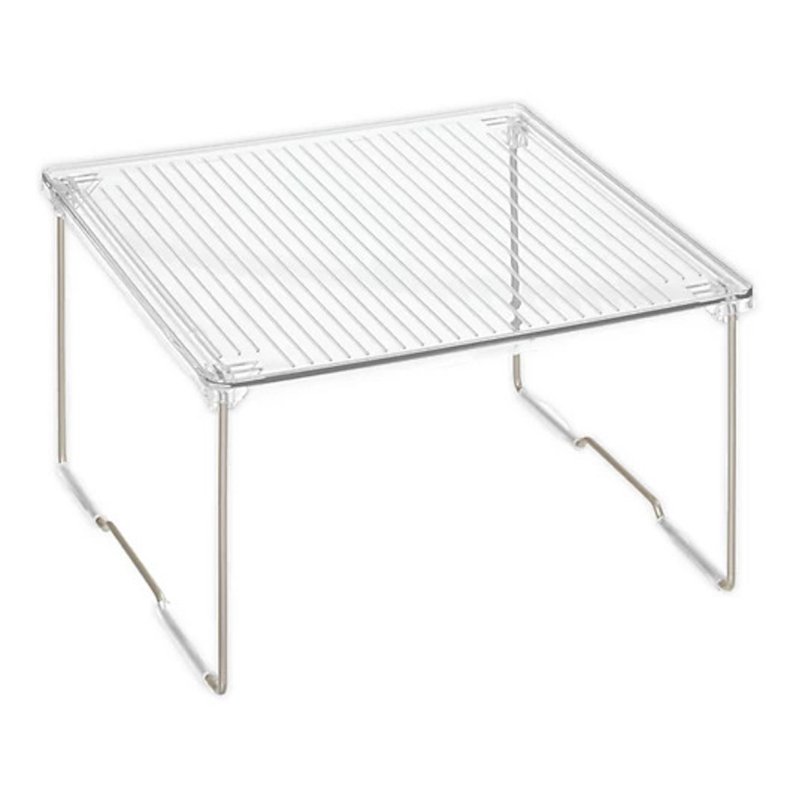 I got so tired of squatting down and peering into my under-sink cabinet to find a wayward sponge, scrubbing pad or another errant item. Of course, there was no solution. At least there wasn't until I found the iDesign Small Clear Undersink Shelf. I set the 11-inch by 11.4-inch by 7-inch stand on the floor of the under-sink shelf and easily stack items on top and underneath. It doubles my space and lets me see everything. The metal and plastic shelf has non-slip grips on the feet to keep it in place.
Buy at Bed Bath and Beyond for $9.74.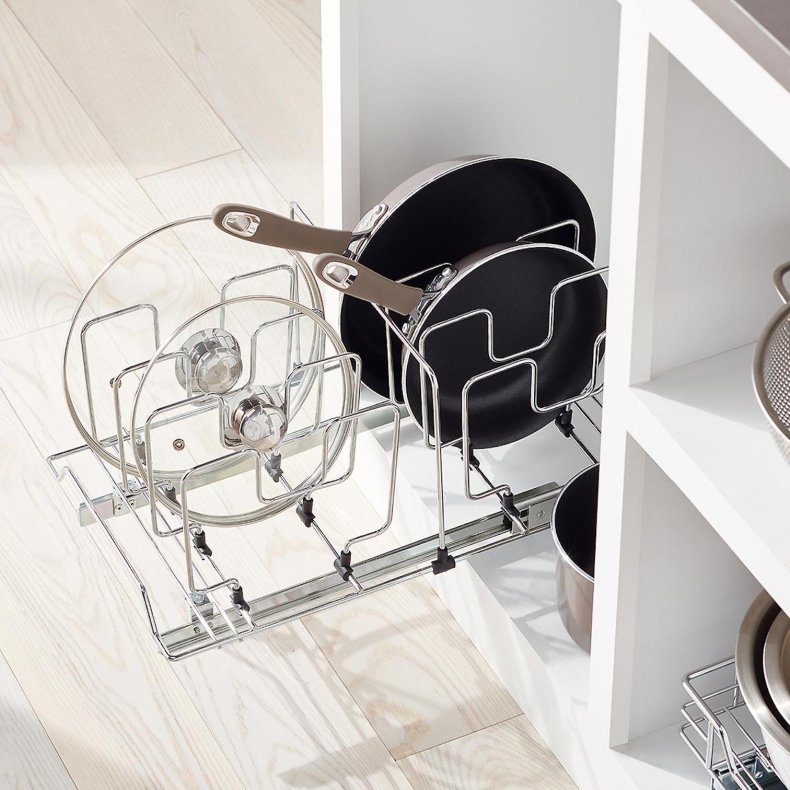 I'll fully admit that I was highly envious whenever I'd visit someone whose kitchen had roll-out organizers for cookware. The 11-inch by 21-inch by 11-inch Container Store Chrome Roll-Out Cookware Organizer makes it easy to organize any cabinet. It is crafted with chrome-plated, rust-resistant steel that holds up to 55 pounds. It also includes adjustable dividers and industrial ball bearing glides for smooth operation. Just follow the easy-to-install instructions to assemble the organizer, and your cookware will be rolling in no time.
Buy at The Container Store for $75.99.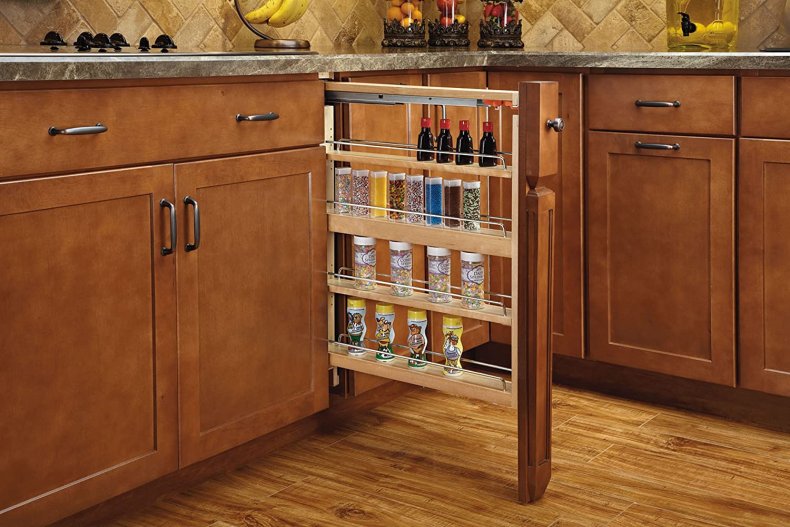 You won't have organized kitchen cabinets until installing a Rev-A-Shelf Pull-Out Between Cabinet Base Filler. You think that's a bold claim, but I had one when I lived in Washington, D.C., and it was genuinely game-changing (and yes, I'll get one in my new home soon, too). The wood cabinet filler is the perfect item to use extra space in your kitchen for practical and decorative purposes. We used our 6-inch by 23-inch by 30-inch filler for spices, but you can store Tabasco sauce, rubs and other condiments there. The full-extension cabinet and chrome rails ensure you can reach everything on the shelf without other pieces tumbling out. Make sure you read how to measure your space before ordering. They are available in different sizes.
Buy at Home Depot for $185.99.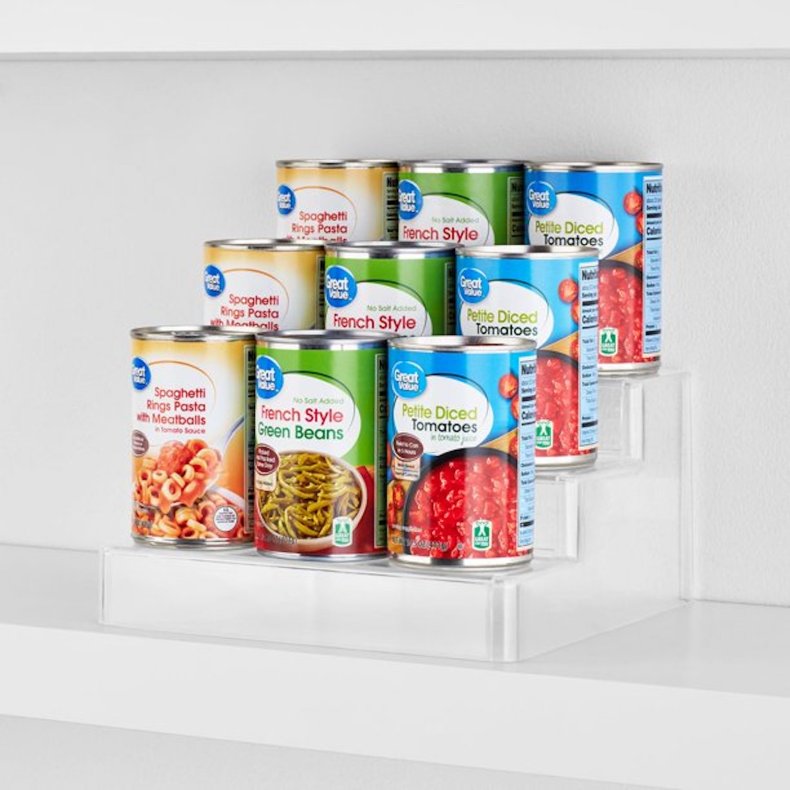 I never thought of using a Home Edit 3-Tier Riser until a friend mentioned it. Now that I have the two-pack of 9.57-inch by 9.57-inch by 5-inch risers, I can't imagine doing without them. The simple, stackable risers keep everything organized and in view. Put one on each cabinet shelf to keep all of your canned and bottled foods safe and in sight.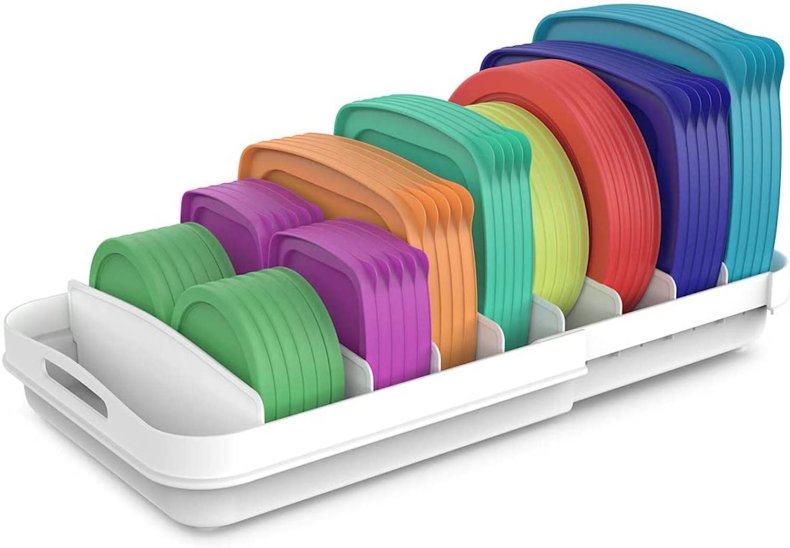 It's annoying to spend time hunting through a dark cabinet looking for the proper lid for a plastic container. Everie Extendable Food Container Lid Organizer rids your life of that hassle. The 10.6-inch by 3.7-inch organizer is adjustable from 13.4 inches to 20.5 inches and has 10 removable dividers. There is even a built-in handle so you can easily carry it where needed. Stop the struggle and organize your lids with this product.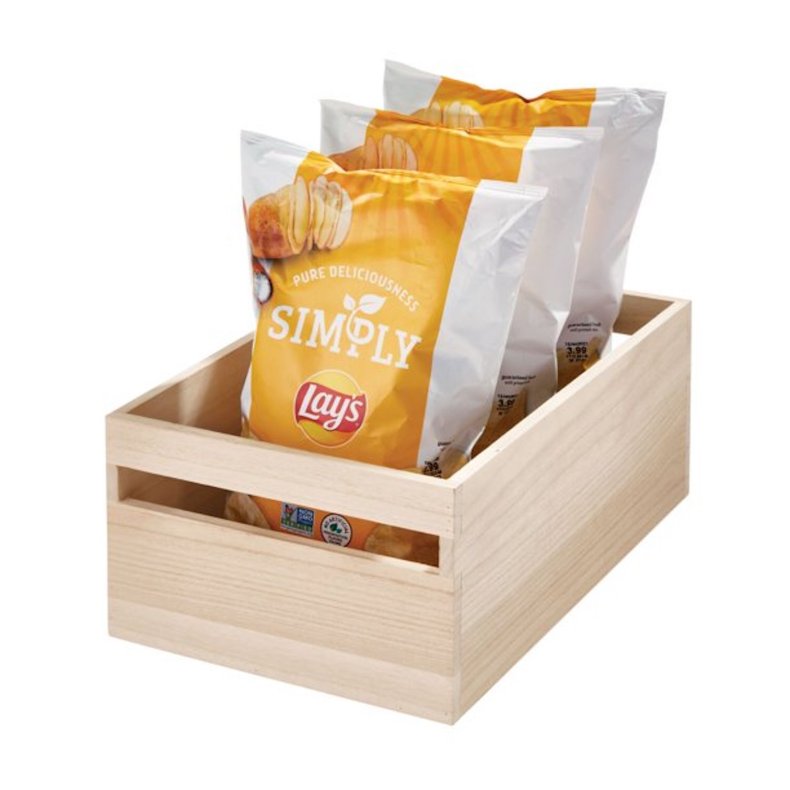 I love buying those jumbo packs of single-serving chips, but it's tough to store them in an easily accessible way. Meet iDesign EcoWood Storage Bin with Handles. Put the 10- inch by 7.5-inch by 6-inch bin in a cupboard for installation organization and easy access to chips, cookies or whatever else you store. The Paulownia wood bin is sealed so it won't warp or hold onto stains. Plus, you don't need to worry about splinters.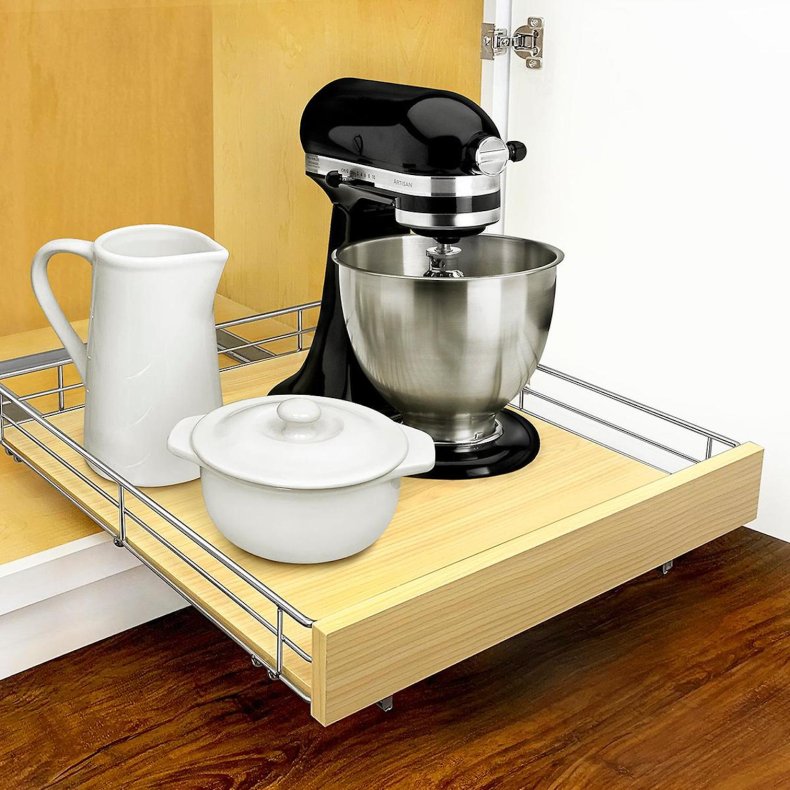 Stacking items isn't the only way to keep your cabinets organized. The Lynk Professional Wood and Chrome Slide-Outs have ball-bearing tracks that roll smoothly and evenly, whether empty or carrying your coffee maker, mixer or other small kitchen appliances. The laminated particleboard and chrome-plated slide-outs are available in multiple sizes, so you can choose the size you need.
Buy at The Container Store from $79.99.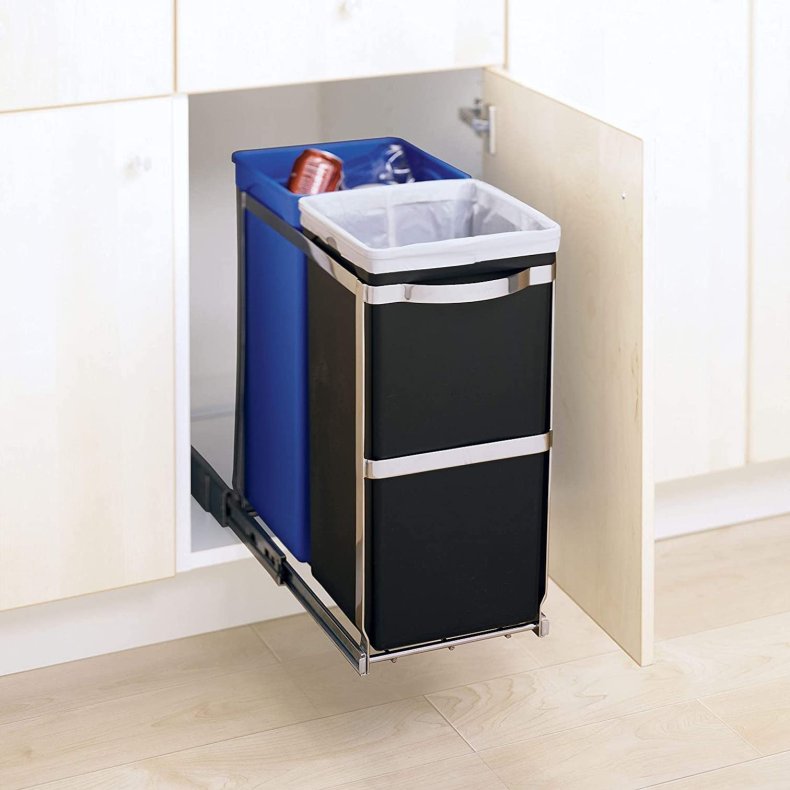 I never understood the true genius of a cabinet that holds a sliding recycling bin and a separate trash can until I moved into my new home. A dual compartment sliding bin combination keeps your trash and recyclables out of the way while making it easy to separate waste. I chose the simplehuman Dual Compartment Recycling Bin, Trash Can, because it is pre-assembled on a one-piece track, which means it's easy to install. Once it's in place, just open the cabinet door, grab the steel handle and watch the bins slide out on commercial-grade ball-bearing tracks. The system measures 10 inches by 18.3 inches by 19.6 inches, and the containers hold 35 liters/9.3 gallons of waste. It's available in various sizes.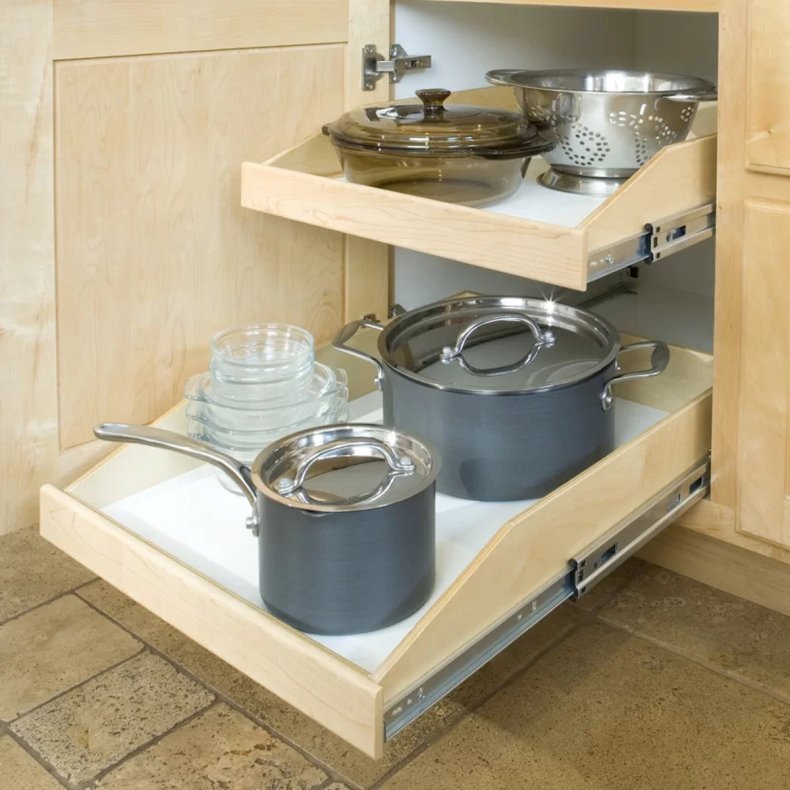 The Slide-A-Shelf Made-to-Fit Full Extension Rails are custom-made to fit the measurements of your cabinets. You know that such pullouts end your need to get down on the floor and struggle to reach pots and pans in the back of the cabinets. Choose Birch (pre-finished), Maple (ready to finish), Oak (ready to finish) or Poplar (ready to paint). Before you order, make sure you follow the guide to measure your cabinets accurately. They are crafted from PLY Baltic Birch with a durable UV-cured Polyurethane Coating.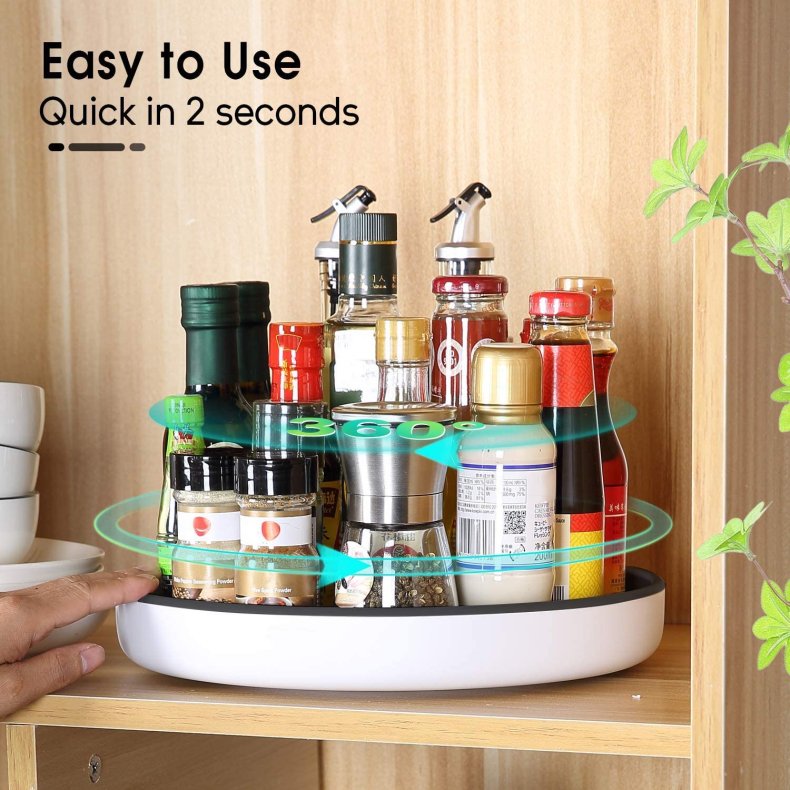 You don't need to spend a fortune upgrading and organizing your kitchen cabinets. Just set the Lamy Lazy Susan Organizer for Cabinet in your cupboard, put items on it, and spin it up to 360 degrees so you can grab what you need. It's crafted with silicone non-slip foot pads, so it stays where you place it. The Lazy Susan is made from silicone and steel, available in white or black, and comes in various sizes.
14. Better Houseware Undershelf Cup and Mug Hooks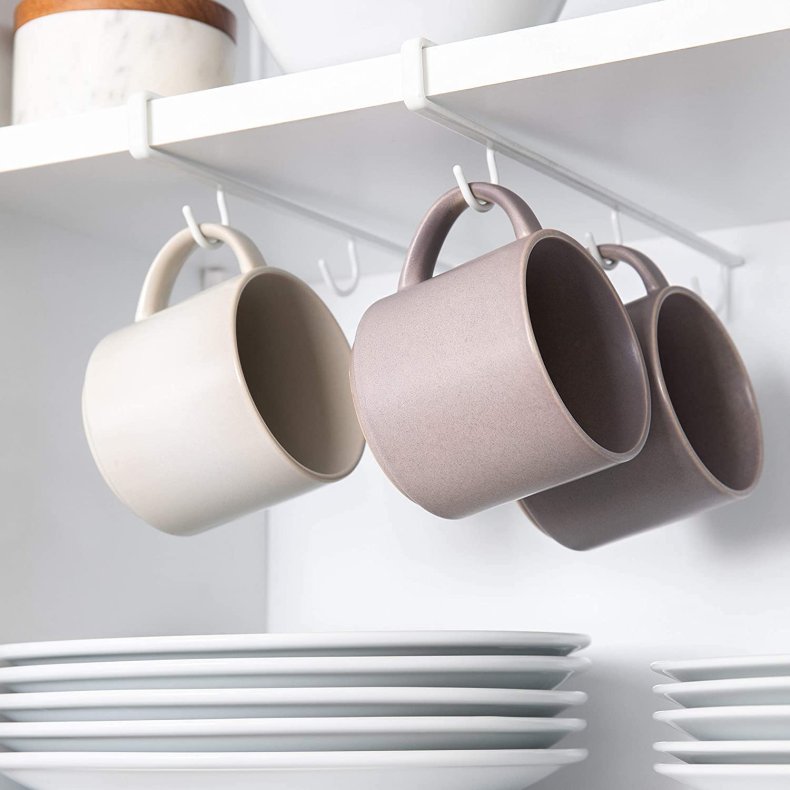 I love my coffee mugs, but storing them can be a hassle. Better Houseware Undershelf Cup and Mugs Hooks open cabinet space, organize the mugs and keep them safe. Just slide the 10.75-inch by 0.25-inch by 2.25-inch rail that holds the hooks onto the shelf, and the durable, coated-steel system is ready to use. Each set of two holds six mugs.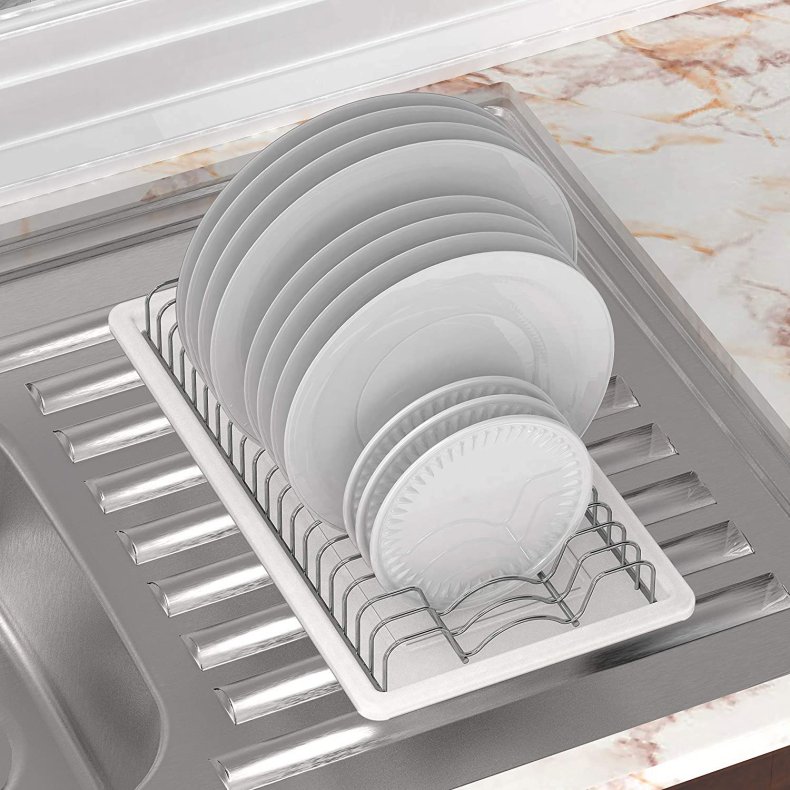 When is a plate drying rack not just a plate drying rack? When it's the Simple Houseware Plate Drying Rack with Drainboard. Set the 16.6-inch by 9.2-inch by 2-inch plate drying rack into a cabinet and vertically store more than a dozen different-sized plates, so they are safe and handy.
Newsweek may earn a commission from links on this page, but we only recommend products we back. We participate in various affiliate marketing programs, which means we get paid commissions on editorially chosen products purchased through our links to retailer sites.