Today, on this most American of American holidays, as the country celebrates its 246th anniversary, we celebrate and recognize an industry that is as vibrant, and as storied, like woodworking. An industry that encompasses a broad range of companies that embody the American dream.
Its history is full of bigger-than-life companies and the executives that ran them. Names like Bassett and Broyhill still resonate today, growing from humble beginnings to industry powerhouses.
These still recognizable company names are joined by new companies that started with humble beginnings but who have that same entrepreneurial spirit and a belief in the American dream.
Here are just a few stories of companies and the men and women who founded their companies with that idea in mind. It would be impossible to write the entire history of these companies and still harder to write about every company who have started with little and become an American success story.
From orphan to furniture maker
One such man was John Mathias Bernhardt who was orphaned as a teenager. Bernhardt found work as a logger for a sawmill and worked his way up the ranks to supervisor, where he pushed the lumber company to build a railroad between mountains, making it easier to bring in the timber harvest. 
In 1889, he started his own company in Lenoir to make tables and chests from native white oak. The company that bears his name has survived for more than 125 years — surviving a factory fire — without losing a connection to the original family. The third and fourth generations continue to lead the way.
Today, the company ranks #38 on the FDMC 300 ranking of top companies. It has an estimated $252 million in sales, operates eight manufacturing factories in North Carolina, and employs 1,350 people.
The Bassetts'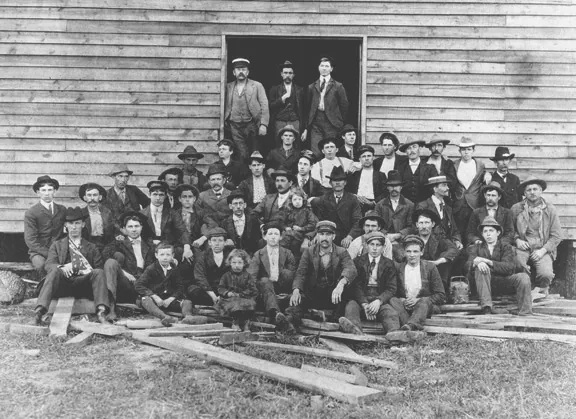 Perhaps the most famous of famous furniture families were the Bassetts. The Bassett Furniture company's history dates back to 1902 when founders J.D. Bassett Sr. and his brother C.C. Bassett founded the company. Early dressers sold for $4.75, washstands for $2.75, and beds for $1.50, and by 1917 company sales reached $1 million.
Two years later, in 1919, J.D. Bassett Sr. and B.C. Vaughan founded the Vaughn-Bassett company some 70 miles away in Galax, Va. 
In 1965, J.D.'s grandson, John Bassett III,  left Bassett Furniture after being overlooked to run his grandfather's company. He went to work at Vaughan-Bassett Furniture and built up the company, starting new lines of furniture, putting in his own money when necessary, and making Vaughan-Bassett a significant manufacturer.
In 2001, the company began losing market share to Chinese wooden bedroom furniture that was imported into the U.S. at below-cost prices. JBIII, as he was referred to, formed an industry coalition to file the largest anti-dumping case ever against China. A case he won in 2005.
Both companies survived the Great Depression, a world war, Chinese dumping, and any number of difficult times, and today remain at the top of the furniture industry. Bassett Furniture Industries, in Bassett, Va., ranks 37 on the FDMC with $295 million in sales and 2,100 employees.
In Galax, Va., Vaughan-Bassett ranks #83 on the list with $100 million in sales and 575 employees.
And the Broyhills'
Another early family was the Broyhill brothers, Tom and Ed. Tom Broyhill started producing single pieces of furniture but moved into the marketing of multi-piece coordinated bedroom suites in 1920. Three of these pieces – a chair, rocking chair, and bench, were supplied by another manufacturer whose factory was destroyed by fire. 
Seeing an opportunity, Ed Broyhill took out a loan for $5,000, using his house as collateral, and founded Lenoir Chair Company to supply chairs to his brother's company. He started his company by buying chair frames, which he upholstered in his basement. Soon, a nearby blacksmith and buggy shop became available, and Broyhill moved to that location. The chairs were finished in the buggy shop and upholstered in the dirt-floored blacksmith shop. In the summertime, upholstering work was done in the shade of a sycamore tree out back.
In 1980, the Broyhill family sold the company to a conglomerate, which made it part of a group of furniture makers but retained the Broyhill name and identity. In 2019, discount retailer Big Lots acquired the rights to the Broyhill name and its related trademarks from the bankrupt Heritage Home Group.
A reclining legend
La-Z-Boy's history can be traced to 1927 in a Monroe, Mich., garage, where its founders Edward M. Knabusch and cousin, Edwin J. Shoemaker, designed a reclining wood-slat chair. Following this popular invention, the company grew quickly and started making its now-famous recliners.
The two men modified a wooden porch chair so that its seat moved forward as its back reclined. On the advice of dealers, they made an upholstered version. According to the New York Times' obituary of Knabusch, by May 1929, the La-Z-Boy had been patented and 13 had been made for a furniture show in Grand Rapids. The company survived the Depression, sometimes accepting wheat, corn, cows, and coal for chairs. In 1935 it built a showroom and in May 1941 the La-Z-Boy Chair Company was incorporated.
During World War II the company made seats and backs for tanks, torpedo boats, turret guns, and armored cars. Production for civilian consumption was resumed in 1946. A platform rocker was introduced in 1951, and the Reclina-Rocker was introduced in 1960.
When Charles Knabusch died in 1997, and Edwin Shoemaker a year later died in his recliner, La-Z-Boy ceased to be family-owned.
The company ranks #13 on the FDMC 300 with approximately $1.3 billion in sales, which do not include retail sales. The company operates six plants and employs 8,000.
RTA furniture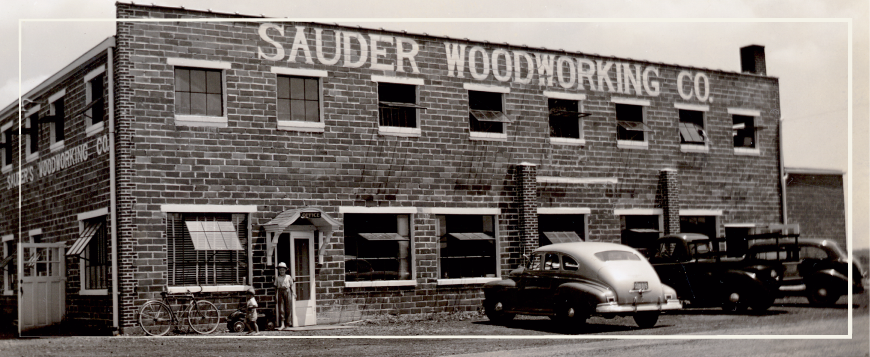 Today, ready-to-assemble furniture is a well-known concept, but before Sauder Woodworking Co. that was not the case.
In 1934, Erie Sauder started a woodworking business in a barn behind his home in Archbold, Ohio. Originally a builder of custom cabinetry and church pews, he began crafting small occasional tables from the fine, leftover wood.
In 1940, the workmanship of these tables eventually inspired a traveling salesman to place an order of 25,000 —a seemingly impossible purchase order for a budding company. But with a little ingenuity and a lot of determination, Sauder Woodworking Co. grew and flourished.
In 1953 Sauder patented a table that could be assembled at home. And it was this snap-together table that marked the beginning of the ready-to-assemble furniture industry.
Sauder ranks #19 on the FDMC 300 with approximately $625 million in sales and employs 2,400 workers. The company operates 8 factories.
WW11
The second world war brought forth several famous companies such as Merillat.  During the war, Orville Merillat enlisted in the Coast Guard as a carpenter, sent $150 from each paycheck to his wife Ruth, and kept $1 for himself. This money, along with the sale of Ruth's 1938 Chevrolet, was used to start Merillat Woodworking.
After the war, in 1946, the couple started the Merillat Woodworking Company in a 2,400-square-foot workshop in Adrian, Michigan. 
In 2010, the company consolidated with Masco Retail Cabinet Group, manufacturers of KraftMaid brand cabinetry to form Masco Cabinetry. In 2021, Masco was rebranded as the Cabinetworks Group, of which Merillat remains a division of that $1.8 billion company. The group ranks #10 on the FDMC ranking.
Tomorrows' leaders
Another WWII veteran, Tom Seely returned home from serving his country in World War II to start an antique shop in Baltimore. Seely eventually turned his customer-focused energy into a bustling furniture workshop in Berkeley Springs, W.V.
Today, that shop is owned by another entrepreneur, Gat Caperton, who has grown the company, both in physical space, but also in terms of sales. Still located in Berkeley Springs, the solid wood furniture factory ships around $25 million worth of products across the country annually and employs 150 workers. Gat Creek is currently ranked 220 on the FDMC 300 list of the largest North American wood products manufacturers.
"In the twenty-four years since I bought Tom's business, many US-based furniture brands moved their furniture manufacturing to subcontractors in Asia. But not Gat Creek," he said in a recent email. "The company thrives as an American manufacturer of Appalachian hardwood furniture because we are constantly working to improve productivity, quality, and choice."
Gat Creek ranks #220 on the FDMC 300 with $24 million in sales.
Wellborn family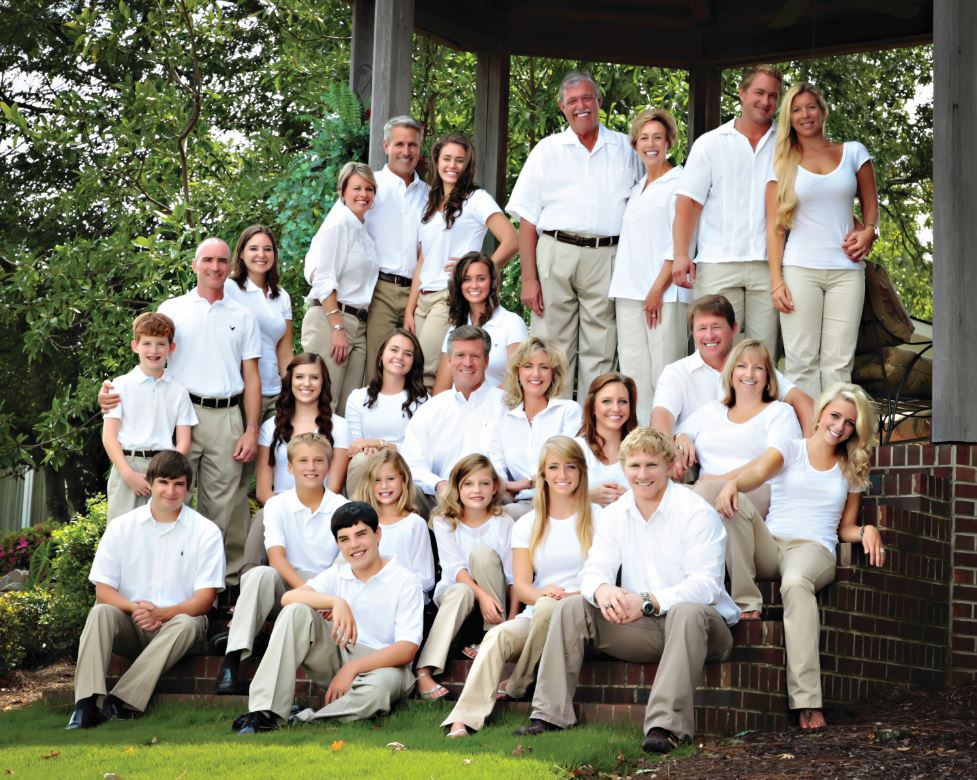 Another company that takes pride in making its furniture in-house, is Wellborn Cabinets. The Wellborn family started the company in 1961. As a family-owned and operated business, it said it continues to keep its focus on the principles on which the company was founded – hard work, quality, and dependability.
Today, owned solely by Paul Wellborn and the Wellborn Family, Wellborn Cabinet Inc. manufactures its whole home cabinetry from start to finish at a 2.2-million square foot facility in Ashland, Ala. It ranks $64 with $150 million in sales and employs 1,300.
40 under 40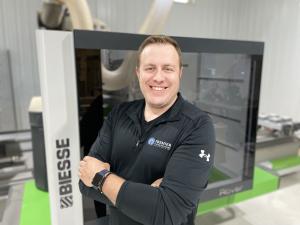 Another company that works every day to realize the American Dream is Premier Custom Millwork & Surfaces Inc. which serves the Rochester, Buffalo, Armonk N.Y., Scarsdale N.Y., and Danbury and Greenwich Ct. markets. 
Run by Jesse Schmitt, president, who was recently named a 40 under 40 honorees by FDMC Magazine, he is joined by his wife Laura. Their son, Anthony, recently said this about his father:
"To Jesse Schmitt, the American Dream is rugged individualism, an entrepreneurial spirit, and keen attention to detail. 
"Through his rugged individualism, Jesse has steadily climbed to the top tier of custom interior and exterior hardwood door manufacturing in the Northeast. Every day, his business expertise is growing in technique and technology. Likewise, through his entrepreneurial spirit, the business has a customer base that includes high-end clients such as Harvard Law School, Yale Peabody Museum, and James Spader. Jesse believes there's great truth in an old quote by John Bassett that states, 'No one can outperform the American worker when given leadership, training, and the best equipment.'
"Jesse's careful attention to detail has quite tangibly created a life that can only be described as the American Dream. Both in business and at home, Jesse has been, and remains successful and admired."