Desert decor – not just a journey but a well-styled destination. Or more accurately it's a collection of crafted treasures in perfectly balanced tones plus edgy boho-esque materials that evoke happiness like warm sunsets in a far-flung place.
Global interior design ideas never truly go out of fashion but this fresh take on the latest popular home decor trend has given us ultimate interior travel inspiration (or should that be trav-spo).
Ok, we're in. So how exactly do we recreate the desert modern aesthetic?
Well, where the Spanifornian trend had a more clean-cut beach look, the key to this more nomadic feel is in its earthy, natural colors and materials. There's a rawness to this and with splashes of color to bring it bang up to date.
This is a melting pot of eclectic coolness that's rustic, timeless yet modern, and is achievable by using a predominantly calming palette of stone, cream and khaki then blended with russet hues and occasional pops of powerful blue plus edgy accessories. Pleasingly chunky earthenware rubs shoulders with weighty textiles that help layer up the look, creating a comfortably cool, relaxed feel.
Explore the look with these gorgeous desert decor ideas below. 
1. Go all out on texture by layering chunky textiles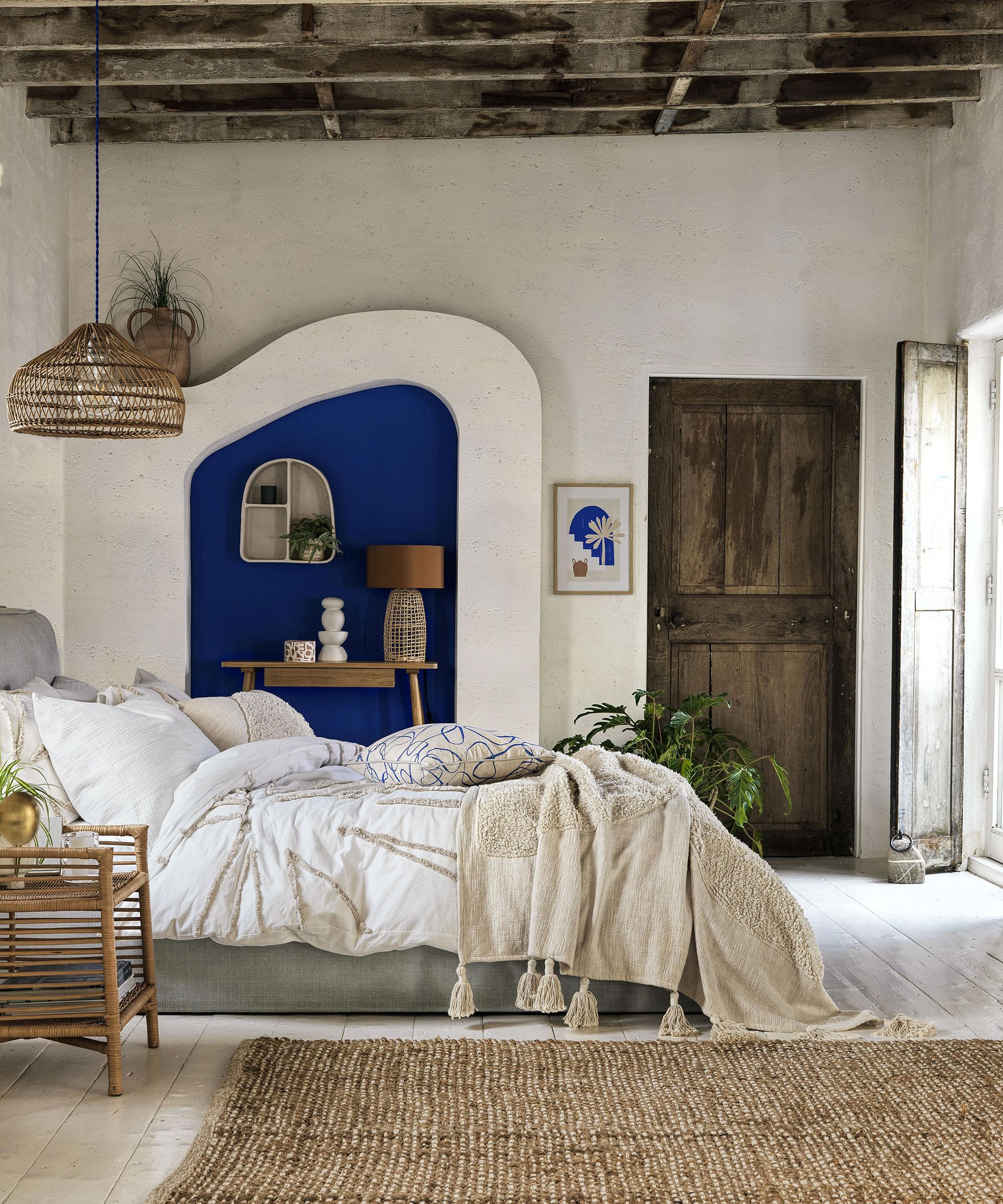 This bedroom idea infuses the desert decor look to perfection by blending multiple tactile materials such as the jute rug (opens in new tab), tufted throw (opens in new tab), and ceramic jug (all from Habitat) (opens in new tab) in soothing colorways to provide depth and interest while the bold splash of blue gives a beautiful focal point and brings with it a modern twist.
2. Use statement furniture in cool earthy colorways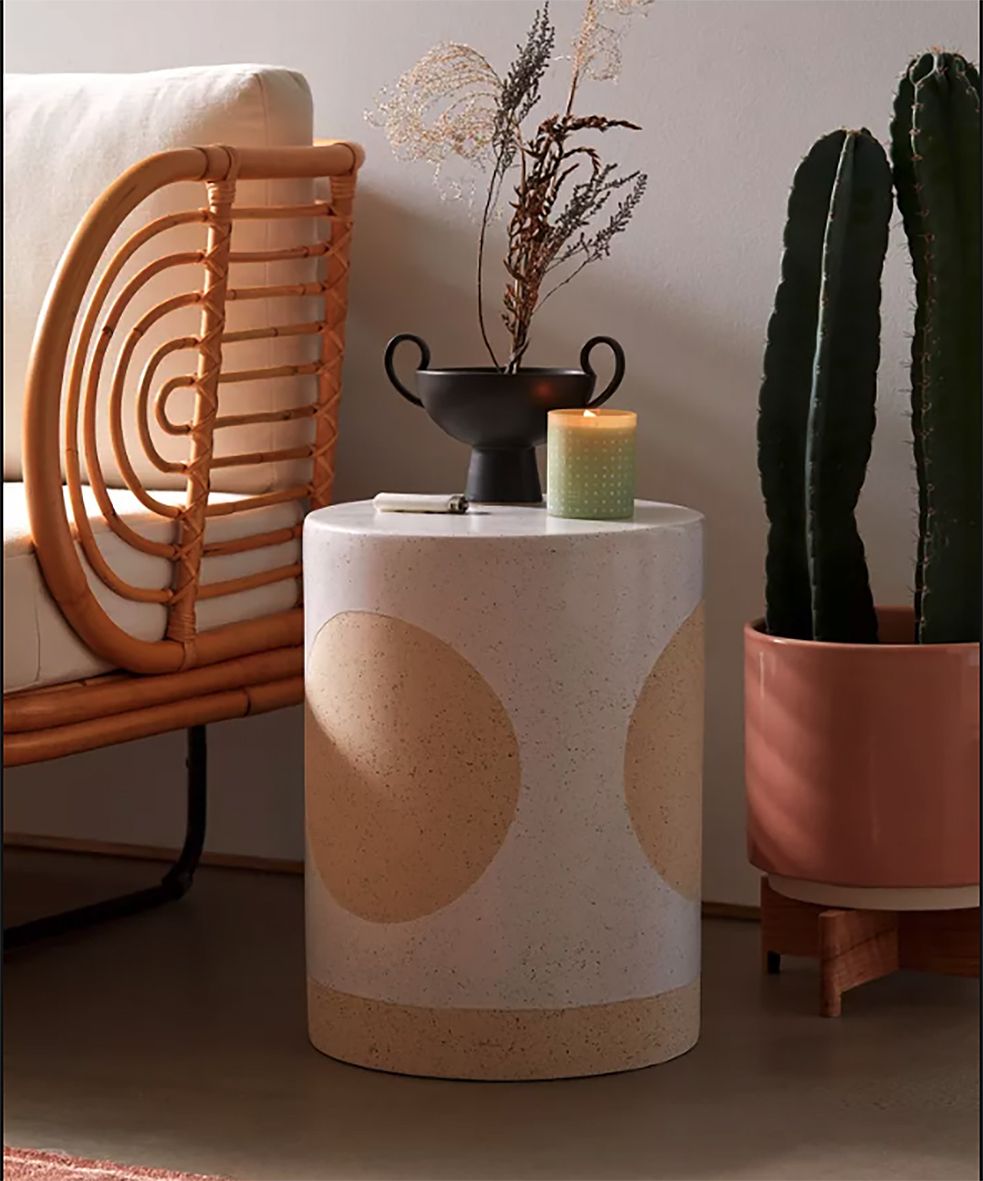 Essential furniture needn't be plain – this speckled ceramic side table from Urban Outfitters (opens in new tab) is a gentle way to make a bold statement and would be easy to incorporate into many interior schemes. 
The gorgeous earthy tones with simplistic pattern play into the desert decor theme well while providing a perfect place to display treasures.
3. Primitive patterns are a must for accessories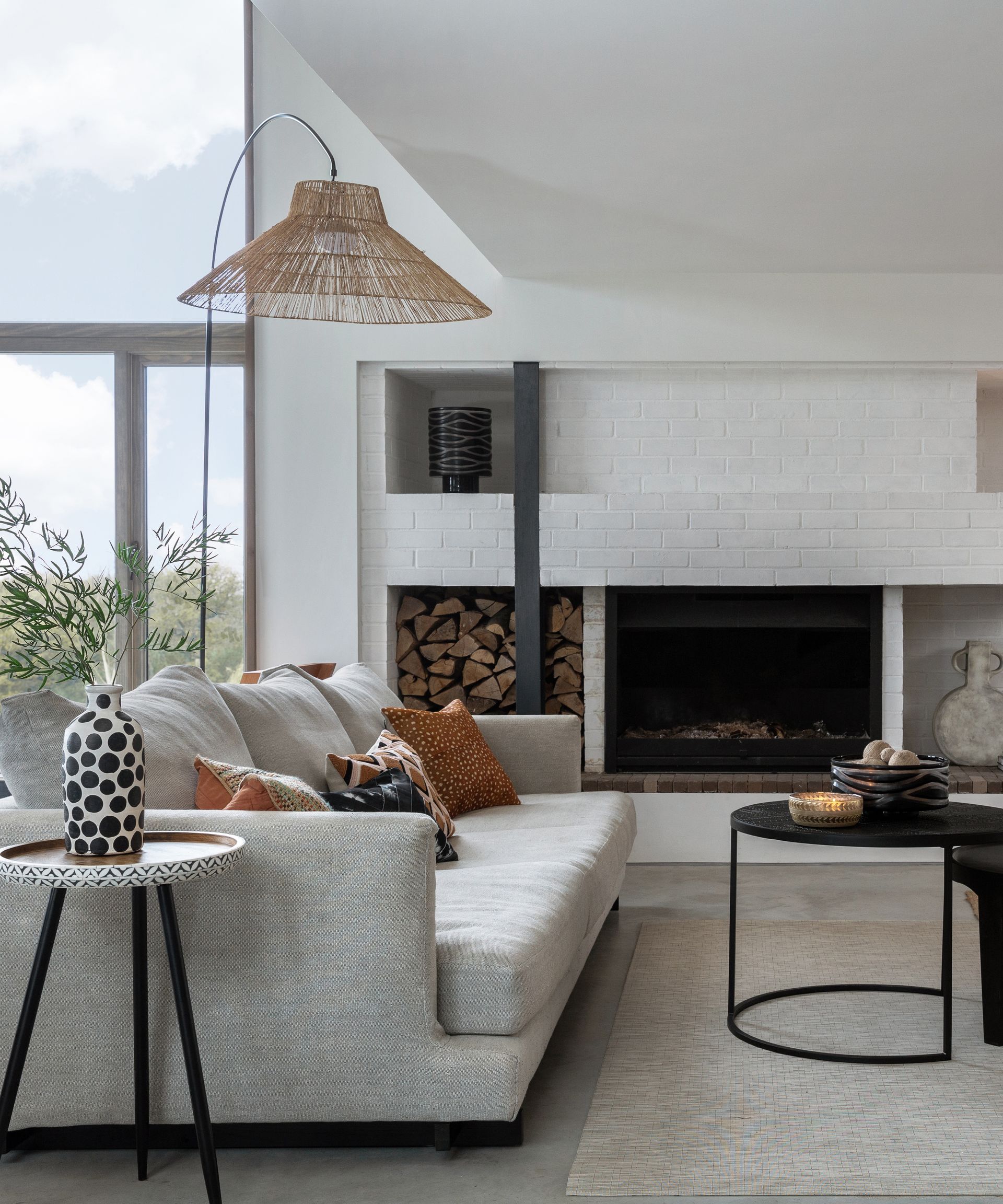 If you only want to nod towards this trend, bringing the desert decor vibe into a muted backdrop is easy with the addition of bold patterns similar to this vase from Amara (opens in new tab) and warming burnt orange tones accents found in this tasseled cushion from Amara (opens in new tab). 
Oversize ceramics like a faded vase from Amara (opens in new tab) give weight to this look as well as a beautiful shapely statement piece.
4. Blend desert inspired tones with bold motifs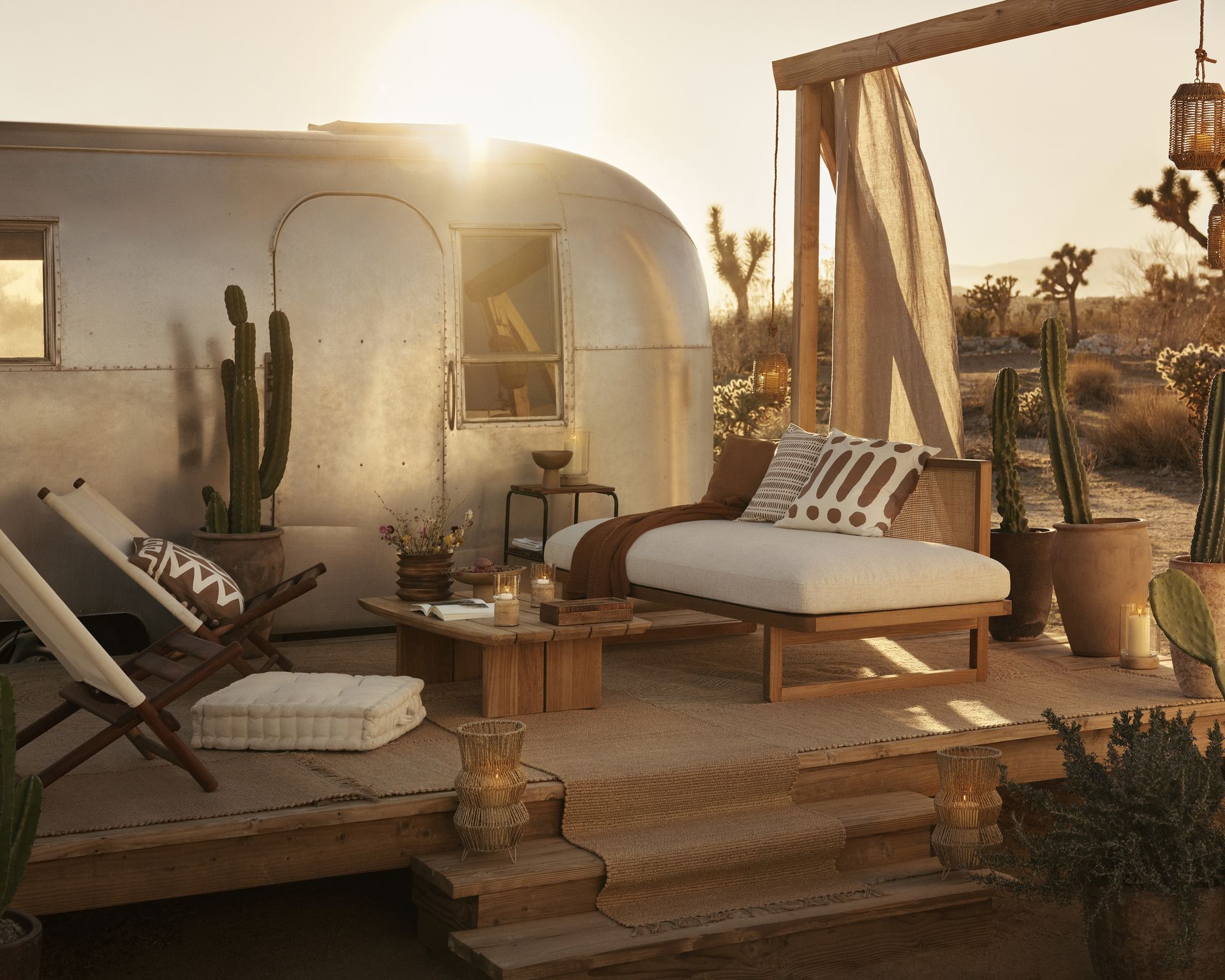 Whether you're spending the night under the stars or not your home can still have that festival vibe by using a perfect mix of muted earthy colors in accessories like throws (opens in new tab), cushions (opens in new tab), and robust furniture with cool angles like these lounge chairs (opens in new tab) and side tables (opens in new tab) like these from H&M, all in natural materials. 
5. Add the deep rich tones of Terracotta to full effect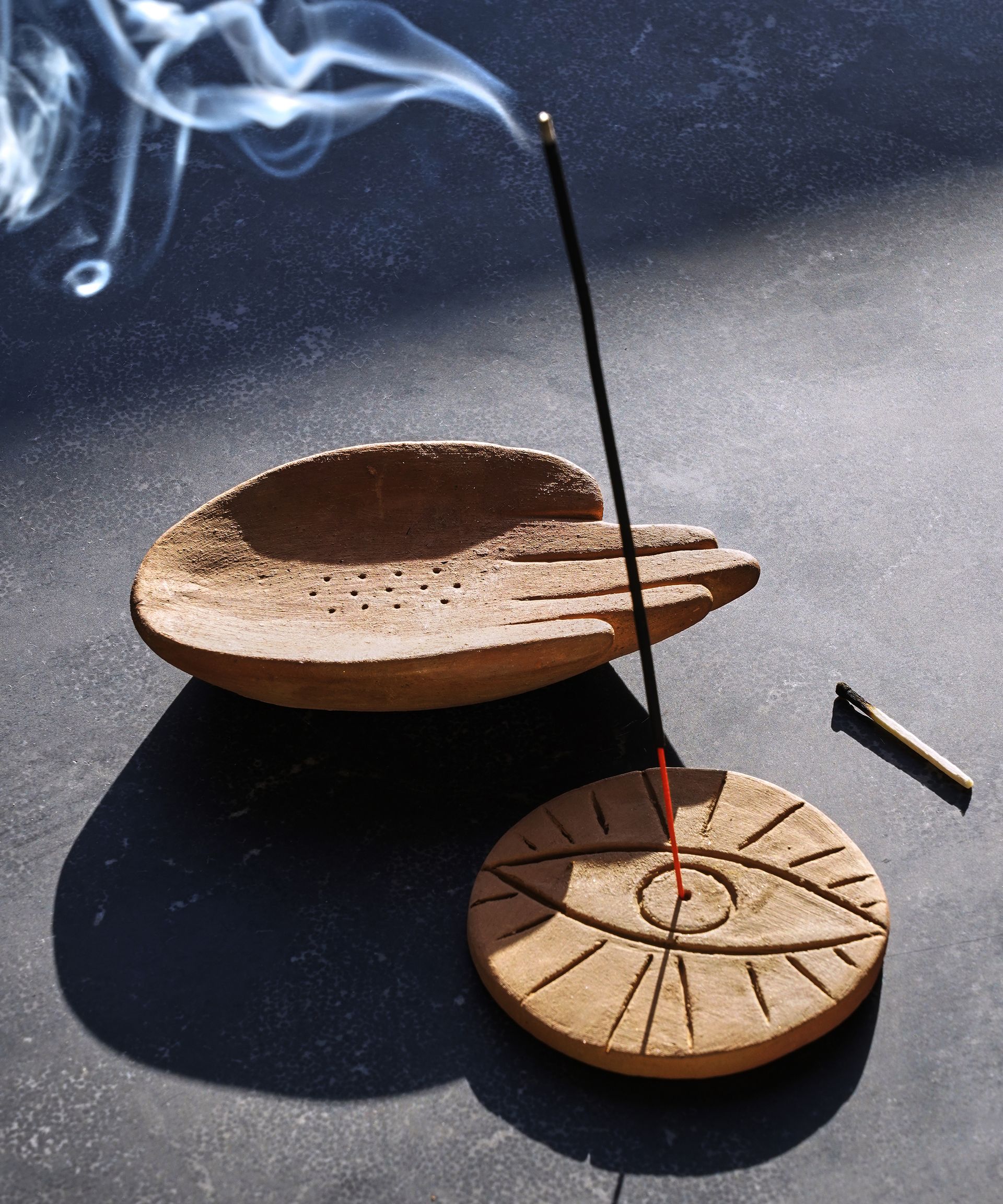 Bring in some mystical and ancient symbolism to not only cleanse the soul, but also get this look locked down. 
The classic tones of terracotta are perfect for this boho vibe and by adding it into your scheme with accessories such as the Hamsa dish (opens in new tab) and incense burner (opens in new tab) (both from Graham & Green) they will amplify the relaxed design style of any space.
6.  Serve up meals in oversized earthenware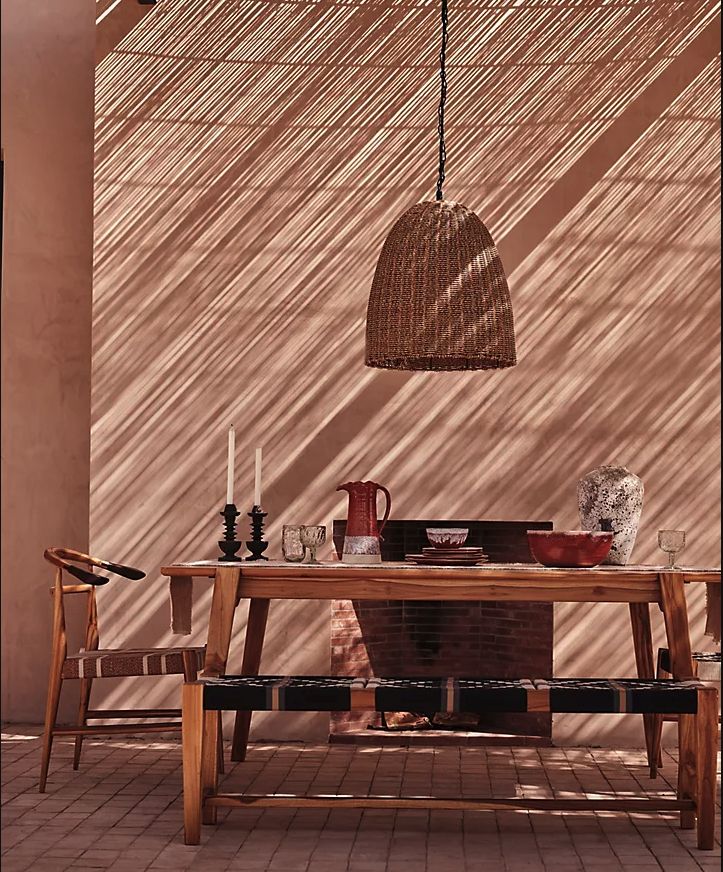 Gathering around the social hub of an outdoor dining space can feel almost tribal but especially so when surrounded by comfortingly rustic earthenware. Oversized and earthy materials play into the desert look to create a feeling of warmth no matter what the temperature is. 
This pitcher (opens in new tab) together with these bowls (opens in new tab) and plates (opens in new tab) (all Anthropologie) is ideal tableware, together with dining furniture that's unwaveringly cool. These wood and woven chairs (opens in new tab) and native pattern style bench (opens in new tab) from Anthropologie are beautiful examples of raw rustic elegance which help create this on-trend feel.
7. Include blue hues for a modern update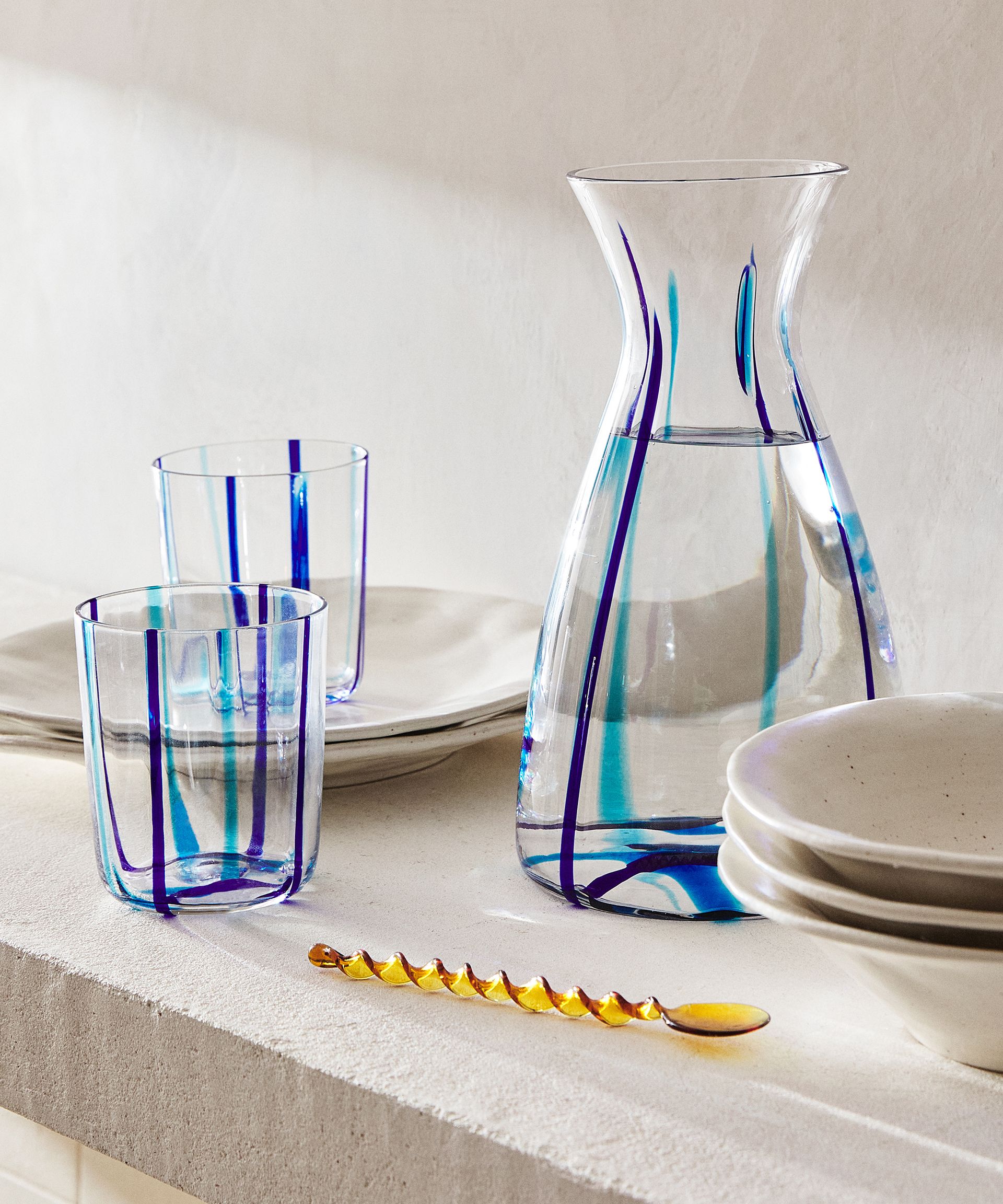 Pick up on this interior design trend with the beautiful shade of cobalt blue and team with the rest of the look. Add this atmospheric touch with unusual accessories such as colored glassware similar to this carafe (opens in new tab) and glasses (opens in new tab), both Zara Home.
8. Style with some summer sunshine design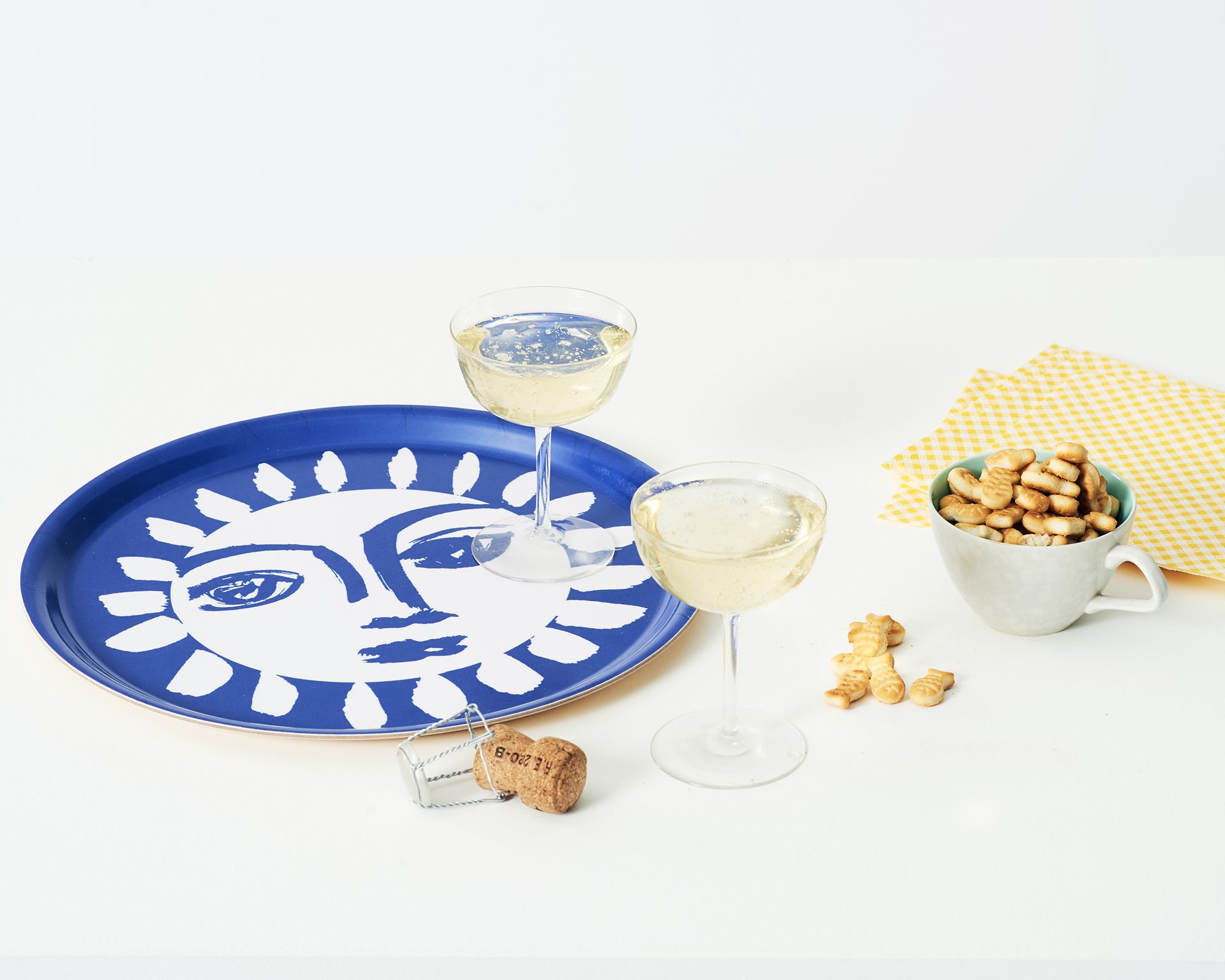 Continue with blue hues and make an impactful and easy living feel by using accessorizing with pops of this tone. This cocktail drinks tray (opens in new tab) from an Artful Life is both pretty and practical and can be propped up to form part of a cool display when not in use.
9. Use muted earthy tones to make for bedroom bliss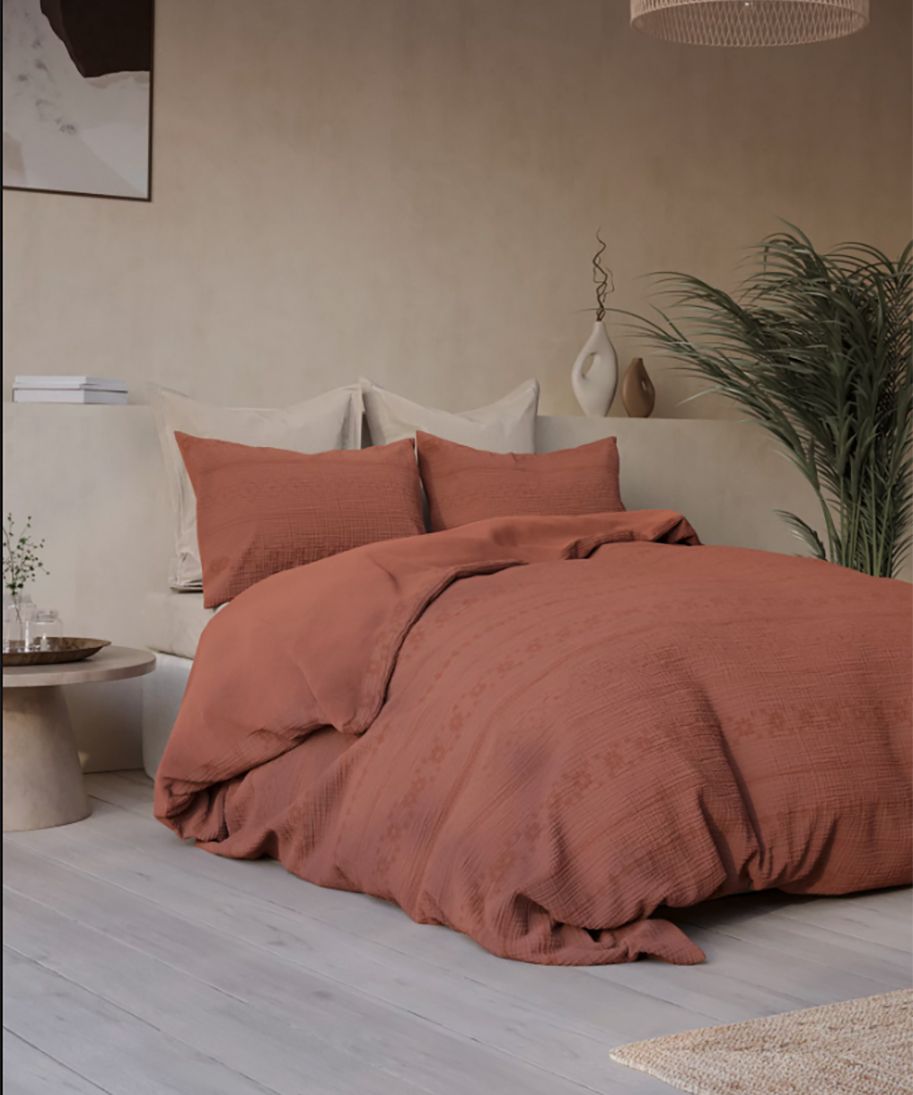 Sumptuous tones of russet in oh-so-soft fabrics are set off against the neutral backdrop of stone shades. This sink-into-me bedding from Marks and Spencer (opens in new tab) has subtle detailing in the design with Navajo style pattern – sure to bring a real sense of bohemian summer to your own interior landscape.