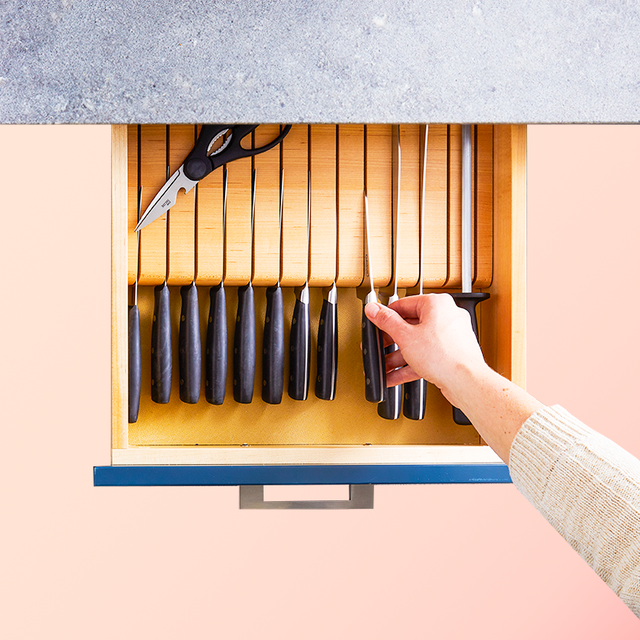 There are few things more satisfying than a well-organized kitchen … but because it's one of your family's favorite rooms to hang out in (for obvious reasons), it's probably the hardest place in your home to keep neat and orderly. (Have you dared to look inside your Tupperware cabinet lately? Exactly.) Thankfully, that's where these super-smart kitchen drawer and cabinet organizers come in. Each of these genius solutions is designed to solve a specific kitchen storage problem, ranging from tangled cords to piled-high pans, so you can focus less on finding a spot for your pots, pans, and produce, and more on actually enjoying delicious meals with your family.
So, take stock of your kitchen to see what areas need the most help (your overflowing spice cabinet, perhaps?) and then DIY or buy one — or all — of these nifty organizers.
Advertisement – Continue Reading Below
If you're short on counter space, build a butcher board into a drawer and carve out a hole in the middle to allow any food scraps to fall straight into the trash.
Turn a blank cabinet door into a command center by adding a stick-on chalkboard decal for reminders and grocery lists, and a plastic pouch to store coupons and receipts.
RELATED: Smart Storage Ideas for a Small Kitchen
Instead of stacking your ceramic baking dishes on top of one another, give them each a designated spot to rest. Space out a set of customizable drawer dividers — plastic or wood — for easy reach.
Refrigerator Side Storage Shelf
Sunix
Your fridge is prime real estate to store snacks, spices, and utensils you reach for daily. Just attach this clip-on tiered shelf, and fill in whatever way makes most sense for you and your family.
Once you nail down your drawer's measurements, install built-in storage blocks to keep knives from knocking around, so they they can stay sharp without putting your hands in harm's way.
RELATED: The Best Kitchen Knives You Can Buy
A quick-to-assemble peg system allows you to move your plates from high-up cabinets to deep, down-low drawers. (The best part: They'll be easier to pull out and put away.)
Searching through the cabinet for your favorite coffee before you're caffeinated can feel, well … exhausting. This custom K-Cup drawer from Decora Cabinetry lets you store all of your options (up to 40 at any given time, in fact) face-up for easy early-morning locating.
RELATED: Gorgeous Kitchen Design Ideas You'll Want to Steal
This sleek drawer idea is the secret to banishing unsightly cord clutter. Planning a reno? Talk to your contractor. You could also DIY it by installing a surge protector in an existing drawer or pick up this fully loaded version from Rev-A-Shelf.
Pull-Out Pots and Pans Drawer Organizer
If you've ever tried to pull a pan out of a big, heavy pile just to be met with a cookware avalanche, you're not alone. Avoid the crashing and clattering with this pull-out organizer, where you can hang up to 100 pounds worth of pots and pans on adjustable hooks.
Produce Drawer Organizing Bins
Free up counter space by moving potatoes, onions, and other unrefrigerated fruits and veggies from a produce bowl to a few plastic storage bins packed into a deep drawer. (Peep this awesome example from Watchtower Interiors.)
Paper Towel Cabinet With Trash Bin Drawer
Tired of digging around the back of your spice cabinet until you finally find the cumin? This genius drawer from ShelfGenie puts your full collection on display.
Food Storage Container Drawer Organizer
Fact: The Tupperware cabinet is the hardest part of a kitchen to keep orderly. But that's where this genius drawer organizer comes in — it has a spot for every last one of your food storage containers and their matching lids.
Tall Pull-Out Pantry Drawer
Easily organize fresh eggs with this refrigerator-ready drawer. (Worth noting: This organizer comes fully assembled, so all you have to do is clip it on to one of your fridge's shelves.)
Serving trays, baking sheets, and other large tins can be a pain to store in often-unaccommodating cabinets. Swap your usual stack of pans for this tray-friendly drawer from ShelfGenie to keep them upright and easy to locate.
This content is created and maintained by a third party, and imported onto this page to help users provide their email addresses. You may be able to find more information about this and similar content at piano.io
Advertisement – Continue Reading Below