When paint or wallpaper just won't cut it, there are stunning wood wall decorating ideas you can turn to, for major design impact. 
Wooden finishes, paneling and exposed wood are back in the world of wall decor ideas and interior design – in a big way. And judging by the best looks out there for all four walls, it's clear to see why. The natural material helps to bring texture and interest to just about any space. And although it might be an old-age material, it can inject a modern twist into your walls. 
Whether you leave your wooden designs exposed or prefer to paint them, there's a design, idea and creation for just about any space. 
1. Panel your hallway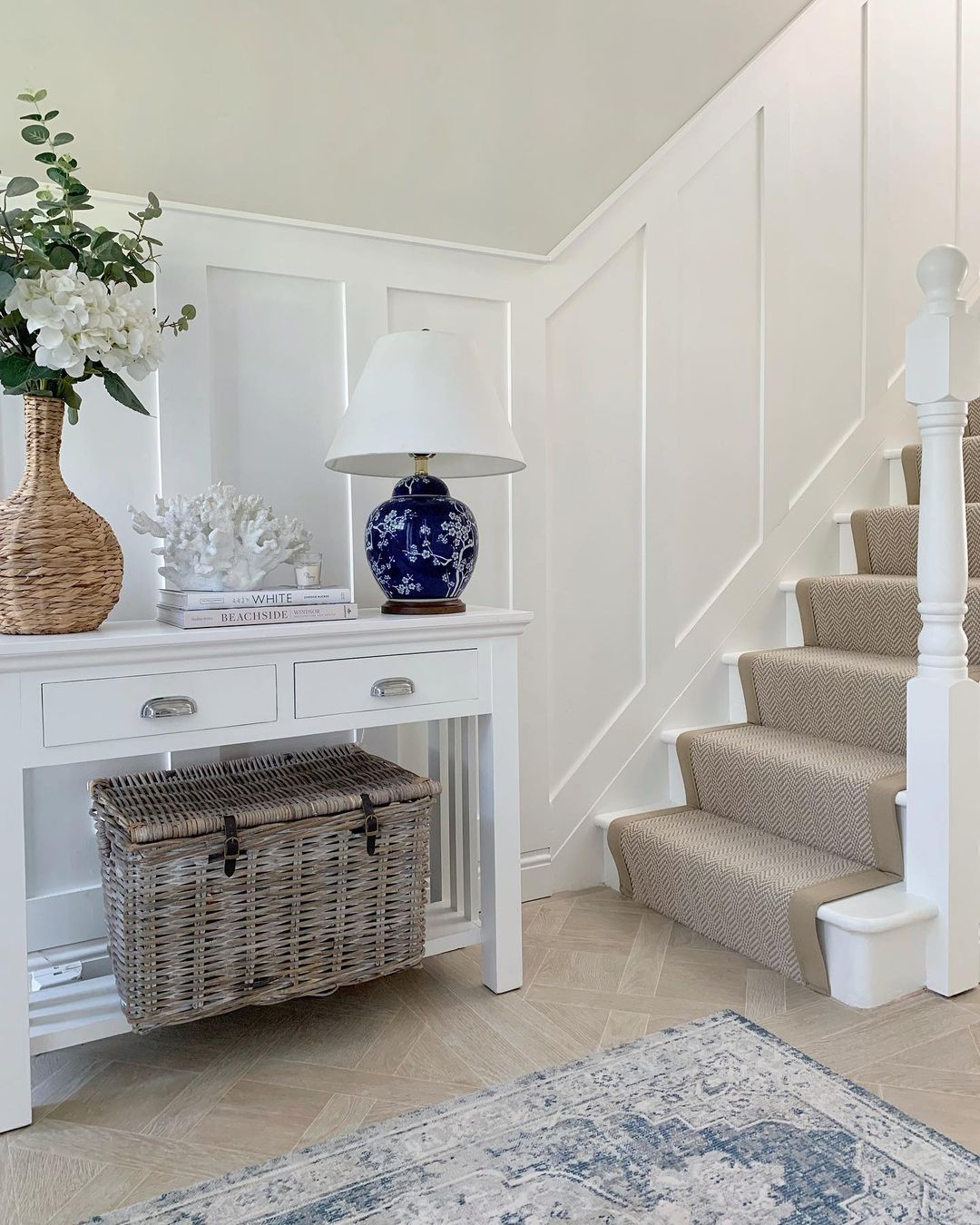 Whether you're into home decor trends or not, adding character to your hallway with wood wall decor like paneling makes a great statement. Instead of taking it all the way up to the ceiling, why not opt for a chair rail height, like with board and batten paneling? 
If you dare, you can also take your paneling up the stairs to create a traditional and seamless character-filled space, just like this design by Andrea of Dreah.Home (opens in new tab).
Adding paneling to your wall need not be too tricky. In fact, you can master how to do a DIY wood accent wall over one weekend and for under $200. All you need is unfinished pine boards, liquid nails from Amazon (opens in new tab), finishing nails, caulk and a paint color of choice.
2. Try picture frame molding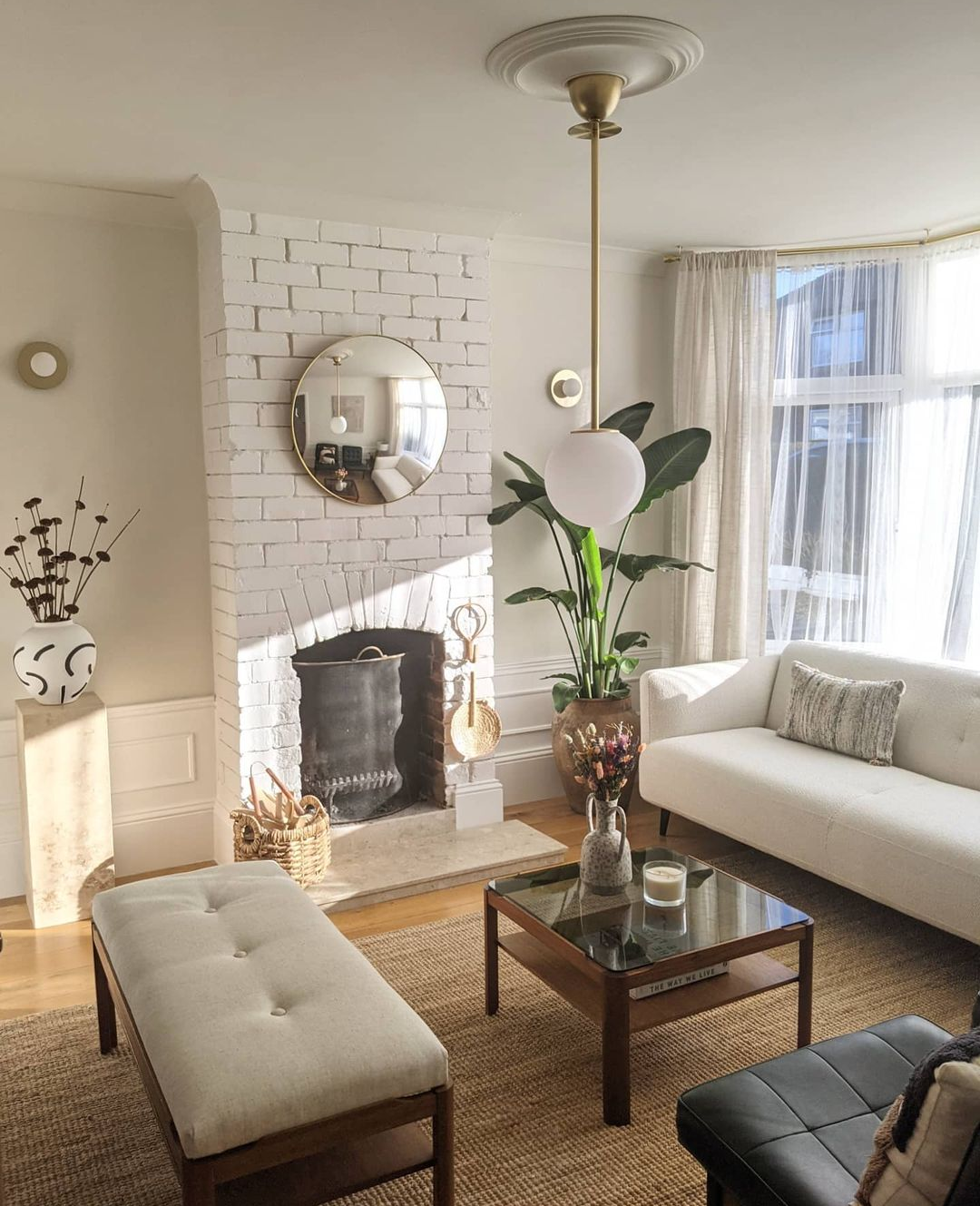 Or, instead of half-height paneling, you could always try adding a traditional trim to the lower third of your wall, just like DIY enthusiast and Real Homes blogger Jo Lemos has done. 
This time, instead of using board and batten, this small-but-effective design uses DIY picture frame molding that's low on cost but big in impact. 
Once you've decided on where to add these accent features, be it in your living room, dining room or both, simply pick a paint color and prepare to wonder why you didn't do this sooner. 
3. Leave it exposed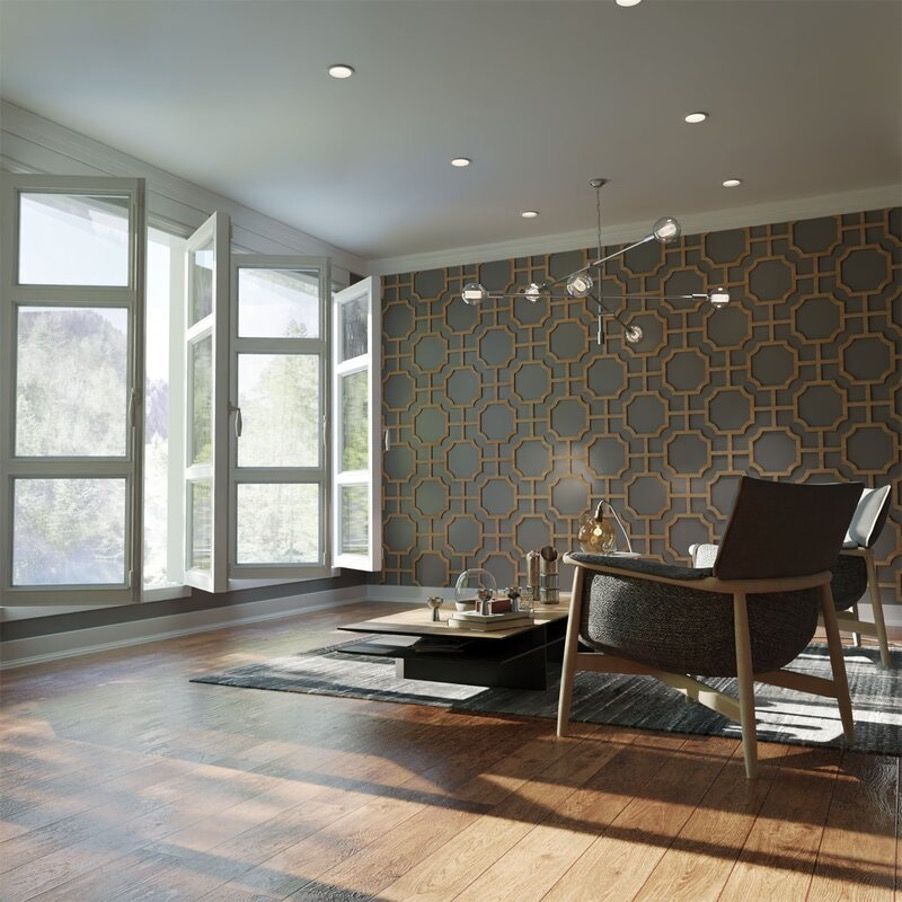 While we love a traditional wall of paneling that matches in with the rest of your decor, if you really want to make your wooden wall decor a feature, then leave the wood exposed in all its glory. 
Take a look at this design from Wayfair. These laser-cut Bradley Decorative Fretwork Wood Wall Panels (opens in new tab) come pre-made and are ready to be stuck to your wall. All you've got to do is calculate how many you need, decide on where you want to put them and stick them up. And better yet, they come in four sizes and two thicknesses. They are also available in oak, cherry, alder, walnut, hickory, and birch. There's something for everyone. 
4. Head over to the dark side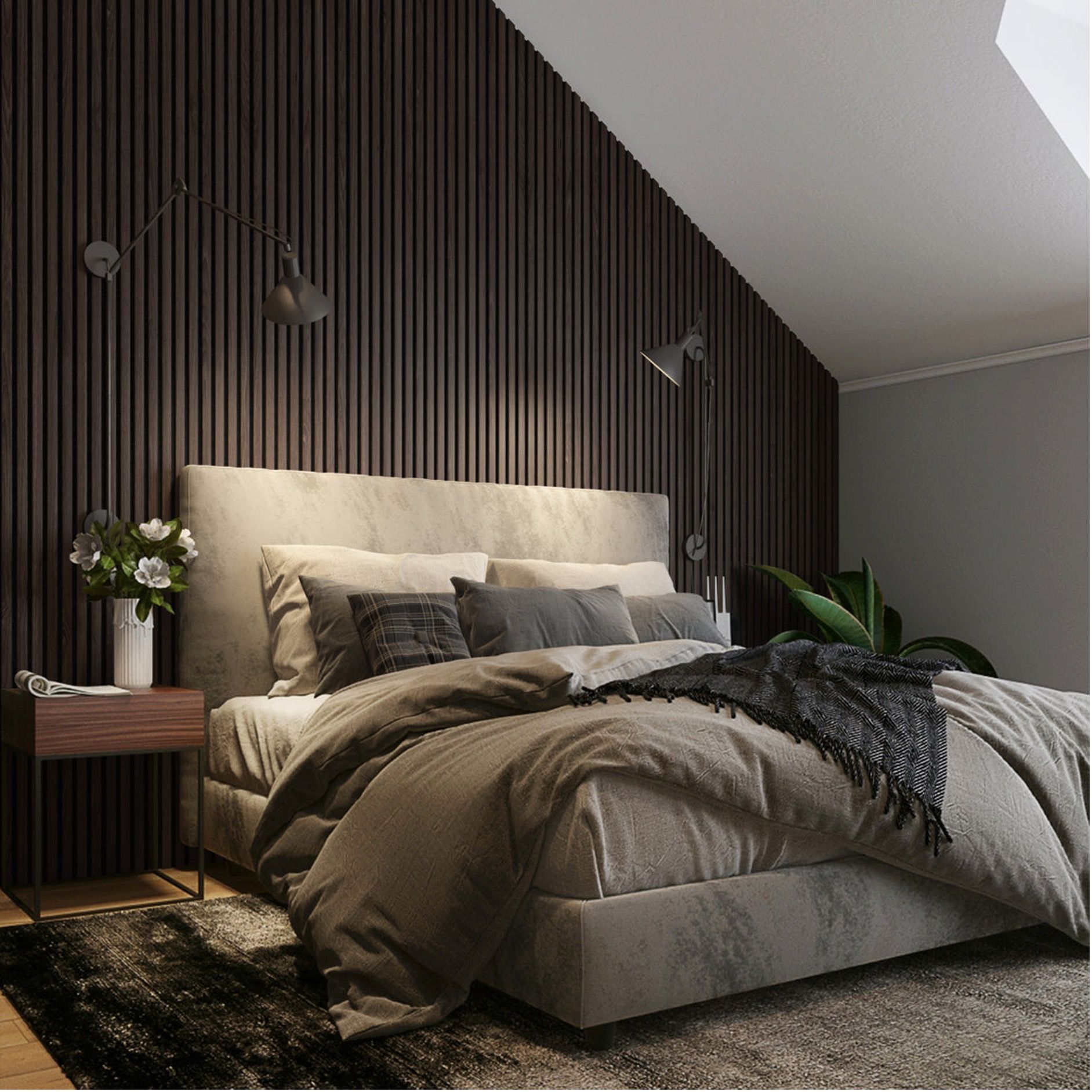 How dreamy does this setup look? Forget everything you thought about wall paneling ideas, as they don't just have to be reserved for hallways, living rooms or bathrooms. 
Wooden wall panels can be used in just about every space, including attic room bedrooms like this design from The Wood Veneer Hub (opens in new tab). The beautiful smoked oak finish exudes a dark and soothing sleep space, while the lighting helps to make different shadows on the wood, adding interest with every glance. 
5. Choose a geometric design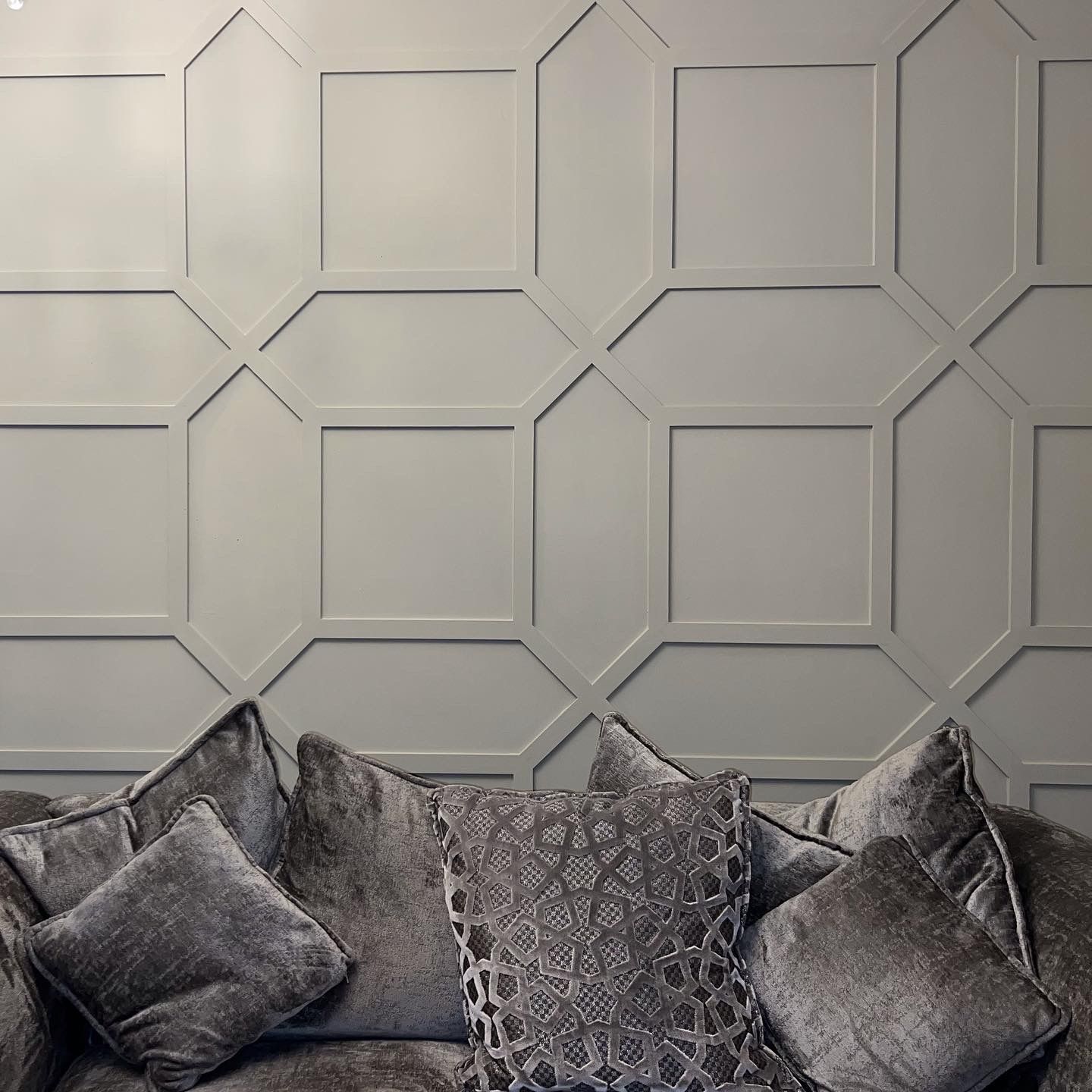 While we love an accent wall with your classic vertical lines,  we can't help but love this intricate geometric design, created by Darren Nicholas of The Panel Man (opens in new tab).
This nothing-but-ordinary creation is particularly brilliant if you have got a blank canvas to work from. Be it a new build home, white wall or spare space. Along with adding some texture to your wall, it adds depth and blends traditional designs with contemporary styles. 
6. Panel your fifth wall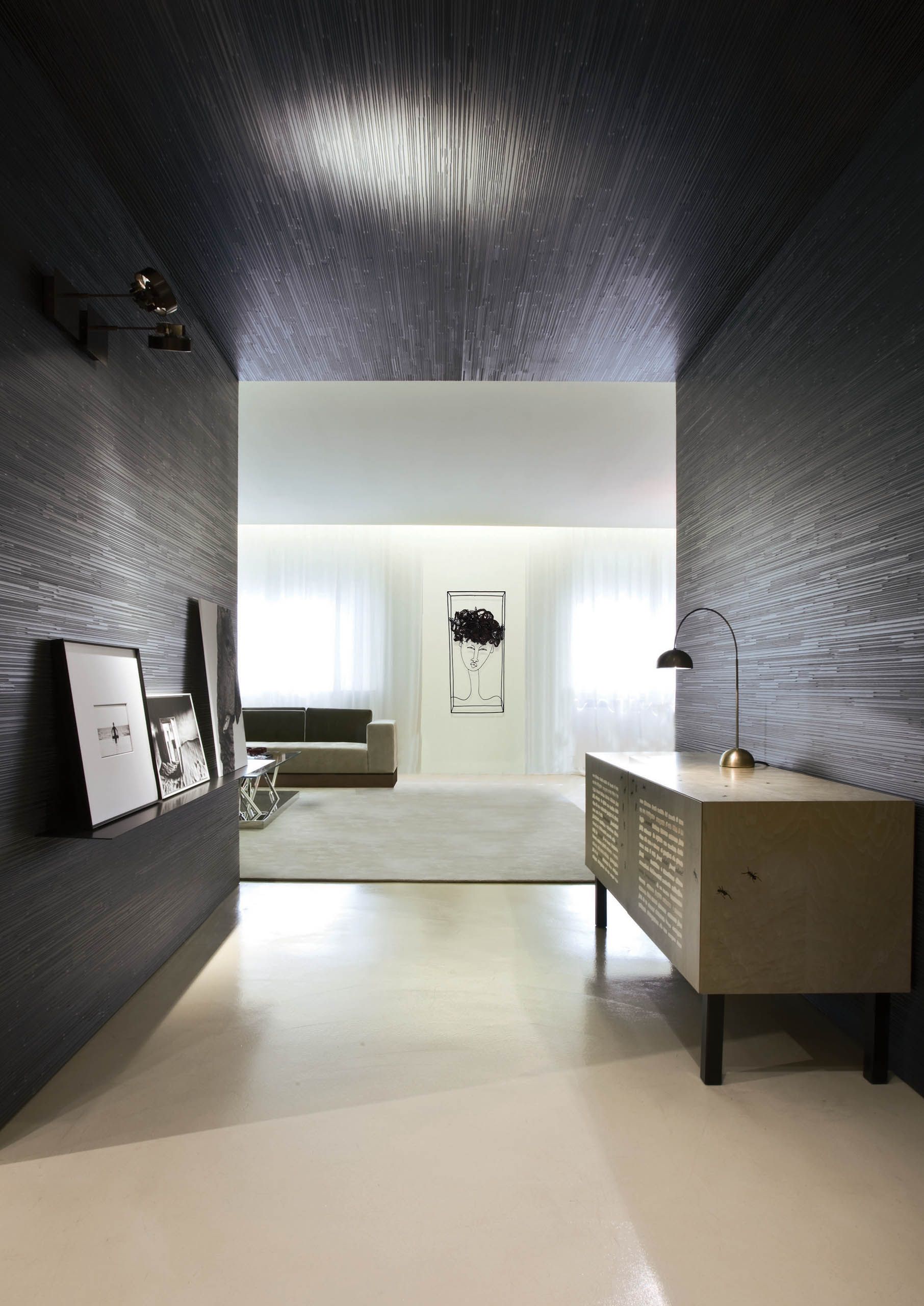 Minimalist living your thing? This modern and sleek hallway, which uses wall panels from Laurameroni Design Collection (opens in new tab) has flanked not only the walls with wood, the design has been continued on the fifth wall – which is otherwise known as the ceiling. 
Along with adding a warm and sophisticated design edge, it helps to separate the two different spaces and add some wow factor from above. Who knew decorating a ceiling could look so sleek? 
7. Change up the thickness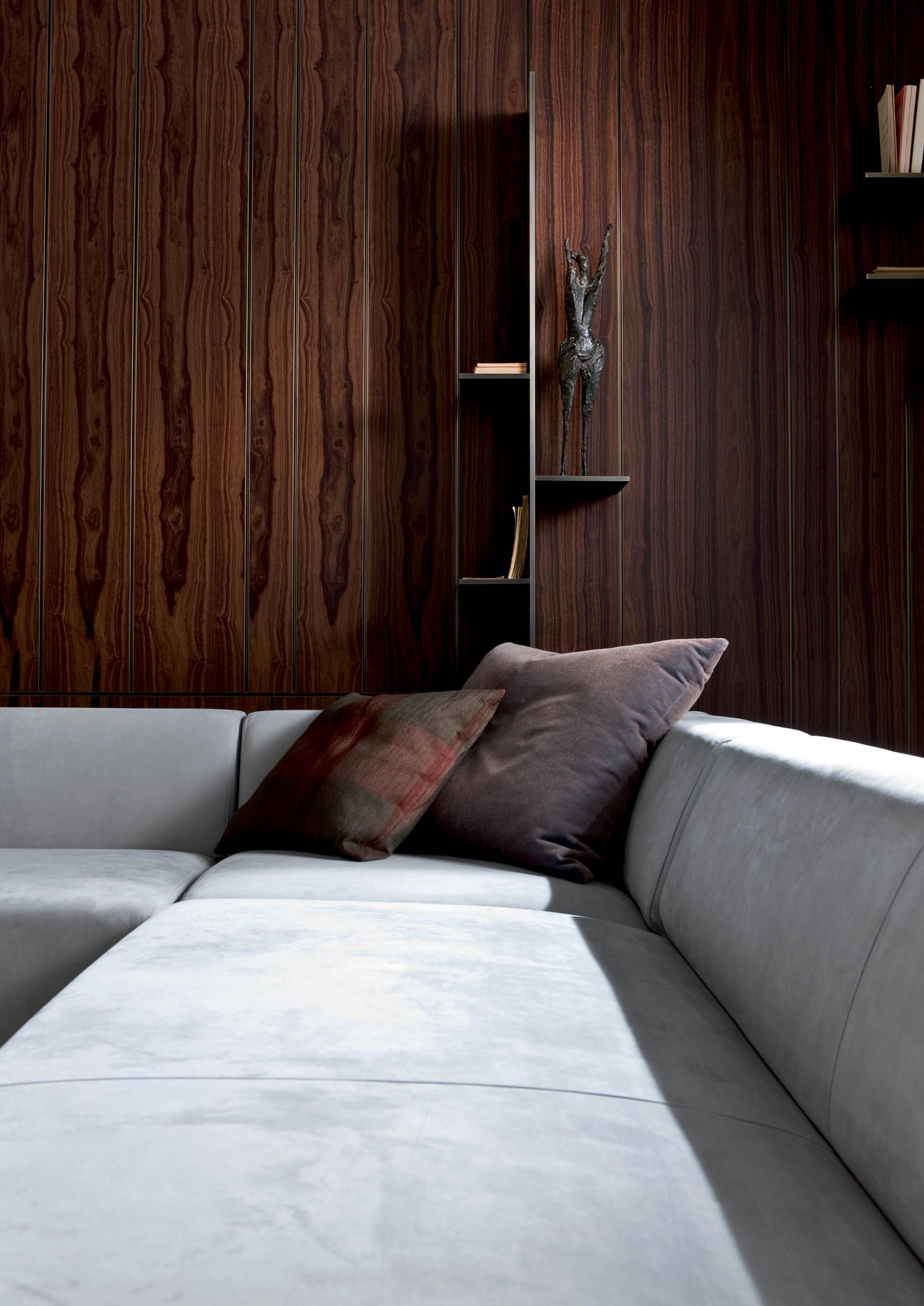 Another reason why we love decorating with wood is because of the many different colors and widths available. 
While smaller more intricate wood wall decor designs can look great in very modern homes, thicker slabs of wood can suit larger spaces where thinner designs might seem too busy. 
Plus, decorative wood panels can add height to your room, especially if you are using those which come with a vertical design, like this rich and warm mahogany style from Laurameroni Design Collection (opens in new tab). 
8. Create a floating panel wall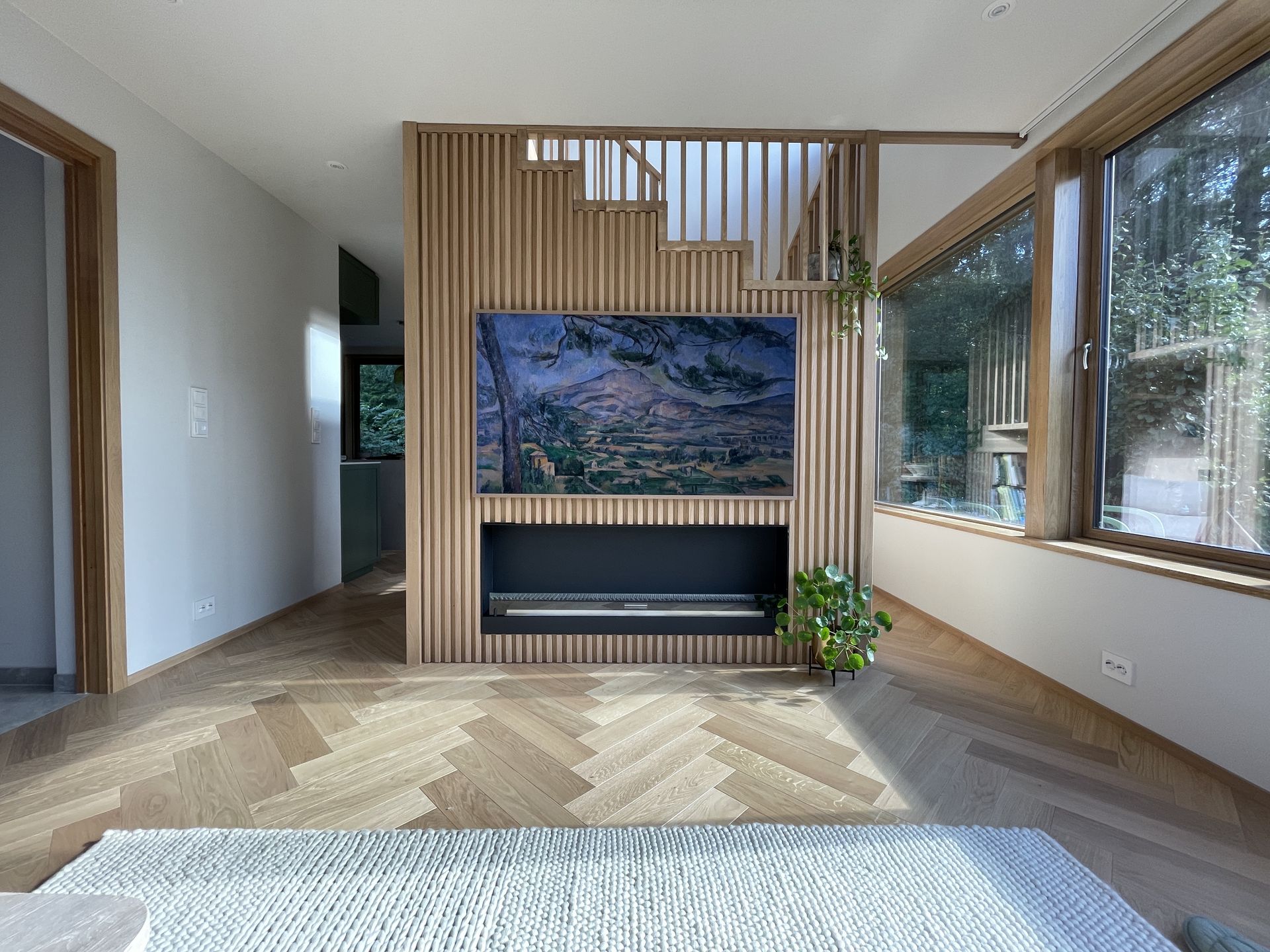 This design really is something special. It was the brainchild of architects, Monica Silva (opens in new tab) and her boyfriend who designed and built their home in Norway. 
She says, 'Right from the start we knew we wanted to have a special central element on the house and we ended up designing the main stairs as that special piece, that separates the living room from the kitchen and also serves as storage space, tv wall and reading corner. We designed it ourselves and had a carpenter making it.'
9. Make a bookshelf wall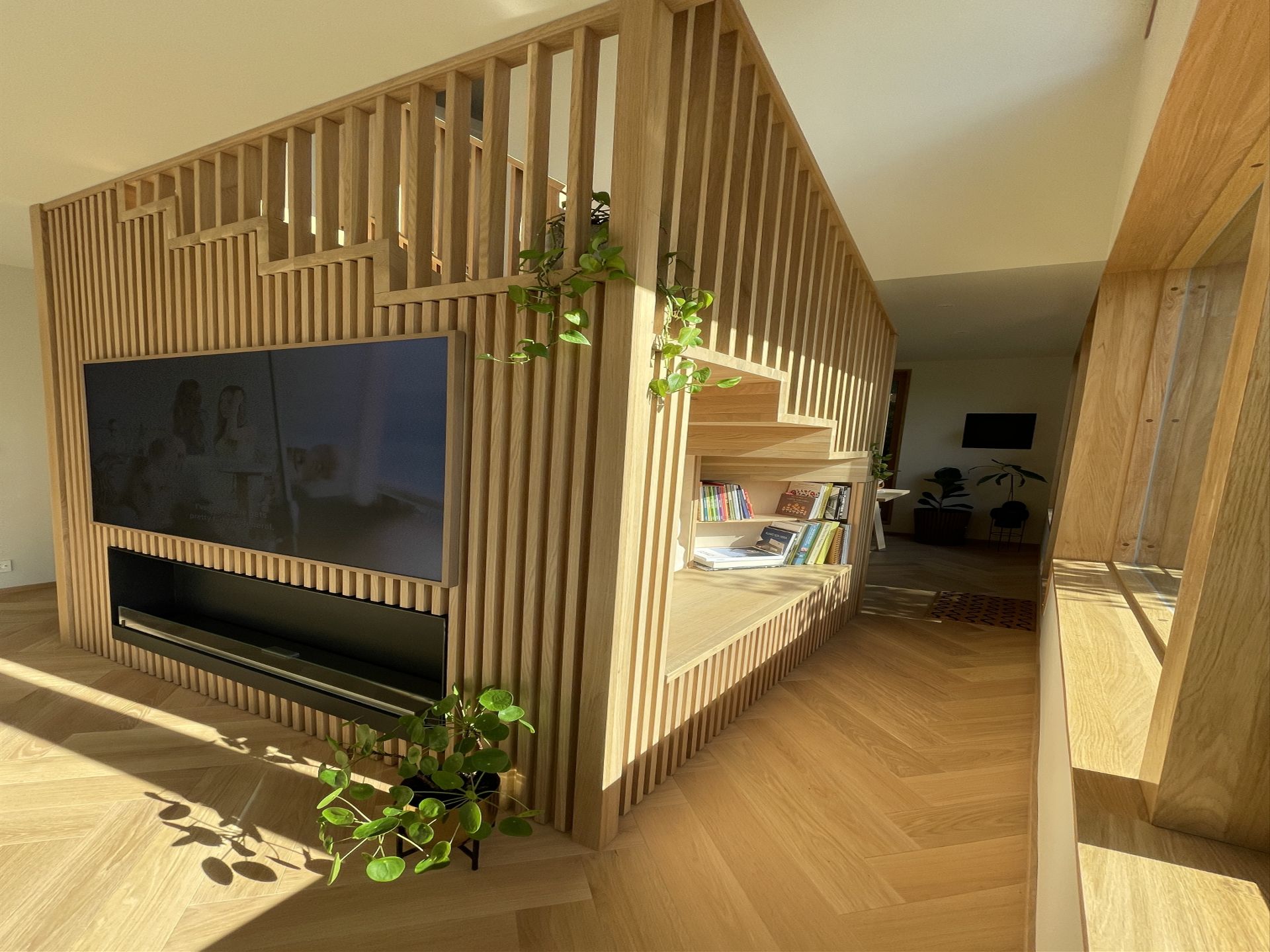 While we're talking of wood walls that do a lot more than just look good, why not go one step further and insert a bookshelf into your partition wall?
Silva made her wooden 4D wall work even harder by creating a design that not only encompassed a set of stairs and served as the media area, it also includes a bookshelf and small seat – perfect for enjoying some rays whilst getting stuck into a good book. 
Custom make a bookshelf yourself and follow in Silva's footsteps. She adds, 'Our house has a lot of Scandinavian design influences and wood is present everywhere in our house. We wanted not only to have the special element in wood but also with a lot of texture so we went for wood cladding. We are very happy with the final result!'
10. Go vertical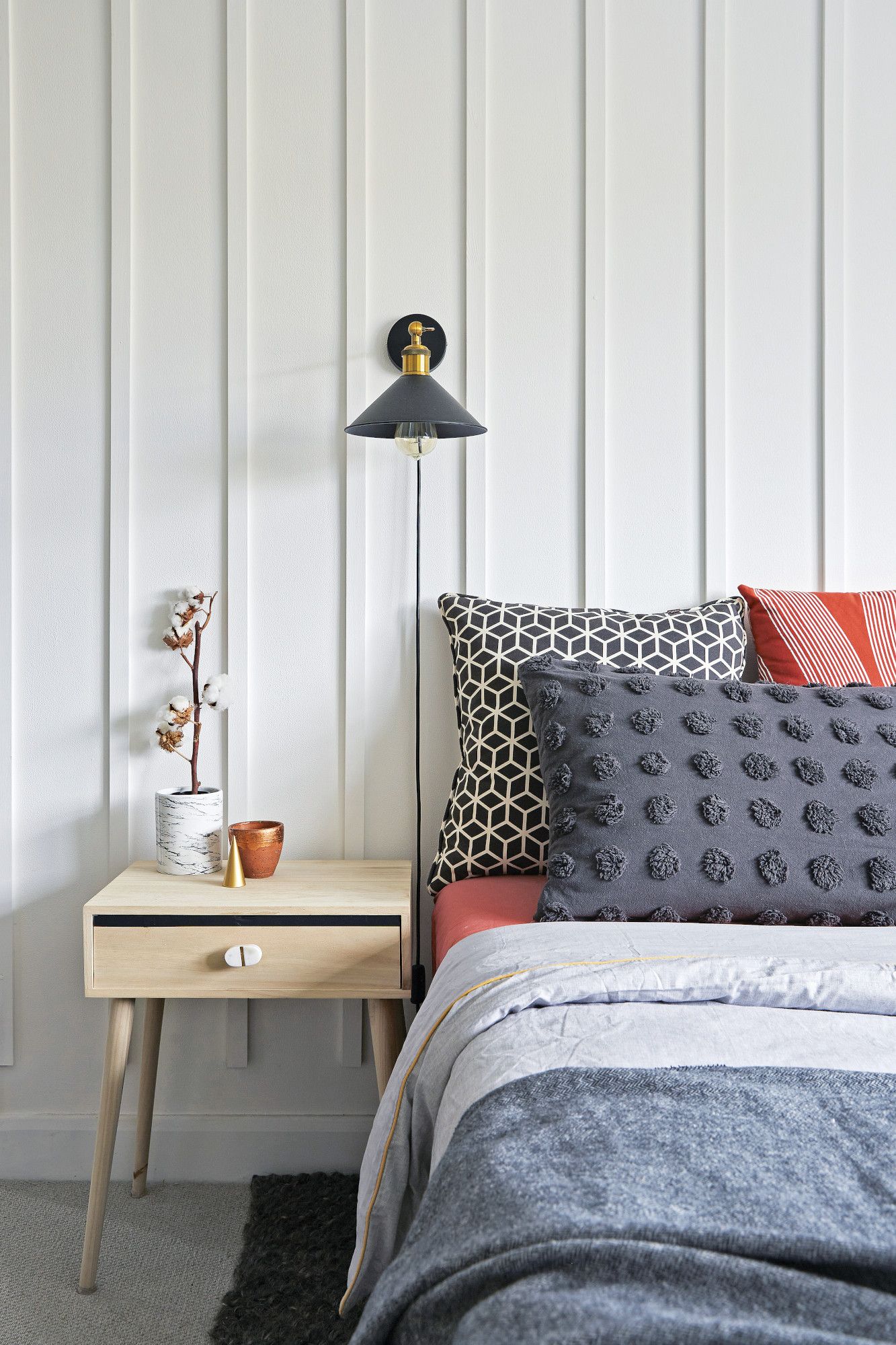 Make the most of your bedroom with vertical wood wall secor. This look is much (much) easier to create than some more intricate designs. 
The simple yet creative vertical stripes are made up of vertical strips of plywood, which are cut to size, and then glued and nailed to the wall. Like any other paneling design, you can fill in any gaps with caulk and then paint it your chosen color of choice.
This is another simple yet creative way of adding some thought to your space without overpowering it. Plus, the white design means you can inject color through your duvet cover and cushions.  
How do you decorate a room with a wood wall?
Massimo Maggioni, owner and general manager of Laurameroni Design Collection (opens in new tab) says, 'Wall panels are not only for classic and retro environments. And the elegant Laurameroni rooms proudly show off precious woods and unique textures with a bright and contemporary look, to propose simple, clean and at the same time creative solutions. 
'Combining refined and innovative finishes with simple geometric patterns and magnificent carvings, designers and architects can find the best inspiration to cover unique walls, combined with doors, shelves and even day or night cabinets of great aesthetic impact.'
Maggioni says, 'Wood certainly is one of the more ancient and common materials. Long used all over the world to create amazing essential objects, it never stops being full of inspiring surprises. 
'Wooden wall panels are a durable and versatile product that withstand the test of time, but wood also gives you virtually endless possibilities: you can make your panels fit your vision. 
'No matter the space you are working with, be it residential, commercial, hospitality, or anywhere in between, you will find a wooden wall panel to suit your style and taste.'
How do you decorate with wood? 
One of the best things about decorating with wood is the fact that it's so adaptable and can be used for a range of different purposes, beyond the walls. From furniture, like a dining table and chairs to picture frames and doors. There's a whole host of ways to decorate with wood depending on your interior design choices and style. 
You could give old wood furniture, like a chair, a new lease of life with some paint. You could invest in some wardrobes made from wood. Or, as we've seen in the examples above, you can decorate your home with wooden wall panels that add texture, interest and warmth. There really is no end to decorating with wood in your home.