Opinion: Bringing cut greens indoors is an ancient tradition that is now a mainstream winter and Christmas activity.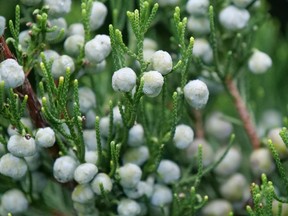 Reviews and recommendations are unbiased and products are independently selected. Postmedia may earn an affiliate commission from purchases made through links on this page.
Article content
With all the challenges going on in the world right now, bringing a touch of nature into our homes will provide a little bit of comfort and joy — more, perhaps, than we realize.
Article content
Right across our country, the trend of using fragrant, fresh cut greens to decorate porch pots, hanging baskets and table centres has become, for many, a tradition that is growing in popularity each year. Folks are using interesting branches and stems and colourful berries to start decorating earlier in November, and they're enjoying their creations well into January.
Article content
However, one concern that has arisen is an ethical question about the wisdom of harvesting forest greens. Although no one can speak for all harvesters, I have discussed this issue with some of the major suppliers and was assured that most harvesters get permits to cut branches from trees on Crown land and from forest companies that hold the rights for tree-harvesting. They're also required to harvest in a manner that doesn't compromise the trees' growth and respects the lands upon which they harvest.
Article content
Done properly, pruning the outside branches of larger trees can be quite sustainable over time. We have several larger western red cedars on our property and have been selectively pruning them each fall for many years. The trees continue to be beautifully full and healthy.
It's not only green branches that go into creating remarkable outdoor porch pots and baskets, but many other outdoor plants also help add interest to our arrangements. Even small gardens are often wonderful sources of berries and stems that can be used year-after-year to create stunning displays.
Novelty conifers are a unique source of cut greens. A few of my favourites are the many varieties of Japanese cypress. I love the tall, thin, Hinoki cypress (Chamaecyparis obtusa Gracilis) with its rich, deep green, contorted branches. The golden form (Chamaecyparis obtusa Aurea) is also a jewel that adds warm colour to both our landscapes and to winter pots and containers.
Article content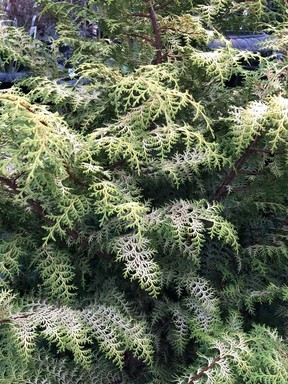 Blues are such an important colour in gardens year-round, and cuts of blue foliage add so much depth to winter arrangements. A wide range of upright blue junipers look spectacular when pruned quite narrow, and these trimmings are a great resource when used in all types of seasonal arrangements. Juniperus scopulorum Blue Arrow, Moonglow and Blue Point are some of the best for growing in small spaces and for yearly harvesting of new growth.
Juniper berries look charming, especially when tucked into wreaths, and a new variety from Proven Winners, called Juniperus chinensis Gin Fizz, which can grow up to 13 feet in height, is a great source of berries. By the way, they can also be used to make gin for your seasonal entertaining.
Article content
Golden spruces are real novelties. Picea orientalis Firefly is a more compact variety for today's smaller gardens, and it maintains its pure gold colour all year round. It isn't only a beautiful garden jewel, but it also has smaller branches that can be pruned off and used as stunning complements in holiday arrangements and wreaths.
Japanese cryptomerias are also wonderful accent plants. One of the most brilliant is a vibrant gold variety called Cryptomeria japonica Sekkan-sugi. This conifer would be a showpiece in your garden through all the seasons, and its branch tips would instantly make a greens' arrangement pop.
I have a friend in Oregon who grows a variety of cryptomeria, called C.j. Cristata. He doesn't grow these plants to sell them; he simply sells their lovely branches to the floral industry for use in winter arrangements. Cristata has fasciated branch tips that resemble a rooster's comb. These unique branches make this variety a showstopper, both in the garden and especially in any style of arrangement. I also like C.j. Grannies Ringlets for its soft, fingerling branch tips.
Article content
As a garden focal point, there's a spectacular columnar yew, called Cephalotaxus Fastigiata. Its long tips are quite distinctive and are excellent for adding height to any outdoor porch pot.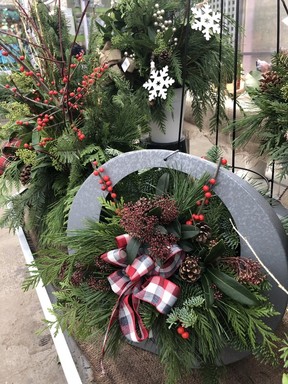 These are but a few of the many garden specimens that can be harvested yearly for branches that make porch pots look extra special.
What about berries for seasonal decor? Two winter beauties really stand out. By far, the most well-known and most widely used berries are those of the deciduous holly, Ilex verticillata. Both a male and a female are needed for pollination and the production of either rich red or brilliant golden berries, and — I'm not joking — the male and female must be compatible varieties. Birds also love these vibrant berries.
Article content
White symphoricarpos, or snowberries, are a North American native, however, the pink snowberry, Symphoricarpos Proud Berry, is a new Dutch introduction that is growing in popularity. Needing no pollinator, this variety will fruit the first year with hot pink berries that can last all winter.
Colourful and unique winter stems are another source of interesting plant material for your porch pots and seasonal décor. The very best candidates are the new varieties of shrub dogwoods, such as Proven Winners' compact Arctic Fire Red and Arctic Fire Yellow that grow only three to five feet in height and about six feet in width. Cornus sanguinea Arctic Sun is a compact yellow and orange bicolour that will really make winter gardens and winter greens arrangements come alive.
Article content
If you have some space in your garden and need a plant for shade or privacy, evergreen magnolias aren't only spectacular garden specimens, but their classy-looking branches are also highly sought after for winter arrangements. Magnolia grandifloras come in many sizes and hardiness zones and are much prized.
Most cities across Canada now display outdoor planters to add some warmth and beauty to their communities. Many businesses are also creating outdoor winter arrangements to add nature to their festive décor. Bringing cut greens indoors is an ancient tradition that is now a mainstream winter and Christmas activity. Right now, most garden stores have a nice selection of attractive branches, stems and berries, but wouldn't it be nice to simply go into your personal garden and select your own winter jewels to decorate for the festive season?
---
More news, fewer ads: Our in-depth journalism is possible thanks to the support of our subscribers. For just $3.50 per week, you can get unlimited, ad-lite access to The Vancouver Sun, The Province, National Post and 13 other Canadian news sites. Support us by subscribing today: The Vancouver Sun | The Province.