Schumacher's new space in Nashville, Jeremiah Brent opens an LA flagship and more
With the holiday season around the corner, new showrooms across the country are beckoning visitors in from the cold. In our monthly roundup, Business of Home gathers all the expansions and openings to add to your visit list.
SHOWROOM SPOTLIGHT: SCHUMACHER'S NEW CONCEPT ROOM IN NASHVILLE GOES BEYOND THE TRADEAmerican design house Schumacher collaborated with New York–based Lalire March Architects to open a free-standing space in Nashville's Wedgewood-Houston neighborhood, part of the city's rapidly growing design community. With the goal of creating a collaborative and inspiring space for the local design community, the new 2,500-square-foot showroom with a floral facade has light-filled rooms and large work tables for scheming projects and meeting with clients.
"[The showroom] is really not about high tech," says Schumacher creative director Dara Caponigro. "It's physical, and designers still want to touch and hold things—they want to see it in person. It's a very tactile, sensual experience." Designers can browse fabrics, wallpapers and trims in the back of the showroom, which is dedicated to the trade. The space, which is smaller than the brand's New York showroom at the Decoration & Design Building, features an ultraedited selection that represents the "crème de la crème" of its portfolio, according to Caponigro.
While its product line is reserved for designers, the front of the space features the company's first public boutique, which offers accessories, antiques, art, hand-made ceramics and even dog beds covered in its indoor-outdoor fabrics. The assortment features goods from local Nashville artisans, as well as French and Finnish artists that communicate the brand's ethos. "[The goal of the showroom] is to help designers finish projects, but also to give the consumer a taste of Schumacher and introduce them to the brand, so that if they ever hire a designer, they know about us," says Caponigro. Along with welcoming walk-in shoppers, the boutique will also host monthly events, including flower-arranging classes, trunk shows and book signings.
Building a consumer-facing outpost in Nashville dovetails with the city's renaissance—its population has grown by 20 percent over the past decade and is predicted to surge by an additional 1 million residents over the next 10 years. The expansion has helped fuel a blossoming local design culture: Nashville Design Week is set to kick off its fifth edition this week, and the city's 45,000-square-foot design center, Nashville Design Collective—located a block from Schumacher's new space—is approaching its third anniversary.
Bridging the consumer- and designer-facing spaces in the showroom is a room that displays imagery from completed designer projects featuring Schumacher product. The company's pride in the way the home looks and the art of entertaining is evident in the new showroom as well—a passion that closely aligns with Nashville's design community, according to Caponigro. The light-filled, collaborative spaces, with big communal tables and leather office chairs, are designed to keep customers (trade members and consumers alike) inspired. "I think the most unique thing [about the showroom] is that it's very comfortable and beautiful and light, and it encourages people to hang out," says Caponigro. "We really see [the new showroom] as a way of introducing designers to the national community at large. We want to teach them the value of interior designers and help them understand what they bring to the table—because they bring so much to the table."
609 Merritt Avenue, Nashville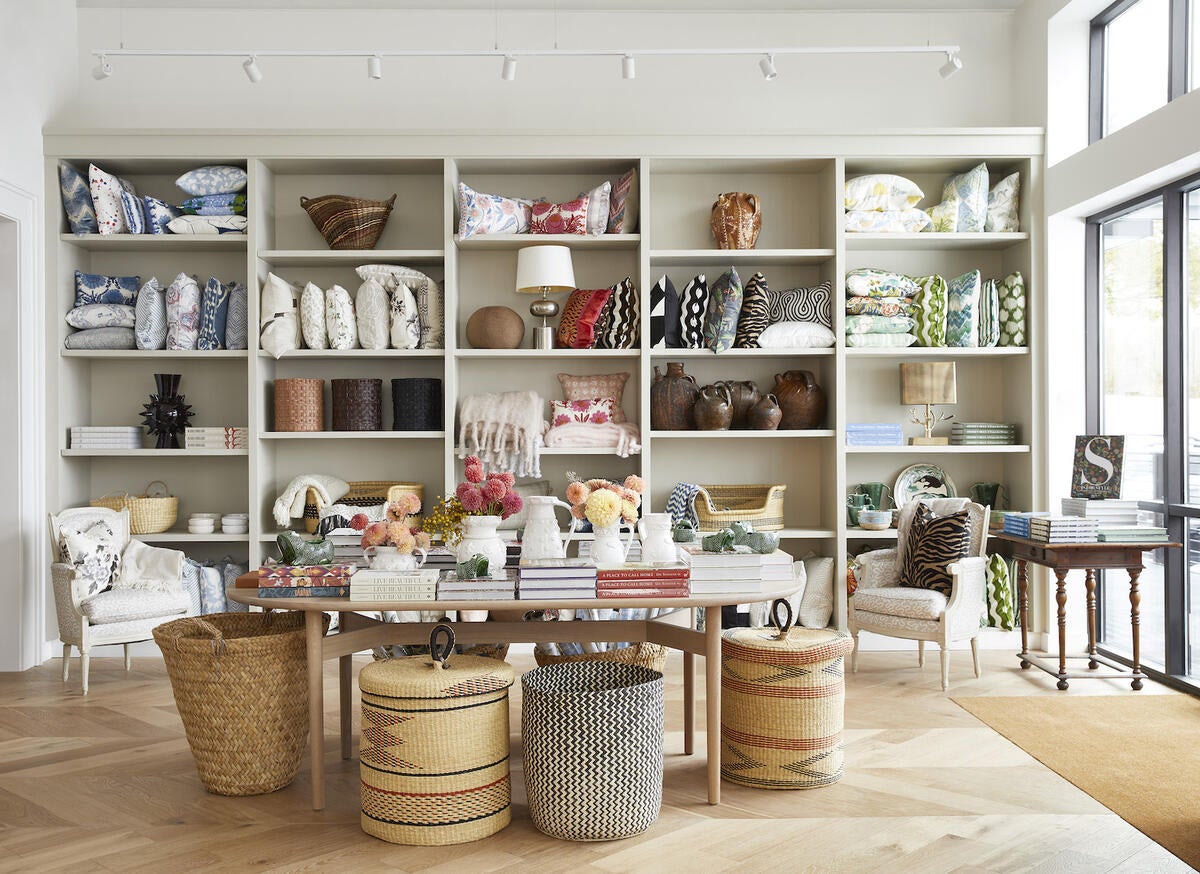 The Schumacher boutique carries signed coffee table books and tablewareBrie Williams
CALIFORNIA

Interior designer Jeremiah Brent launched Atrio, a new home retail concept with a flagship store in Los Angeles. Located in Culver City's Platform shopping complex, customers will find exclusive collaborations from producers including a line of marble objects designed in collaboration with Toronto's Montana LaBelle, decorative ceramics and table lamps from Barcelona-based Marta Bonilla, textural clay ceramics from Brooklyn-based D-Haene Studio and a bedding collection with Cultiver, based in Sydney. The space also has an in-house flower store and a sister restaurant next door called Juliet, also designed by Brent.

8888 Washington Boulevard, Los Angeles
European furniture brand Vetsak set up shop inside downtown L.A. at the Same Old LA showroom. The space will feature the company's signature modular sofa and customizable products like beanbags for indoor and outdoor use.
1923 South Santa Fe Avenue, Los Angeles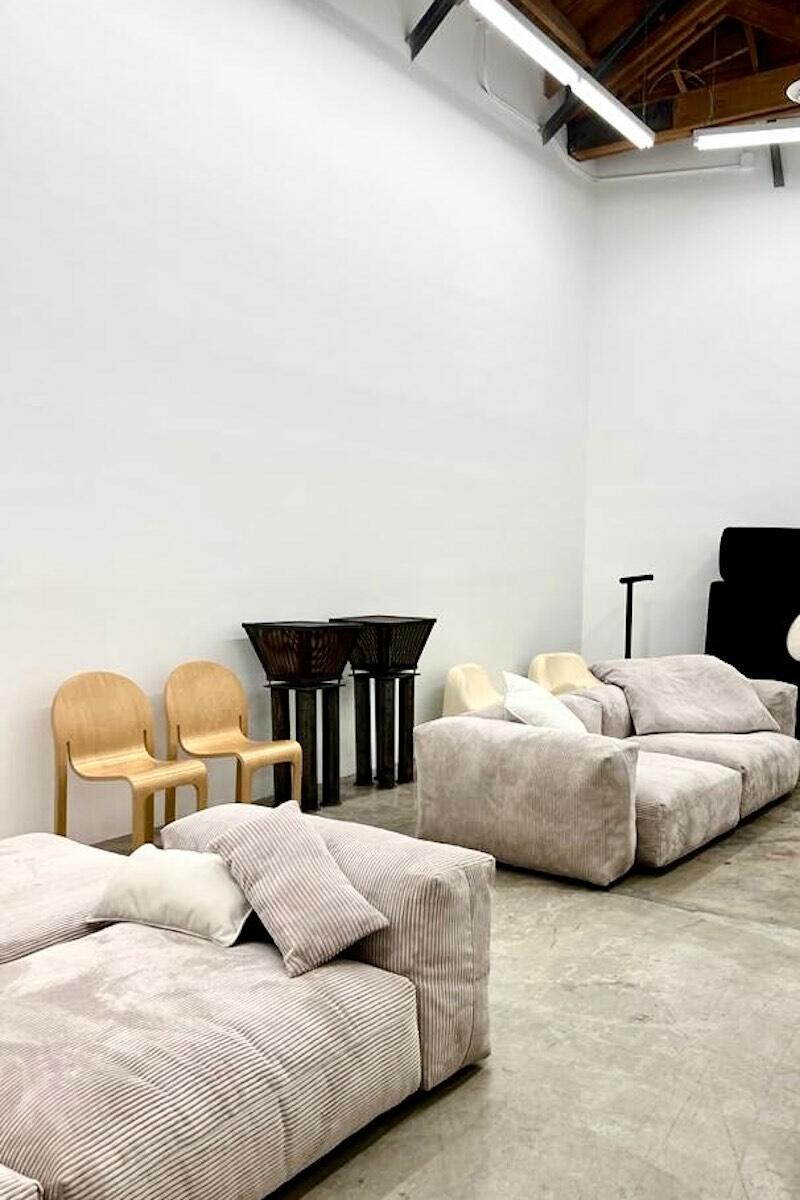 Vetsak's space features the company's signature modular sofaCourtesy of Vetsak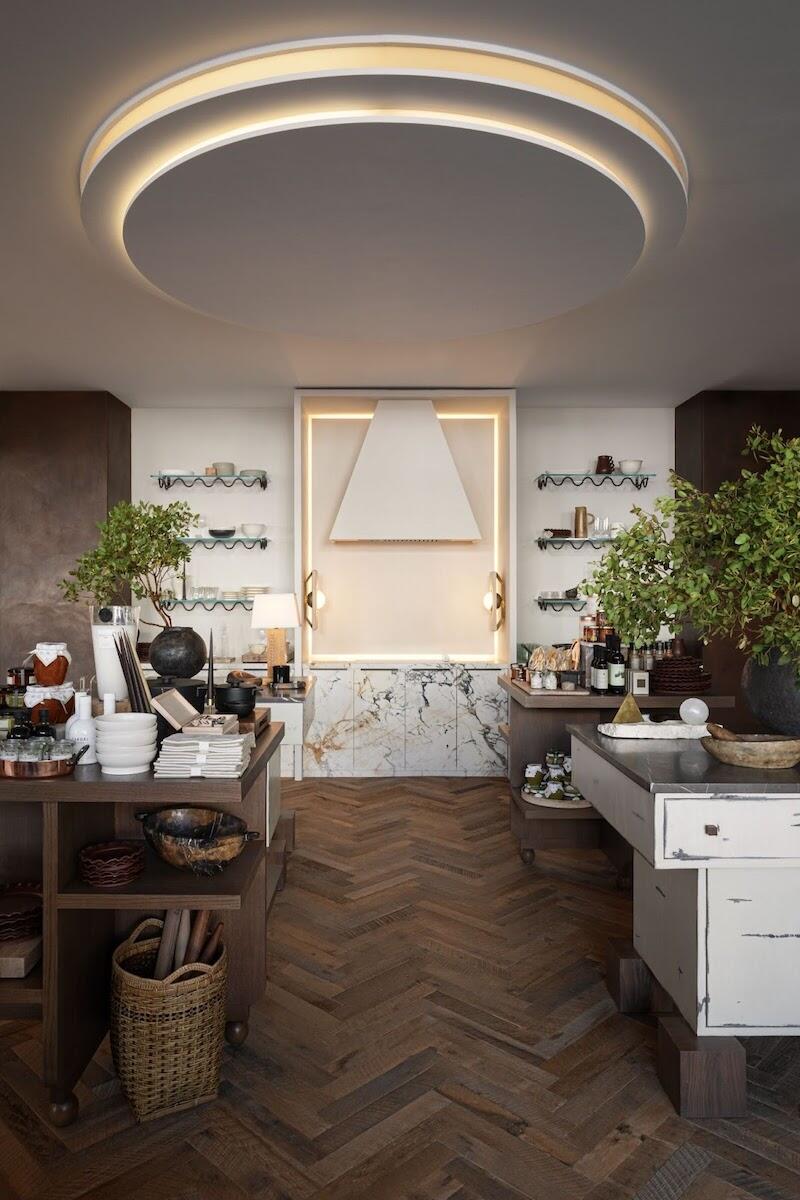 Atrio customers will find exclusive collaborations from producers including a line of marble objects designed in collaboration with Toronto's Montana LaBelleCourtesy of Atrio
Left: Vetsak's space features the company's signature modular sofa Courtesy of Vetsak | Right: Atrio customers will find exclusive collaborations from producers including a line of marble objects designed in collaboration with Toronto's Montana LaBelle Courtesy of Atrio
COLORADO

Kyndra and Larry Georgesond, co-founders of online boutique Kyndred Shop, debuted the brand's first brick-and-mortar store in Denver. Located in the Historic Park Hill neighborhood, the shop will feature home decor products as well as vintage furniture and accessories sourced and restored by the owners.

4611 East 23rd Avenue, Denver
ILLINOIS

The Mart in Chicago celebrated openings and expansions of several showrooms this month: Custom furniture manufacturer and upholsterer Anees Furniture & Design opened a new location on the sixth floor, while other brands expanded existing spaces, including carpet, rug and hard surface company Watson Smith; wallcoverings representative Area International; North Carolina–based company Century Furniture; and lighting, rugs and imports brand CAI Designs.

222 Merchandise Mart Plaza, Chicago
MASSACHUSETTS

Boston-based AGA Interior Design opened its first store, AGA Studio. The space will serve as a design office, entertaining space and community resource, with recurring pop-ups and featuring fabrics from Cowtan & Tout, rugs by Stark Carpet and lighting by Visual Comfort.

1 Church Court, Boston
NEW YORK

Online marketplace for Italian contemporary design Artemest opened a gallery in West Chelsea. The 5,000-square-foot space is organized into five areas—a gallery, project room, sample room, office space and garden—and will showcase the platform's bespoke Italian home decor, furniture and lighting in addition to rotating art exhibitions from artisans like Caribbean glassblower Bradley Theodore.

518 West 19th Street, New York
Italian furniture manufacturer Moroso opened a flagship store to celebrate its 70th anniversary. Designed in collaboration with Spanish architect Patricia Urquiola, the three-story, 1,300-square-foot showroom features products for residential and commercial projects, including sofas from Swedish designers Sofia Lagerkvist and Anna Lindgren.
105 Madison Avenue, New York
French ceramic manufacturer Jars opened a permanent showroom in New York. The space will offer tableware from casual at-home dining collections like Cantine and Jardine de Maguelone, along with more elegant dinner party collections like Plume and Dashi, while allowing customers to mix and match utensils to create a personalized set.
41 Madison Avenue, New York
The Moroso showroom was designed in collaboration with Spanish architect Patricia UrquiolaCourtesy of Moroso
A rotating art exhibition from Caribbean glassblower Bradley TheodoreCourtesy of Artemest
Left: The Moroso showroom was designed in collaboration with Spanish architect Patricia Urquiola Courtesy of Moroso | Right: A rotating art exhibition from Caribbean glassblower Bradley Theodore Courtesy of Artemest
Home furnishings company Kravet opened a flagship Donghia showroom in the D&D Building. The 2,600-square-foot space will feature artistic textiles, floorcoverings, vintage lighting and more than 500 fabrics and 20 furniture displays, including pieces like the Manhattan sectional, the Origami cocktail and side tables, and the newly introduced Bond Street sofa.
979 Third Avenue, Suite 1005, New York
French millwork and cabinet-making company Rinck opened a showroom in the New York Design Center. Located on the fourth floor, the space displays rugs and bookcases from the company's latest collection, chairs and poufs from a capsule collaboration with wallcovering brand Fromental, along with chandeliers, alabaster tables and wood paneling.
200 Lexington Avenue, Suite 422, New York
Kitchen-system manufacturer Space Theory, owned by Henrybuilt, opened its first showroom in New York. The two-story space in SoHo will feature custom products in a range of materials from stained to natural veneer finishes and showcase a functional kitchenette and the Daylight island.
355 West Broadway, New York
TENNESSEE

Kravet opened its first workspace in the Nashville Design Collective. The 4,600-square-foot showroom features fabric, wallcoverings, furniture, trims and decor, showcasing collections from Brunschwig & Fils, The Shade Store and local interior designer Sarah Bartholomew for Lee Jofa. Customers can use the showroom's digital pegboard to browse products, as well as print digital tear sheets for pricing and record keeping.

510 Merritt Avenue, Nashville
TEXAS

International kitchen design brand Minotticucine collaborated with Italian company Maistri to open a showroom in the Dallas Design District. The brand's only stand-alone location in North America, the nearly 6,000-square-foot space features personalized and minimalist kitchen designs and stone-sourcing options for surfaces.

1436 Slocum Street, Dallas
Houston-based interior designer Mary Patton opened her first brick-and-mortar design studio in Houston. The 2,800-square-foot space features a curated assortment of midcentury furniture, quilts, lighting, pillows and art, including vintage pieces from Hungarian architect and interior designer Paul László.
2439 Bissonnet Street, Houston
Minneapolis-based home furnishings brand Blu Dot opened its first store in Dallas, located in the Knox Henderson neighborhood. Blu Dot worked with the architectural and design firm Far+Dang to build a 9,600-square-foot warehouse-style building. The space has two patios that showcase a collection of the brand's growing line of outdoor furniture as well as curated selections for both the home and office.
4447 McKinney Avenue, Dallas
Kravet opened a new 2,000-square-foot showroom in Fort Worth, featuring fabric, wallcoverings, furniture, trims, carpet and decor. Customers can explore brands including Lee Jofa, Brunschwig & Fils, GP & J Baker and Donghia using a digital pegboard and tear sheets.

2529 Weisenberger Street, Suite 113, Fort Worth
Minotticucine's Dallas showroom features personalized and minimalist kitchen designsCourtesy of Maistri
INTERNATIONAL

U.S. furniture and lighting brand Ralph Pucci International launched a pop-up gallery in London. The two-story, 2,000-square-foot exhibition space will feature a selection of works from French artist and designer Patrick Elie Naggar; British architect, furniture designer and artist Spencer Fung; glass-maker Lianne Gold and more.

18 Albemarle Street, London
London-based bathroom furniture company Balineum opened its first studio. Customers can explore tiles, curtains and wallpapers, including collaborations with interior designers Jean-Philippe Demeyer, Luke Edward Hall, Adam Bray and Rachel Chudley.
3 Netherhall Gardens, Flat 1, London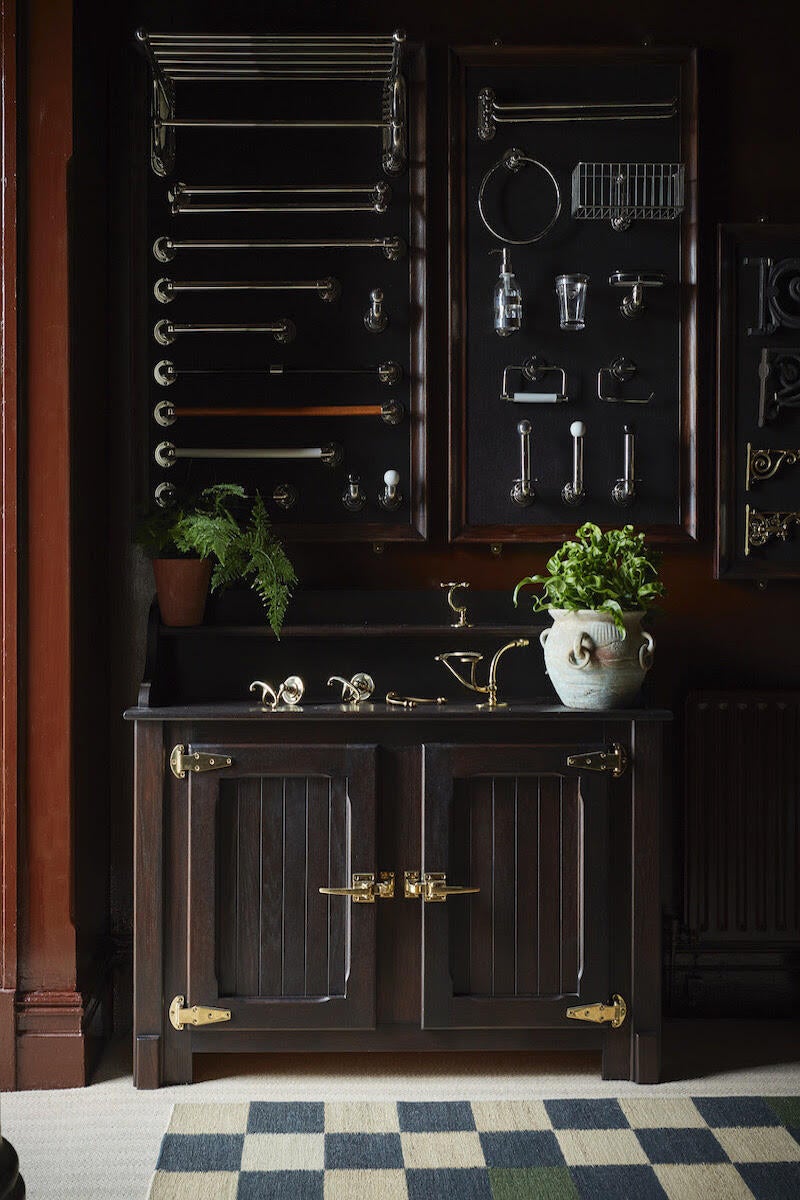 Balineum's studio features tiles, wallpapers and pulls for bathroom essentialsCourtesy of Balineum
In London, Ralph Pucci International launched a pop-up galleryCourtesy of Ralph Pucci International
Left: Balineum's studio features tiles, wallpapers and pulls for bathroom essentials Courtesy of Balineum | Right: In London, Ralph Pucci International launched a pop-up gallery Courtesy of Ralph Pucci International
Homepage image: The inside of Schumacher's new concept room in Nashville | Brie Williams