We relish this time of year when we can once again decorate our homes for spring.
But what are the most impactful ways to introduce spring decor ideas into a home?
We asked interior designers how they do it.
How can I decorate my house for Spring? 
There are so many ways to decorate a home for spring, from introducing simple but pretty spring mantel decor ideas through to refreshing whole house color schemes.
1. Revamp the front porch with cozy textures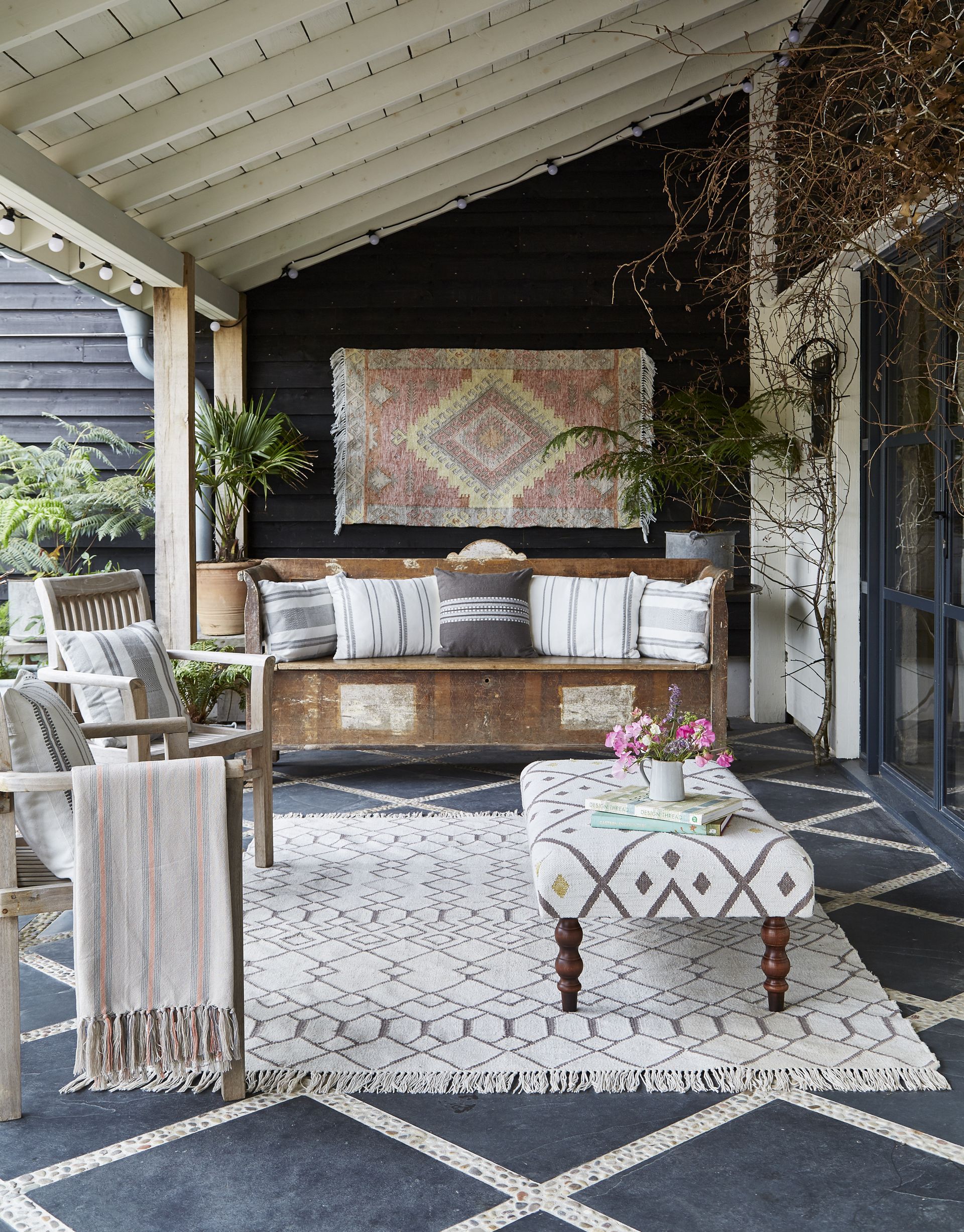 Start with spring porch decor, replacing winter plants with spring bulbs, and bringing back decorative elements that you put away for winter. Outdoor rugs are the most impactful, setting the scene for the entryway and house beyond.
'You can make your front porch feel like an extension of your home by decorating it with some beautiful colorful rugs, lanterns, pot plants and ornamental trees. You can also add some stylish weather-proof pillows and blankets to chairs and benches to bring extra coziness for chilly evenings,' says Tasha Green, founder of Weaver Green (opens in new tab).
'Our hardwearing weather-proof rugs can transform a drab porch into something special for spring. While you mostly think of rugs for use underfoot, they can also inject a gorgeous burst of color and pattern to plain walls.'
Don't forget spring door decor: swapping out wintry arrangements and making a spring door wreath can instantly make the outside of your home feel fresher.
2. Freshen up your entryway with spring blooms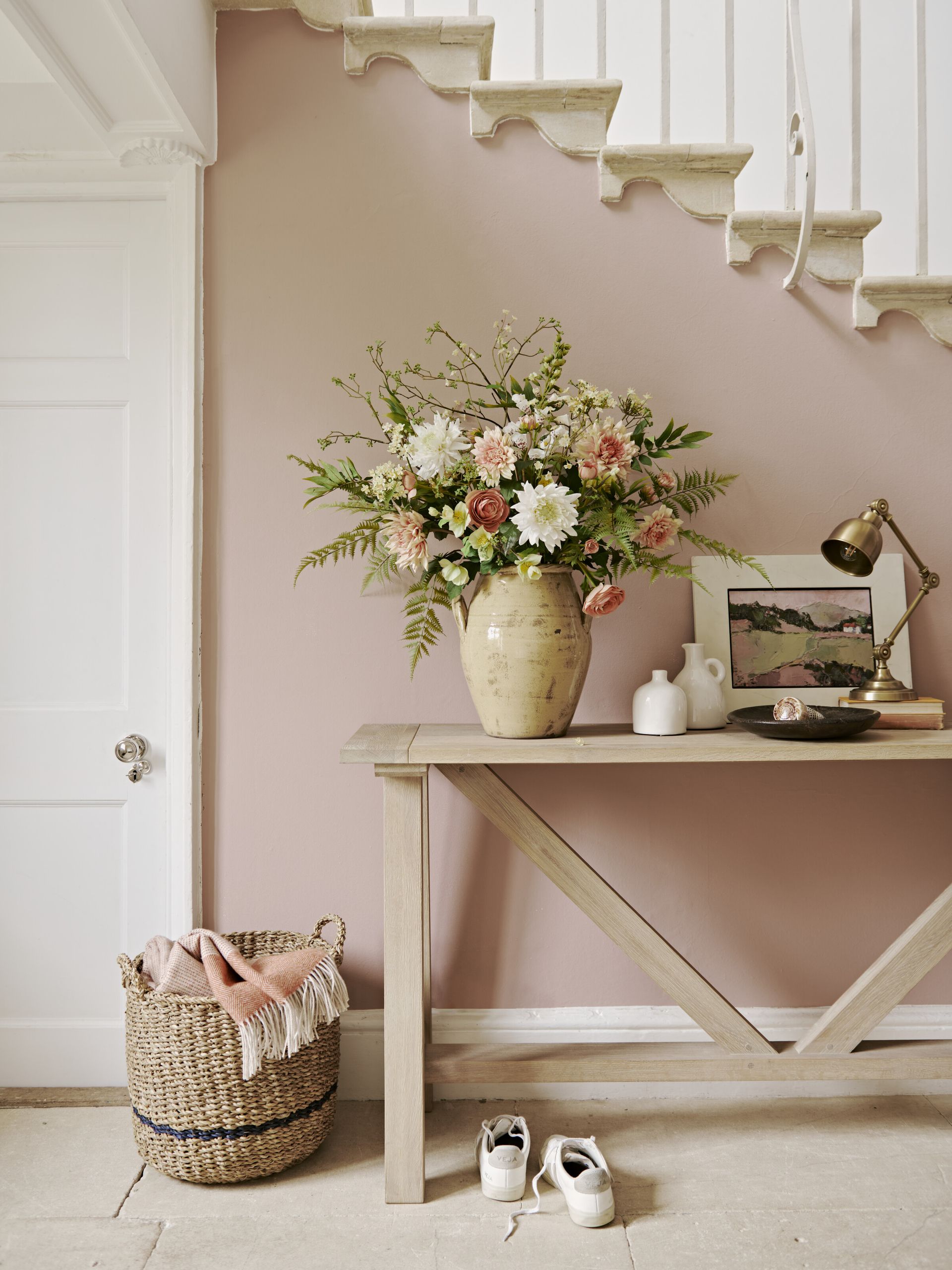 Entryway table decor is key to making your home feel decorated for spring.
'Spring is a wonderful time to fling open the windows and to bring nature indoors reminding us that warmer days are on their way. I love to bring spring bulbs into the home as they are inexpensive, and they bring color and joy into any room,'  says Simon Temprell, interior design manager at Neptune (opens in new tab).
'Use an entryway table for displaying them planted in different containers and vases, using sheet moss to cover the compost, or treat yourself to a lush bunch of spring colored blooms to place there instead – catkins and pussy willow can be simple but effective when placed in a tall vase, bringing structure and height to your display. If you have storage baskets under your console table, you could switch out a throw or some cushions to fill the baskets with seasonal color.'
3. Add pattern to plain schemes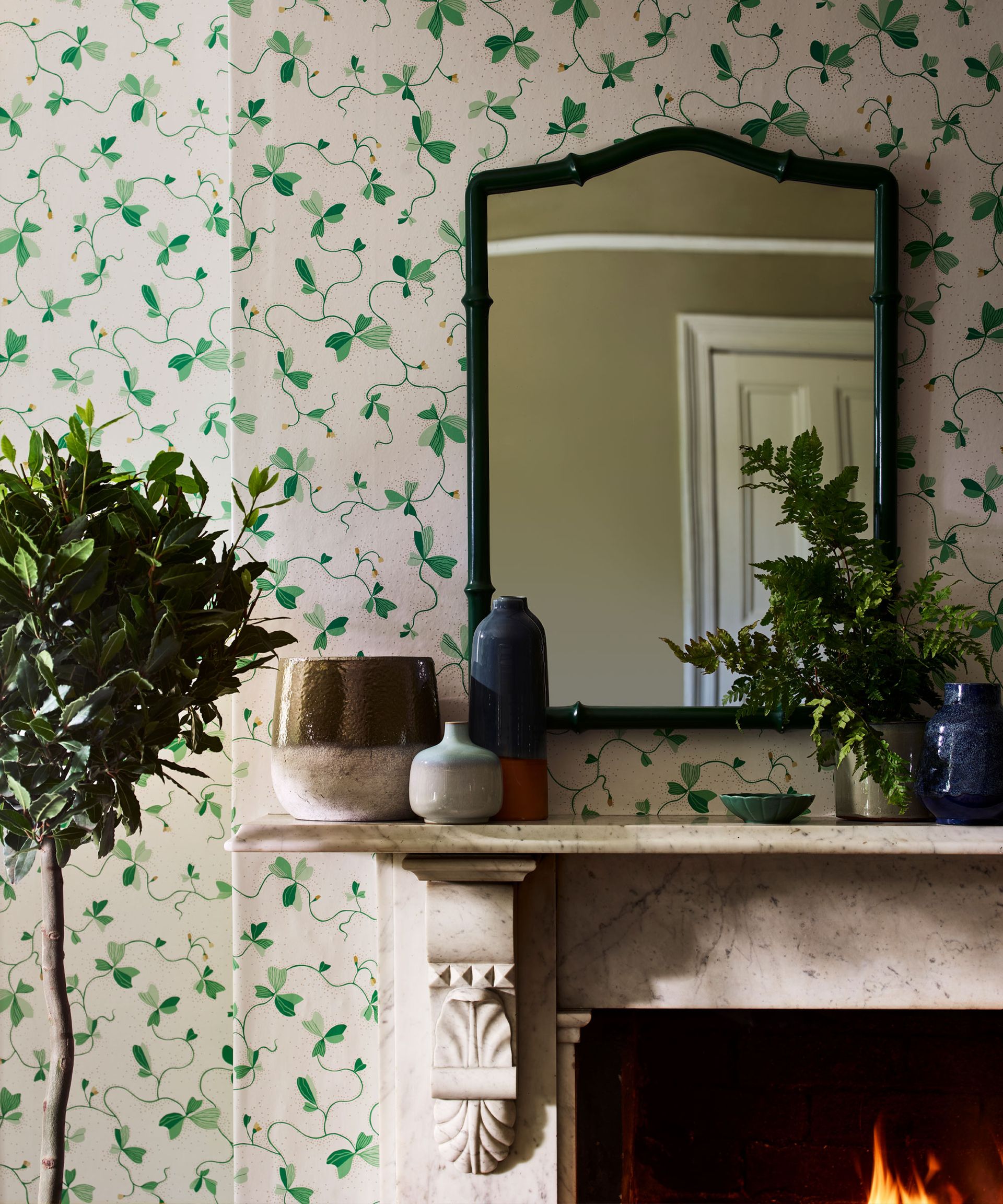 A living room feature wall is the most impactful way to decorate your house for spring. 
Choosing a living room wallpaper that features natural motifs will make your home feel fresh, particularly if you choose colors we usually associate with spring, such as fresh green. However, perhaps use this as a chance to correct the proportions of your room.
'Geometric wallcoverings create a strong rhythm within a room, they can also give the illusion of more space with lines that draw the eye and elongate or widen the feel of the interior,' advises Philippe Desart, managing director of Arte (opens in new tab).
4. Swap in spring colors with soft furnishings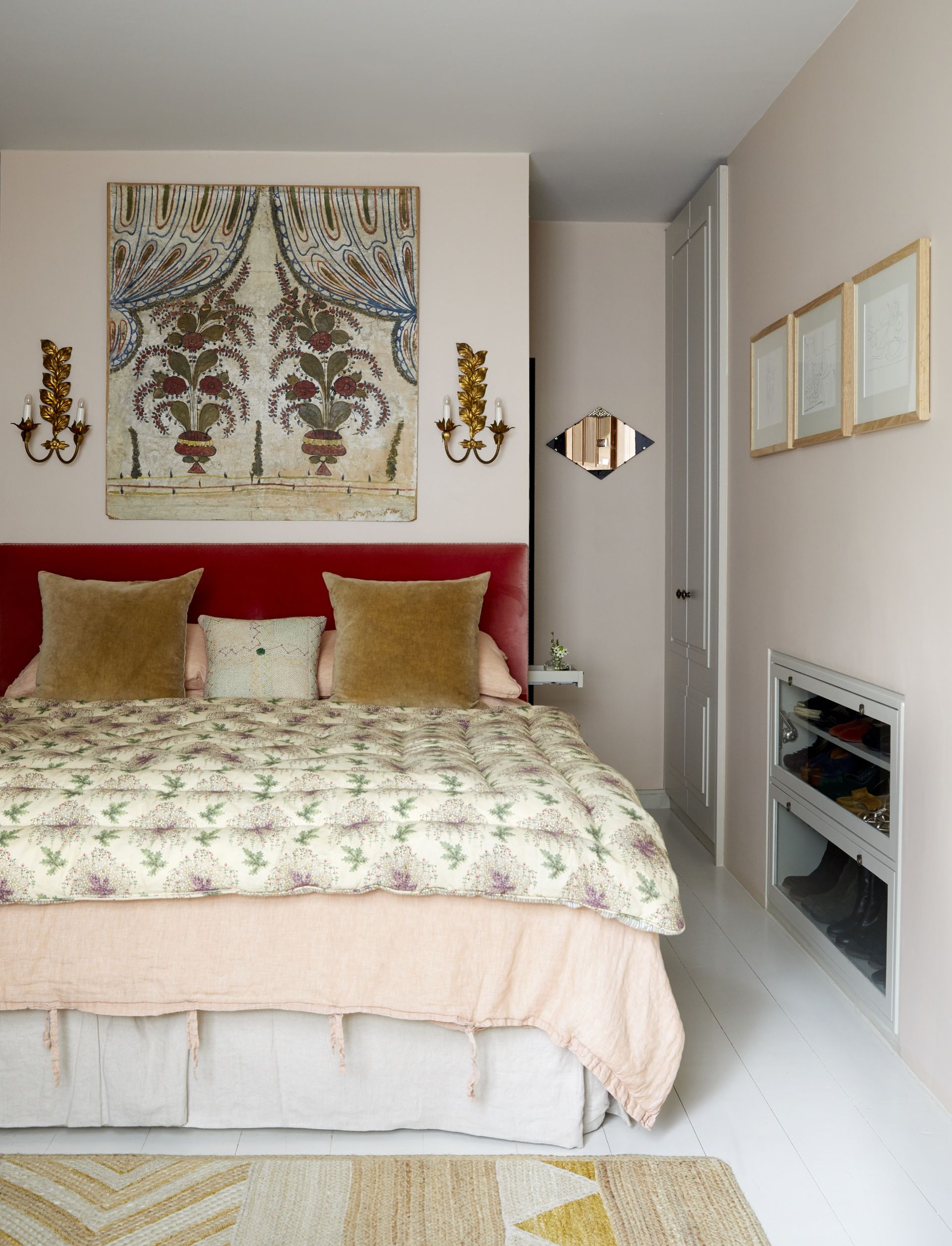 'Swapping out soft furnishings with something bright yet soft as we transition from winter to spring is the perfect way to freshen up any room or scheme. Softly colored velvet pillows, comforters and blankets can all work well to add a bright airy feel for spring with the latter two ensuring there's another warm layer at hand as the night can still be chilly,' says Georgina Cave, creative director and founder of Cave Interiors (opens in new tab). 
Other spring-refresh swaps include changing rugs around: you could have a complete revamp and swap one from upstairs to downstairs, or if you have storage space, swap a heavier design for a lighter weight cotton version and roll up the winter rug until fall. 
5. Introduce spring color in bold upholstery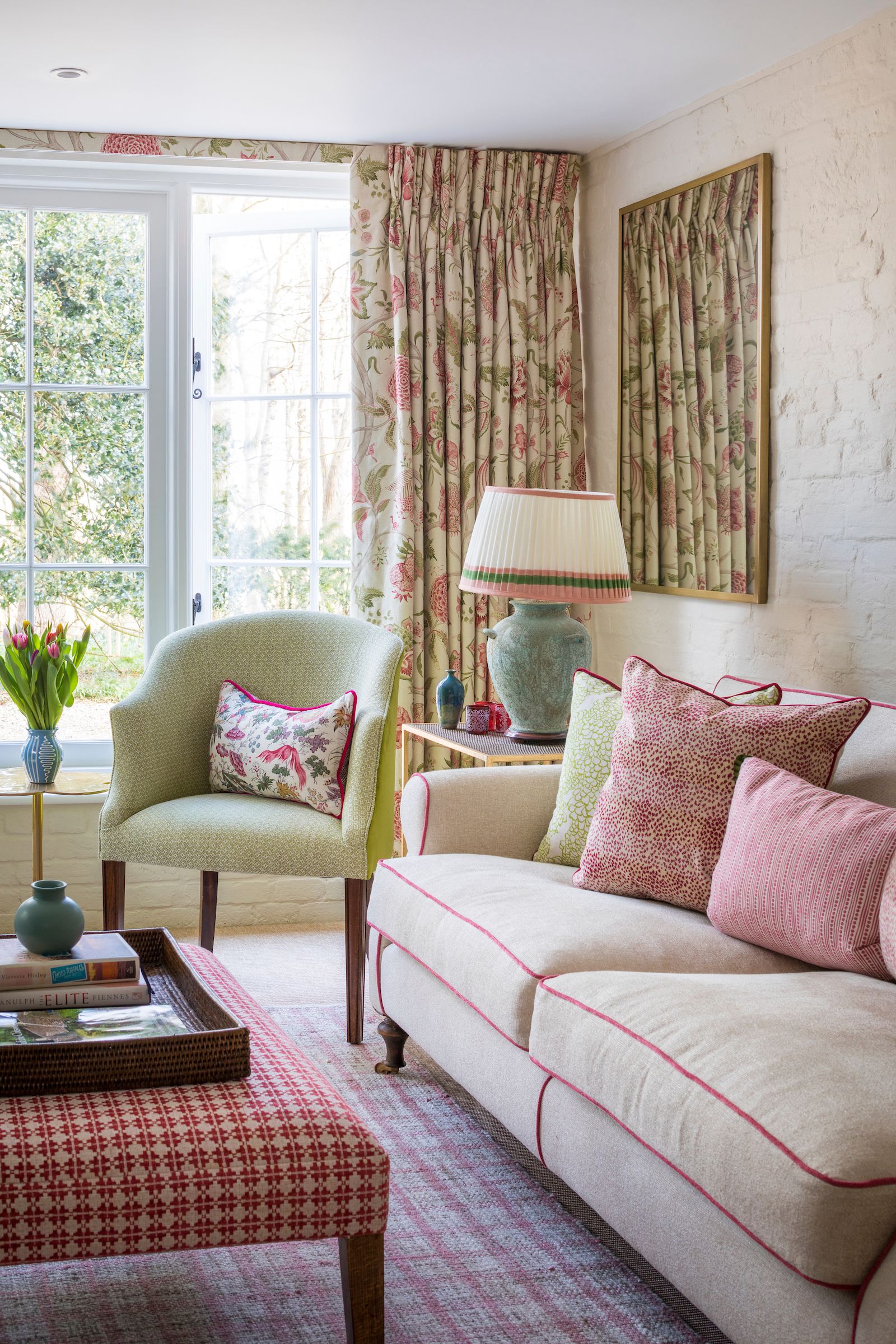 'When it comes to introducing color to the home for the spring season, there are many things you can do if you don't want to paint or wallpaper walls. 
'Consider your furniture. These pieces will live with you for a long time, if not a lifetime, so it's important to pick what you truly love. Accent pieces are a great way to not only create extra seating, but to introduce color and pattern. Choose a style and print that will complement any existing upholstery, and opt for contrasting piping to help tie your color scheme together.
'If you are more daring, then you could go as far as opting for colored furniture – be it a couch in a statement shade or a brightly patterned ottoman,' says Emma Deterding, founder and creative director of Kelling Designs (opens in new tab).
6. Bring the outside in with a spring wall mural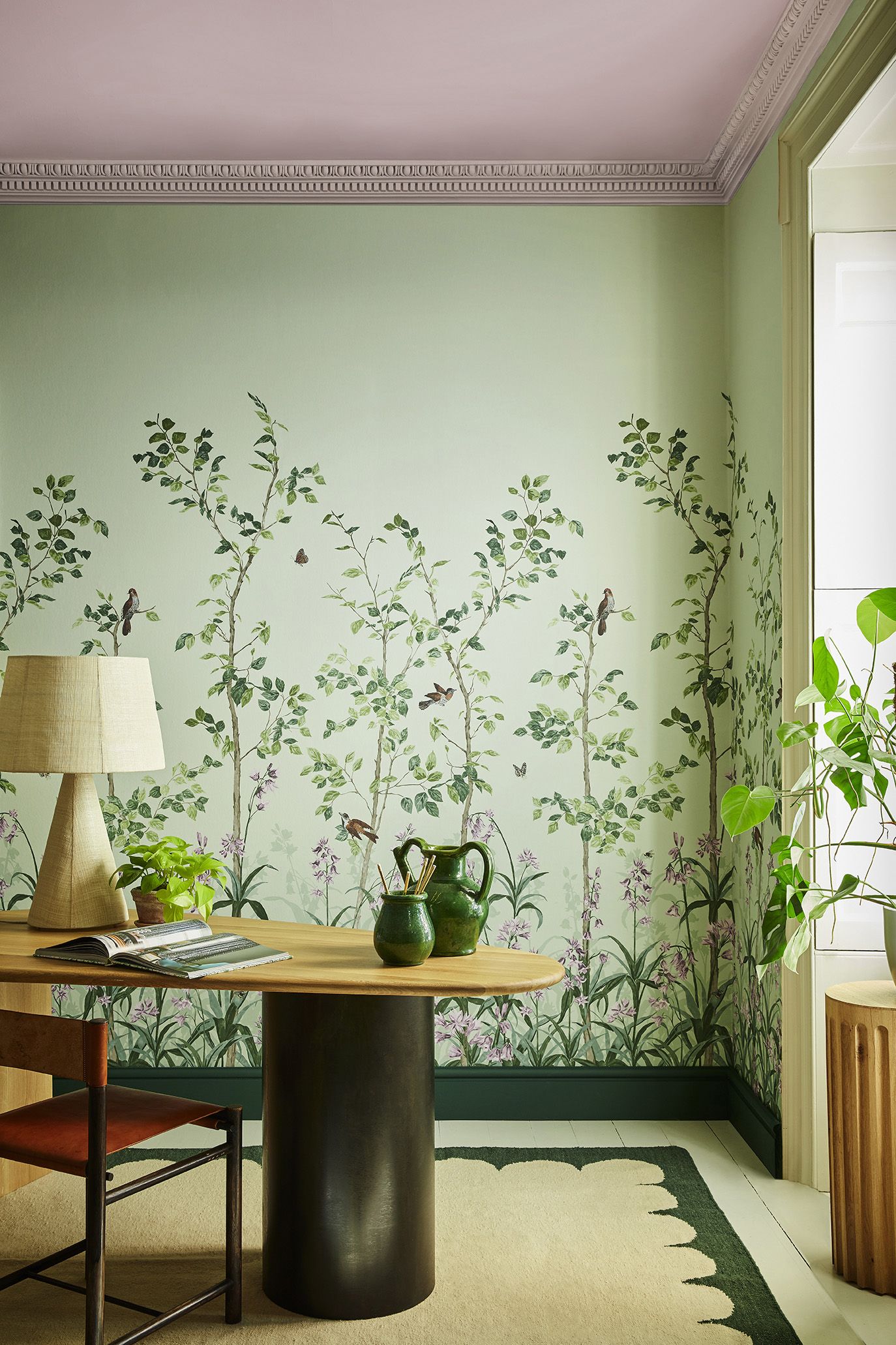 Wall murals are on trend again, and they are a wonderful way to give a room a story, but you can extend their impact by marrying them with ceiling decor.
'Introducing a mural design can establish a sense of space within a room, and murals such as Bird and Bluebell create a glimpse of a world beyond your four walls, an instant connection to nature and perfect for adding a touch of spring,' says Ruth Mottershead, creative director at Little Greene (opens in new tab).
'For an extra design detail, consider coordinating your ceiling with the ground color or a highlight color from your wallpaper. This will create a harmonious look that feels considered and elegant and will create a sense of flow.
7. Give your artwork a seasonal update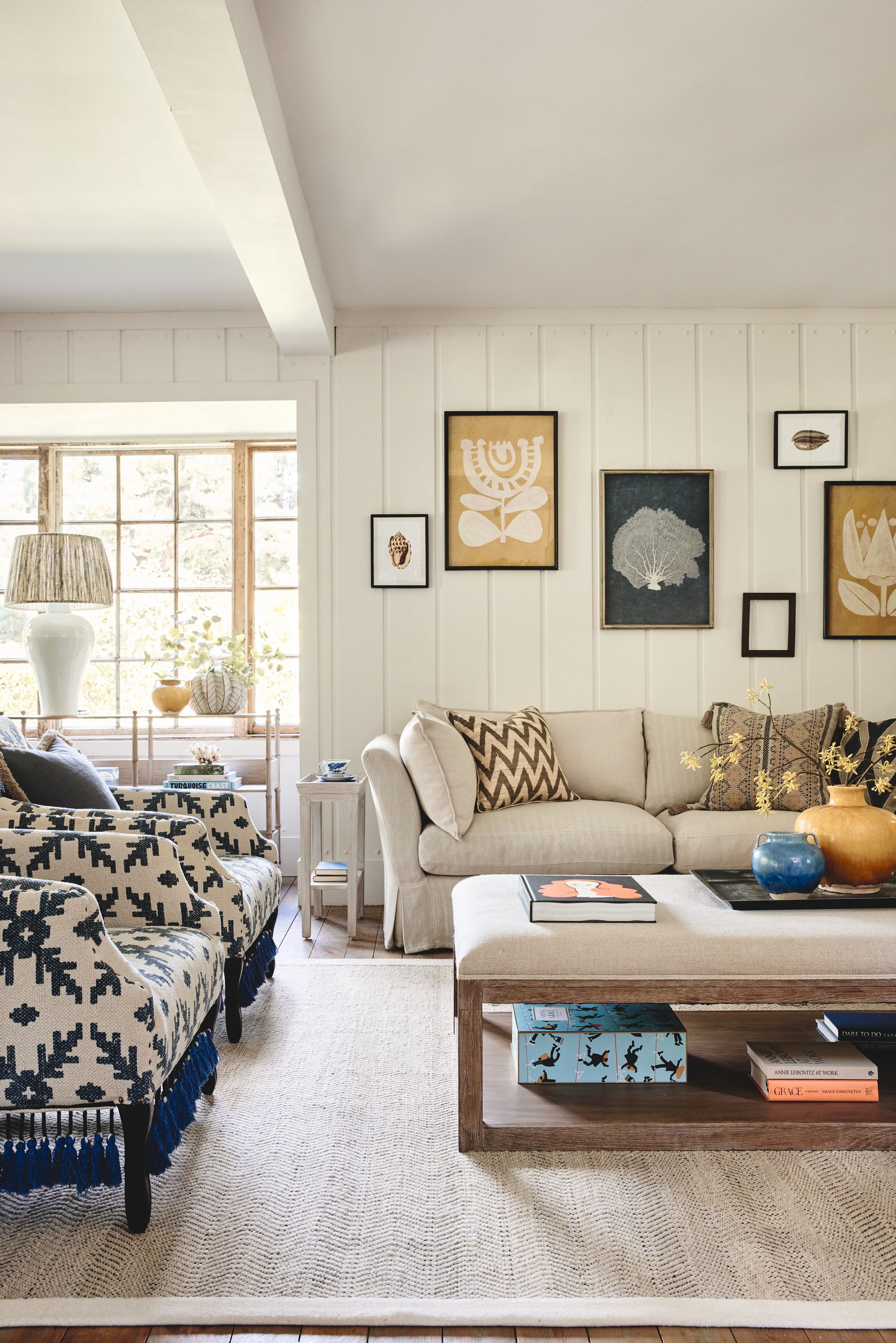 'I am a great believer that one of the quickest, easiest ways to switch up your home from season to season is to make a few simple changes to your accessories,' says OKA's (opens in new tab) co-founder, Sue Jones.
'It's not practical to completely redecorate your space four times a year, so this is a relatively easy way to achieve a totally new look. The colors and decorations on your walls can have a big impact on the feel of a space, so why not start here? 
'It can be as simple as reworking the existing artwork in your home, such as rethinking a gallery wall or reframing and moving a statement piece to a new spot – it's surprising how something much-loved can feel completely fresh in a different location. 
'If you want to buy art, look for prints that add a pop of color to the room – for a real spring feel, I'd suggest trying citrus yellows or Mediterranean blues to welcome in the oncoming warmer months.'
8. Layer white rooms with plants and natural textures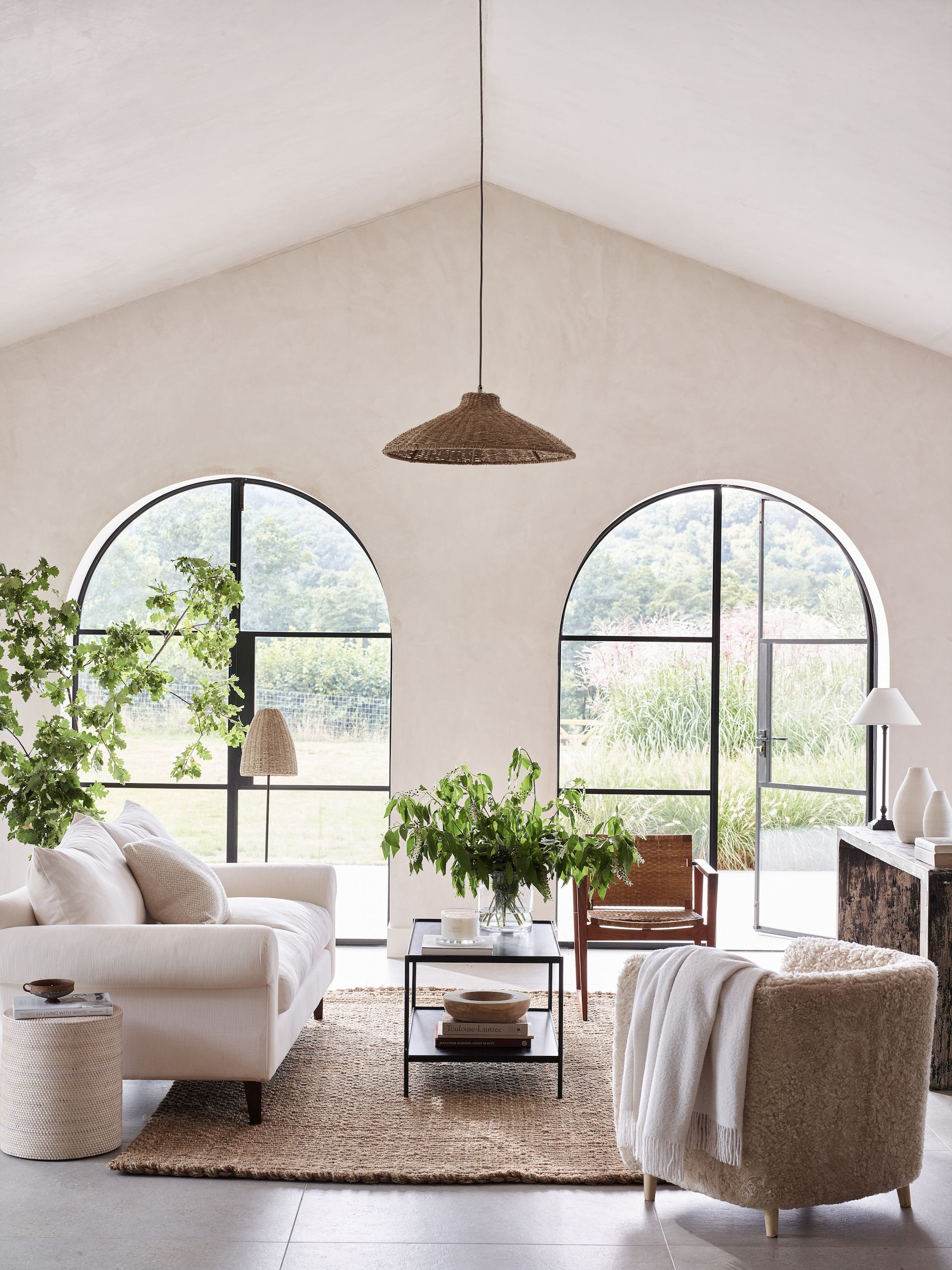 'A white scheme is brilliant for bringing lightness and serenity to a space and white-painted walls will instantly brighten up a gloomy room at this time of year. Always opt for warm whites rather than cold, bluey-white tones. Ivory, alabaster, chalk; there are countless soft whites on the market so get in some sample pots and try before you buy,' says Mark Winstanley, chief creative officer of The White Company (opens in new tab).  
'With some chilly nights still on the horizon it pays to keep the tactile pieces to hand – sumptuous blankets, cozy sheepskin armchairs and textured rugs. You can bring spring in too with some lush indoor plants placed by the windows and greenery in a large vase for your coffee table, it will lighten your mood and invoke that wonderful feeling that the season will be changing imminently.'
9. Swap out heavy drapes for lighter fabrics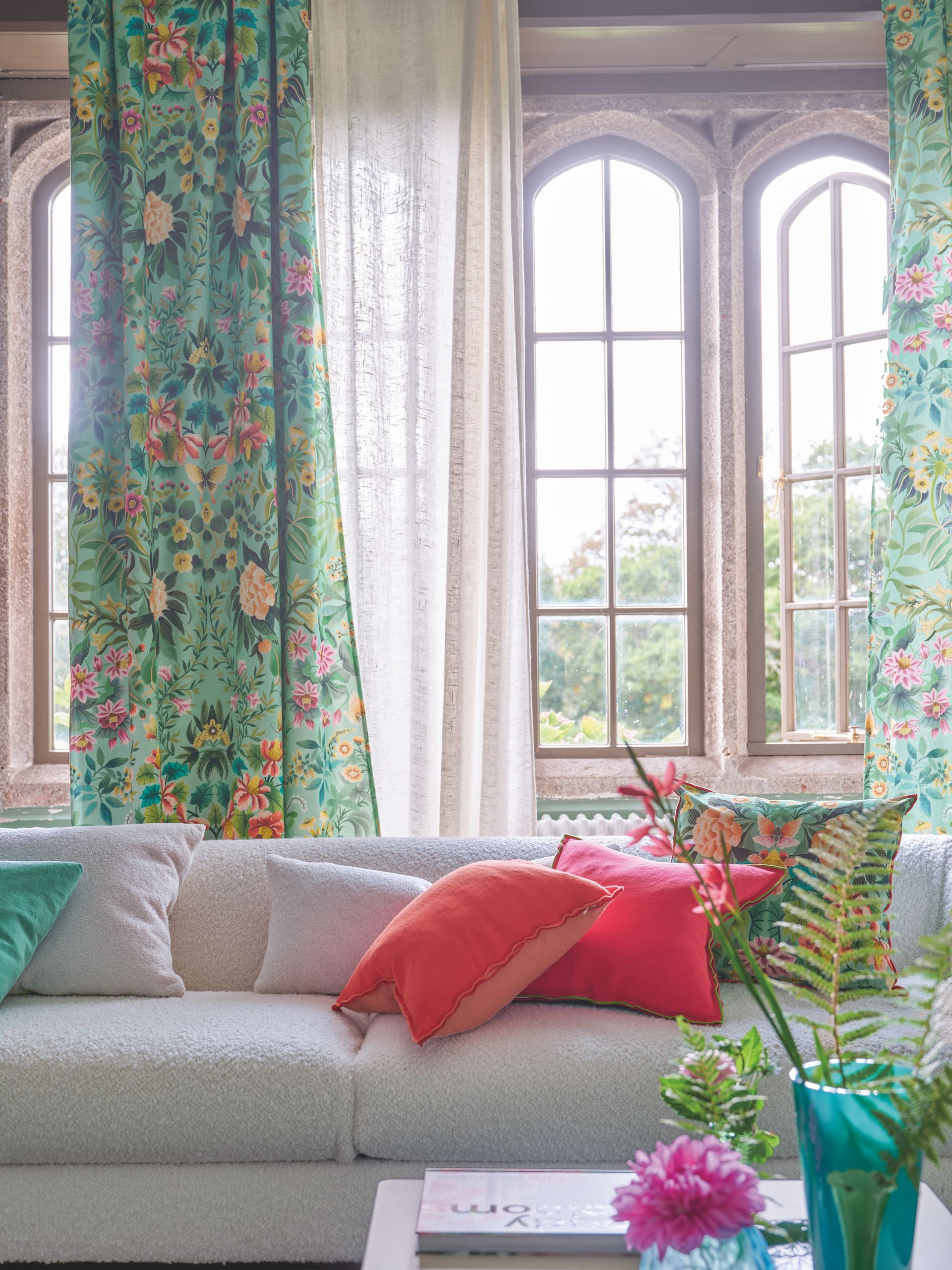 'As we transition into the season of hope and optimism, where we see nature at its prime beauty – the trees and flowers blossoming and the new green leaves. Bring the nature inside into your living space to reflect on the stunning season of spring,' says Tricia Guild, creative director and founder of Designers Guild (opens in new tab). 
A great way to do this is by swapping your drapes for lighter more airy fabrics and integrating then with a spring design. We still need some protection from the cooler temperatures so this is a solution that works well. Declutter windowsills too if you keep things on them; the key at this time of year is to let in as much natural light as possible. 
10. Declutter and introduce new storage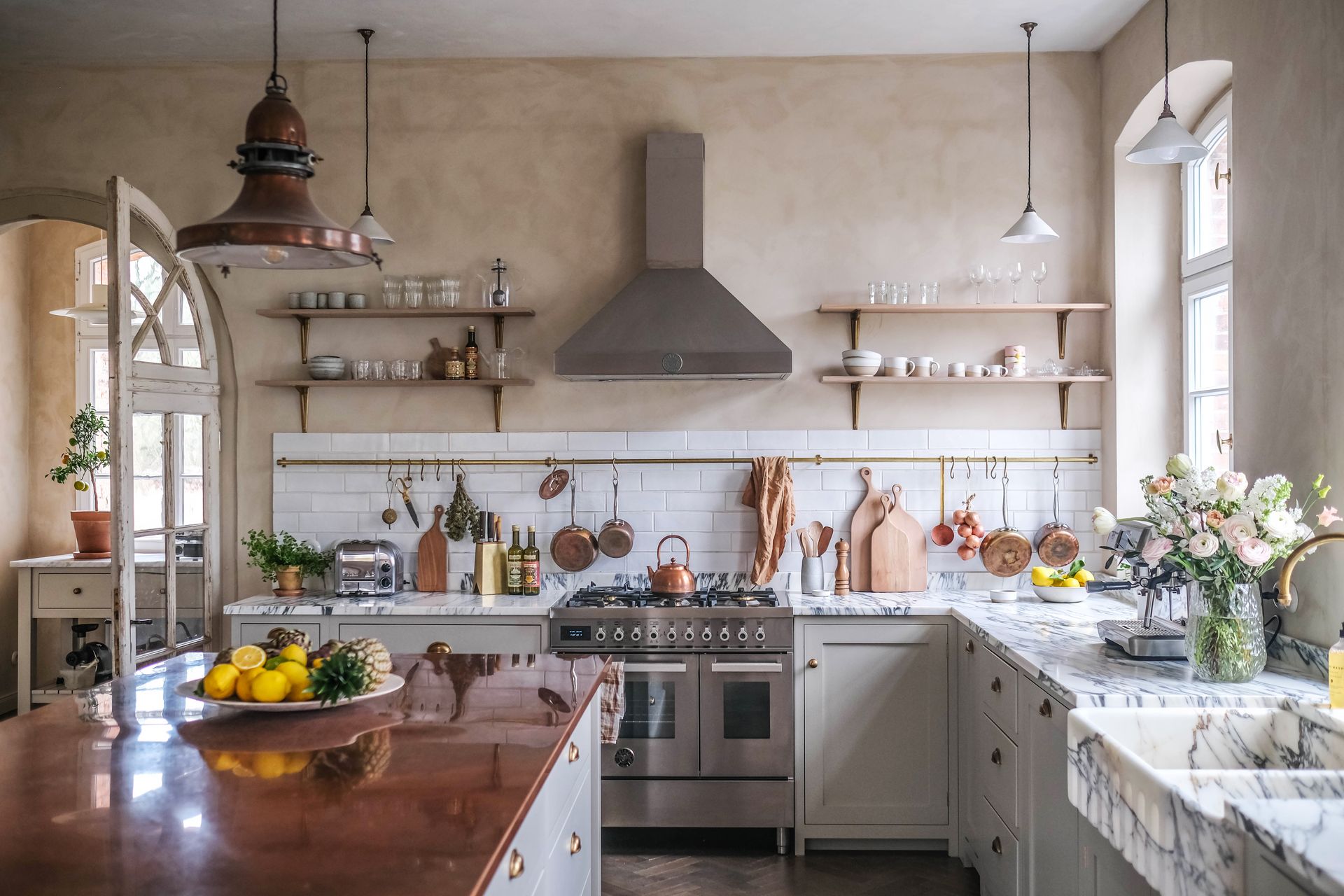 Spring is the perfect time to improve your storage ideas, whatever the room.
'The age old piece of advice, but a must, is get rid of stuff and do with less by having a good declutter. Try to have really nice things rather than just everything you have ever been given since you left home! We all do it, we think "well I may need it one day". Chances are we won't, especially if it's 20 old Tupperware boxes without lids, or a selection of saucepans that may come in handy if you have 100 people over for Sunday lunch!' says Helen Parker, Creative Director of deVOL Kitchens (opens in new tab).
'If you have lots of linens, then slim wide shelves behind glass is a good idea. If you have a lot of pots of pans, then think about a ceiling pot rack as this makes life so much easier than stacking them in cabinets. If you have a collection of vintage or craft crockery, you may wish to use this everyday so again open racking or shelving is by far the easiest and most attractive option. A simple pot rack above a cooker, nothing too ornate, a simple utilitarian rack allowing you to easily store and reach your biggest and heaviest pans, they are such a great look, practical and hold way more than you could ever fit easily and accessibly in a cabinet. 
'Hanging rails are a big yes too. I love nothing more than a brass rail and all the storage display options it gives me. Plants on the ceiling, tea towels by the sink, dried chillies above the range. The list is exciting and endless if you pick a subtle understated slim rail.'
11. Choose a spring accent color to invoke the new season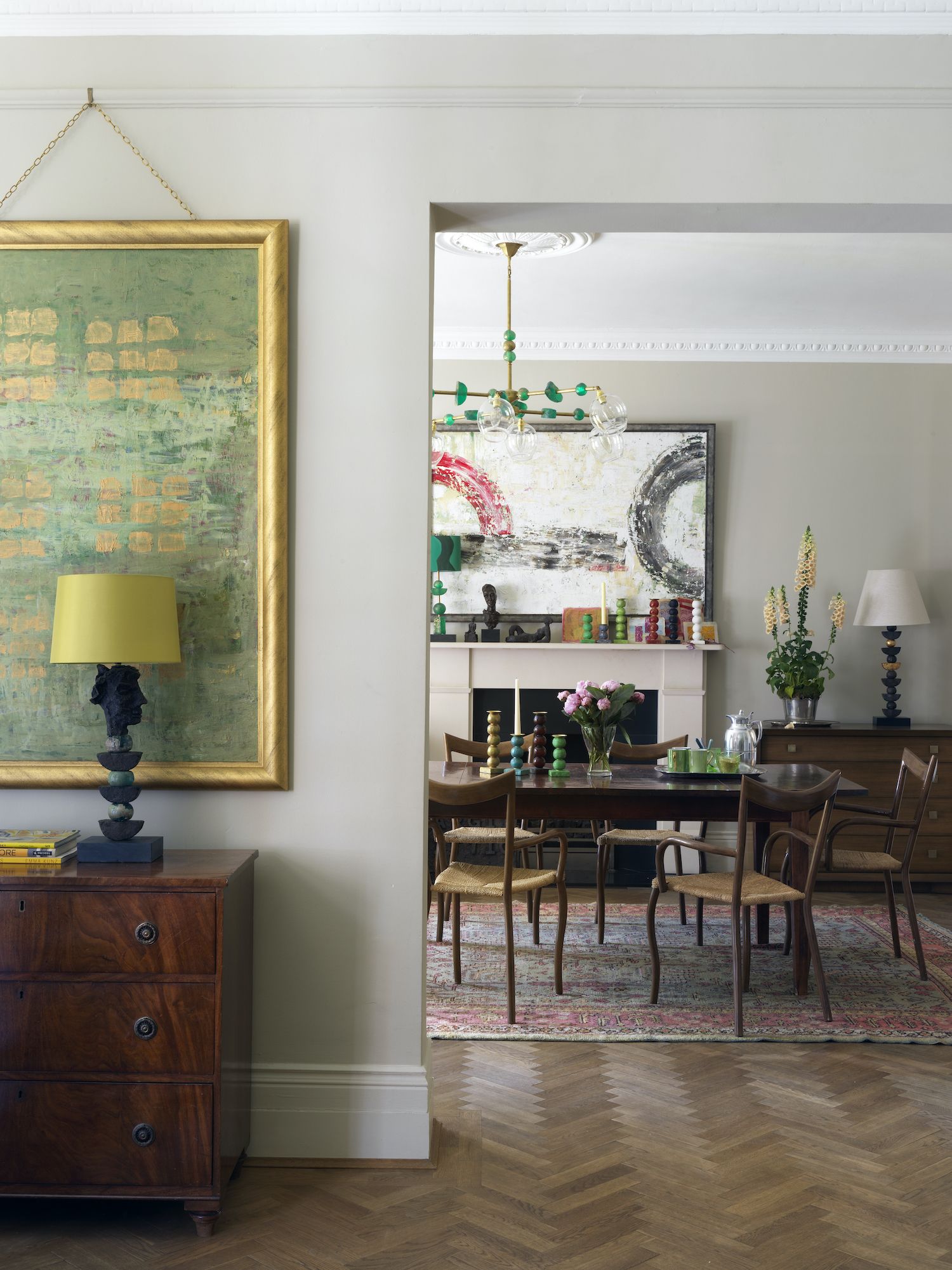 Green and yellow are the two colors most synonymous with spring and as such they work well as accent shades within an existing scheme. Here, global artist and sculptor Margit Wittig (opens in new tab)'s recurring hue is green, and gives us a glimpse into her dining room and her favorite color palette:
'Green with various yellows mixed in – I do also enjoy a richer bronze color and the subtler moon gold as accompanying colors to green in my work. Alongside the bronze I use, I play with monochromatic lamp designs and add greens or an accent color for contrast.
'I always build my color; when mixing I always bring the previous color into the next one to relate the colors to each other across the piece and to stay within a family of color, that works well as a whole.'
You can see how Margit uses her Emerald Chandelier as a starting point and then places the candlesticks and table lamp in various green hues as an accent throughout the space. 
12. Address lighting problems that bugged your over winter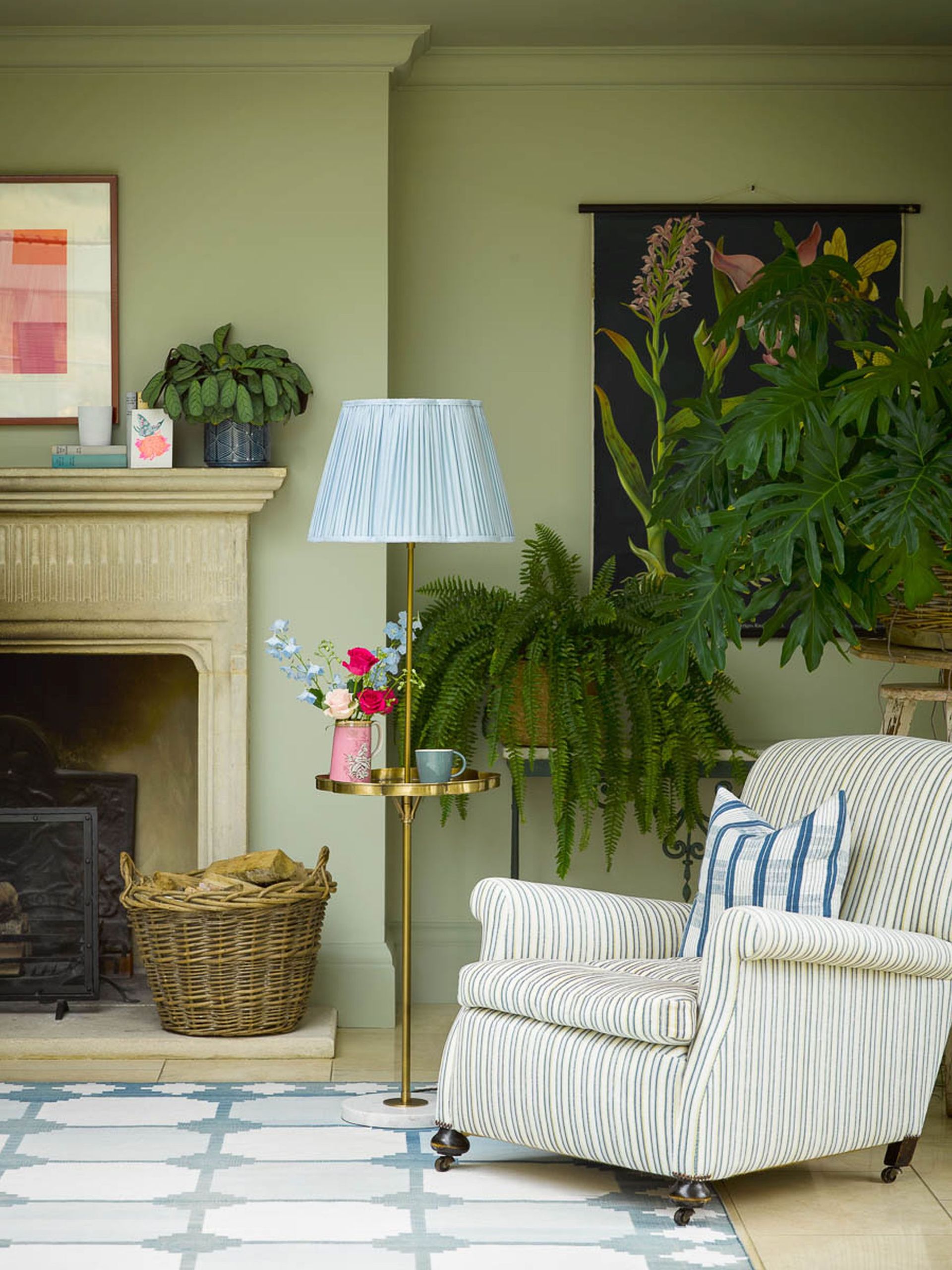 The time of year dictates how we approach our lighting – in the darker months there's no doubt that we need extra lights but did they work for you? As we move into spring it's time to evaluate what worked and what didn't and maybe drop a few 'layers' as the evenings get lighter. 
Another option is to lighten up – excuse the pun – and swap out your lampshades:
'A simple switch for spring could be as quick as incorporating softer colors and materials into lighting and accessory choice. Something as small as changing a lampshade from cozy burgundy to a bright, airy pastel can lift the feel of a room, shifting the mood from warm and snug to fresh and light,' says Jo Plant, head of design at Pooky (opens in new tab). 
13. Update woodwork and revamp cabinetry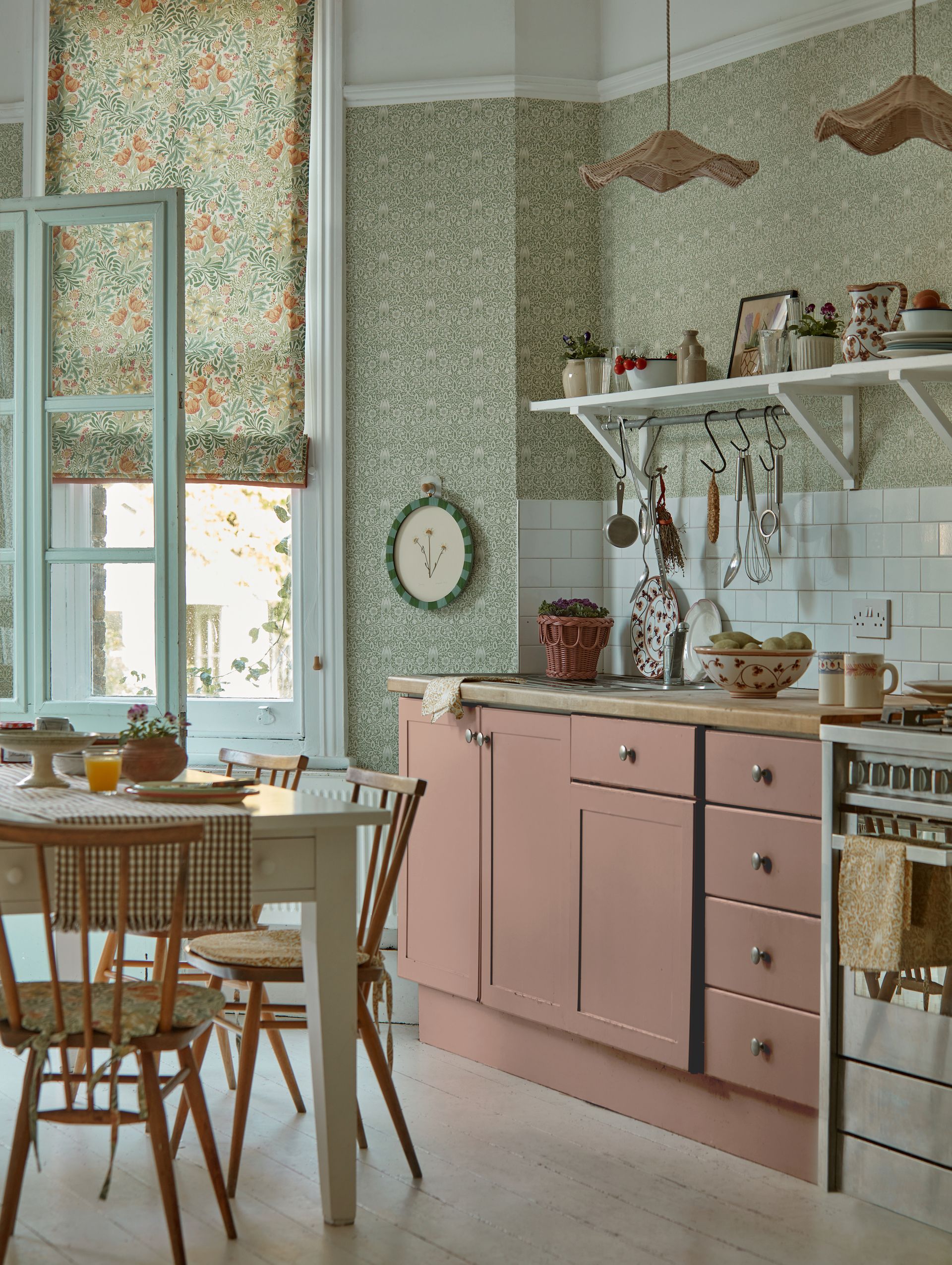 'Spring is around the corner and with it is the perfect excuse to freshen up your home,' says Jessica Clayworth, lead designer at Morris & Co (opens in new tab).
'Start by selecting a hero design, pattern or color and everything else falls into place around it. The kitchen is a great place to start as you can give your kitchen a quick and easy refresh by giving the cabinets a lick of paint. Pastel colors work really well together and mixing complementary shades of green and pink is really on trend this year. For example, salmon pink and sage green work seamlessly as a spring palette.'