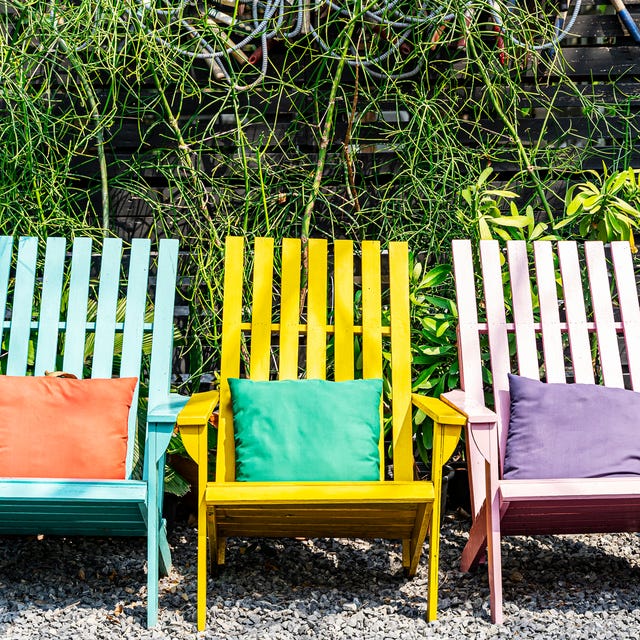 Tawan Chaisom / EyeEmGetty Images
It's official, colourful gardens are in for 2022! We've long been advocates of creating personalised spaces in the home through colour (in small and large doses) and as the garden takes centre stage this spring/summer, attention is turning to extending the joyful colour palettes of our interiors into the great outdoors.
An analysis of Pinterest data by garden furniture retailer Moda Furnishings shows that 'colourful gardens' are top of the agenda this year, with five million pins around the keyword filling inspiration boards. And when it comes to trending colours, the research found greens, neutrals, pastels, blues, purples and yellows are among the most popular.
Looking to give your garden a refresh or total makeover? The first step to a colourful garden is the plants you choose, so we've thrown in a few plant suggestions below to help you add colour to any container or border (plus, read our guide to year-round colour in your garden). Once you've got that sorted, you can turn your attention to decorating. Keeping the colourful garden trend in mind, we've rounded up some colourful garden furniture and accessories – the kind that will not fail to add a pop of playfulness to your outdoor space.
Advertisement – Continue Reading Below
1
Lois Set of 2 Armchairs
marksandspencer.com
£119.00
We just love the these coral armchairs, perfect for a contemporary garden or balcony. The woven seats are suspended from metal frames for a clean and modern outline.
2
Kolbe Garden Corner Sofa
Utilise your garden corner with a splash of navy blue. The contemporary flatweave and acacia wood trims give this corner sofa a sophisticated finish.
3
Firefly Solar Powered Caged Lantern
House Beautiful
Homebase
£6.95
This solar powered lantern, with firefly effect warm white LEDs, charges in direct sunlight to automatically illuminate at night. It'll cast a beautiful warm glow over your patio, flower pots or borders.
Style tip: Hang in groups for a magical evening glow.
4
Rive Droite Bistro Set – Small – Lagoon Blue
gardentrading.co.uk
£160.00
Proof that small and bold can work hand-in-hand, this French-inspired sky blue bistro set is designed for any sized space, from courtyards to patios and balconies. It's foldable, too.
From russet to scarlet orange, and bright yellow to ochre tones, the prolifically flowering Marigolds are real beauties.
Flowering period: May to the first frosts
6
Indoor & Outdoor Salsa Rug
John Lewis & Partners
£100.00
An outdoor rug is an essential if you want to either zone your garden or create an outdoor living room vibe. This multi coloured striped rug from John Lewis is ticking a lot of boxes.
7
Gerda Outdoor Table in Forest Green
housebeautiful.co.uk
£262.00
A versatile garden table in a luxe forest green, this minimalist design makes for a permanent fixture in your outdoor space. It folds away for easy storage.
8
Ipanema 2 Coffee Tables – Yellow
Pop your drinks and a bowl of nibbles on this sunshine yellow coffee table made from metal and wicker. The ultimate colour of joy, this table will illuminate in the sunshine. It's a great space-saver too, the smaller one can nicely slide into the bigger table when not in use.
9
6in Balcony Hanging Pot Teal
House Beautiful
Homebase
£4.45
Add effortless colour to your plants (and the surrounding area) with a bold plant pot. From the House Beautiful collection at Homebase, this teal hanging planter is ideal for fences, balconies, walls and railings. It has a lovely textured finished and chrome effect edging.
With large, golden-yellow, daisy-like flowers, Rudbeckias are perfect for creating colourful displays. These perennials offer a reliable splash of colour year in, year out.
Flowering period: August to October
There's no better way to while away hours in the sun. Handmade from a durable blend of cotton and polyester, this striped hammock can be hung between trees in your garden or from a hammock stand (sold separately).
12
Sunflower Yellow Metal Garden Bench
Rockett St George
£245.00
A mustard yellow bench? Yes, please! We love the peacock style iron frame and curved armrests. Just layer some outdoor cushions and add an outdoor rug for the perfect relaxed corner.
13
Guinguette Side Table – Cactus
You could use this side table on wheels as a drinks trolley, to serve nibbles, or as a plant pot stand. The perforated laser-cut design gives it an elegant finish.
hydrangea
crocus.co.uk
£15.99
These shrubs offer definite flower power. Perfect in pots or a border, in summer this Hydrangea goes from pale lime green flower buds to bold, blue blooms.
Flowering period: June to September
15
Mika Mustard Scatter Cushion
modafurnishings.co.uk
£40.00
We love the pattern on this luxurious textured cushion. Weatherproof but with a wool-like finish, buy several to layer on your outdoor sofa for ultimate comfort.
16
Max Indoor / Outdoor Bean Bag
John Lewis & Partners
johnlewis.com
£85.00
Looking for some casual lounging options for the garden? Invest in a beanbag. This teardrop-shaped bean bag is perfect for relaxing in the sun or shade.
17
Salsa 5-Seater Corner Garden Sofa
John Lewis & Partners
£379.00
This five-seater corner sofa is a scene-stealer. Definitely bringing a playful touch to your outdoor space, this two-tone yellow sofa is ideal for contemporary gardens.
A true delight in any garden, these tomato-red, funnel-shaped flowers appear among pleated mid-green leaves for a colourful display.
Flowering period: August to September
19
Yuri Garden Lounge Chair
Bring the tropical vibes to your garden with this multi-woven pink, green and black lounge chair. The slim angled legs bring a 60s feel.
20
Pixel Stripes Water Resistant Garden Outdoors Cushion
Notonthehighstreet
£24.99
US$35.43
An easy way to bring colour to your outdoor space is through accessories, and this striped cushion is perfect to add some vibrancy to a grey outdoor sofa or wooden chair.
21
Salsa Garden Bar Table & Chairs Set
John Lewis & Partners
johnlewis.com
£229.00
Providing a true burst of colour, this teal set – two tall garden bar chairs and a tall round garden bar table – will become the focal point of your garden. This steel and polyweave construction is both durable and weather-resistant, so you can even leave it outside throughout the year.
22
Cornus sanguinea 'Midwinter Fire'
A true sight to behold, the green leaves of this shrub turn bright shades of orange-yellow, before falling to reveal spectacular orange, red and yellow bare stems.
Flowering period: May to June
This content is created and maintained by a third party, and imported onto this page to help users provide their email addresses. You may be able to find more information about this and similar content at piano.io
Advertisement – Continue Reading Below