Making a dedicated outdoor space for cutting garden flowers is always a lovely idea, no matter how big or small your backyard. That way, you can decorate your home with freshly cut, seasonal blooms – a simple but surefire way to brighten any interior scheme. And, by growing the flowers you love best, you can curate arrangements perfectly suited to your tastes, from vibrant jam-jar posies to soft and organic displays with wispy grasses and pastel hues.
Perhaps the best part of planning a cut flower garden is choosing which blooms to grow. A good starting point is to think about color. By picking plants in hues that complement one another, however they're combined, creating show-stopping bouquets will feel effortless.
'I like to mix vibrant pink cosmos and dahlias and dusky pink zinnias with pops of orange from Mexican sunflowers and crocosmia for colorful late summer arrangements,' says stylist Selina Lake (opens in new tab).
'My favorites are sweet peas, dahlias, Mexican sunflowers and cosmos,' she adds. 'These are great choices as picking the flowers regularly encourages more flowers to bloom, giving you a constant supply for cutting.'
In this guide, you'll find 10 top choices for fabulous cutting garden flowers to grow – plus extra planting tips for sunny and shady areas.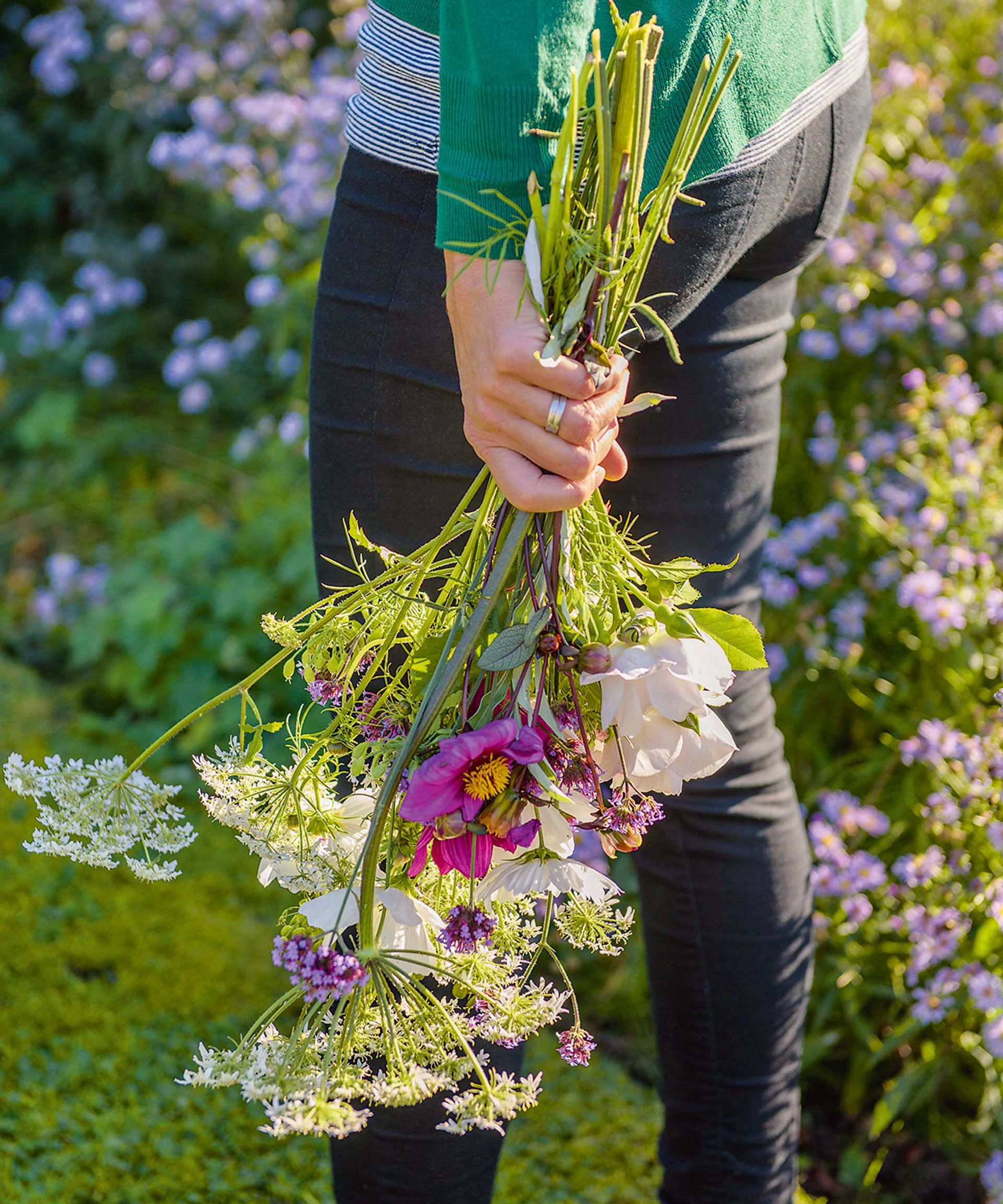 10 cutting garden flowers to add to your yard
Introduce these planting picks to your cutting garden flower bed ideas for plenty of show-stopping blooms that look beautiful both indoors and out. Some are dainty and subtle, while others offer drama and rich jewel-like tones. You'll find fragrant options in this mix, too.
A self-proclaimed flower addict, Holly almost always has a vase of fresh blooms in her home to provide inspiration for her writing and painting. When she acquired an allotment, her first addition was a cutting garden. Here, she grew armfuls of cosmos and sweet peas in summer, and muscari, tulips, and a range of unusual daffodils in spring.
1. Cosmos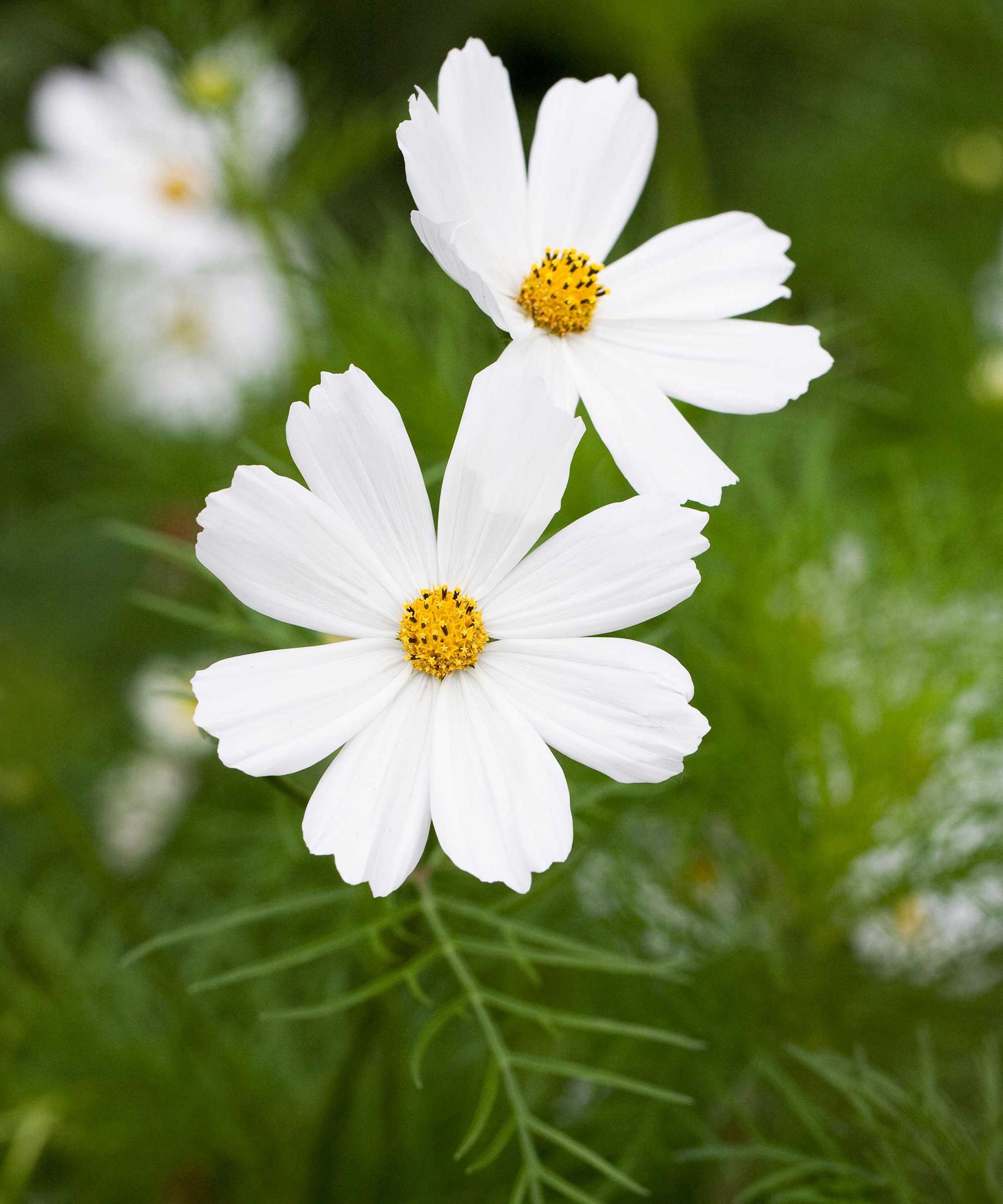 Height: 2-4ft
Hardiness: USDA 2-11
Vase life: 5-7 days
Cosmos are top of my list for must-have cutting garden flowers. I've grown a whole bed of 'Purity' (shown above) before – a simple, white variety with yellow centers, silky petals, and wispy green foliage. They sway delightfully in the breeze and, when brought indoors, are perfect for laid-back-yet-elegant summer arrangements in simple glass vases. I started the seeds off indoors, giving them plenty of light, and planted them out when they looked sturdy enough and any risks of frosts had passed.
There are plenty of other pretty varieties to choose from if you fancy a bit more color. 'Apricot Lemonade' is a soft, peachy tone, fading to pink towards the center, while 'Velouette', available from Burpee (opens in new tab), has rich red stripes. Look out for the semi-double and double varieties, too, for a frillier affair.
Plant these annuals in full sun in fertile soil, and be prepared to add supports if needed. Harvest them when the flower buds show color but aren't quite open. The more you pick, the more will appear, from midsummer to fall.
2. Dahlias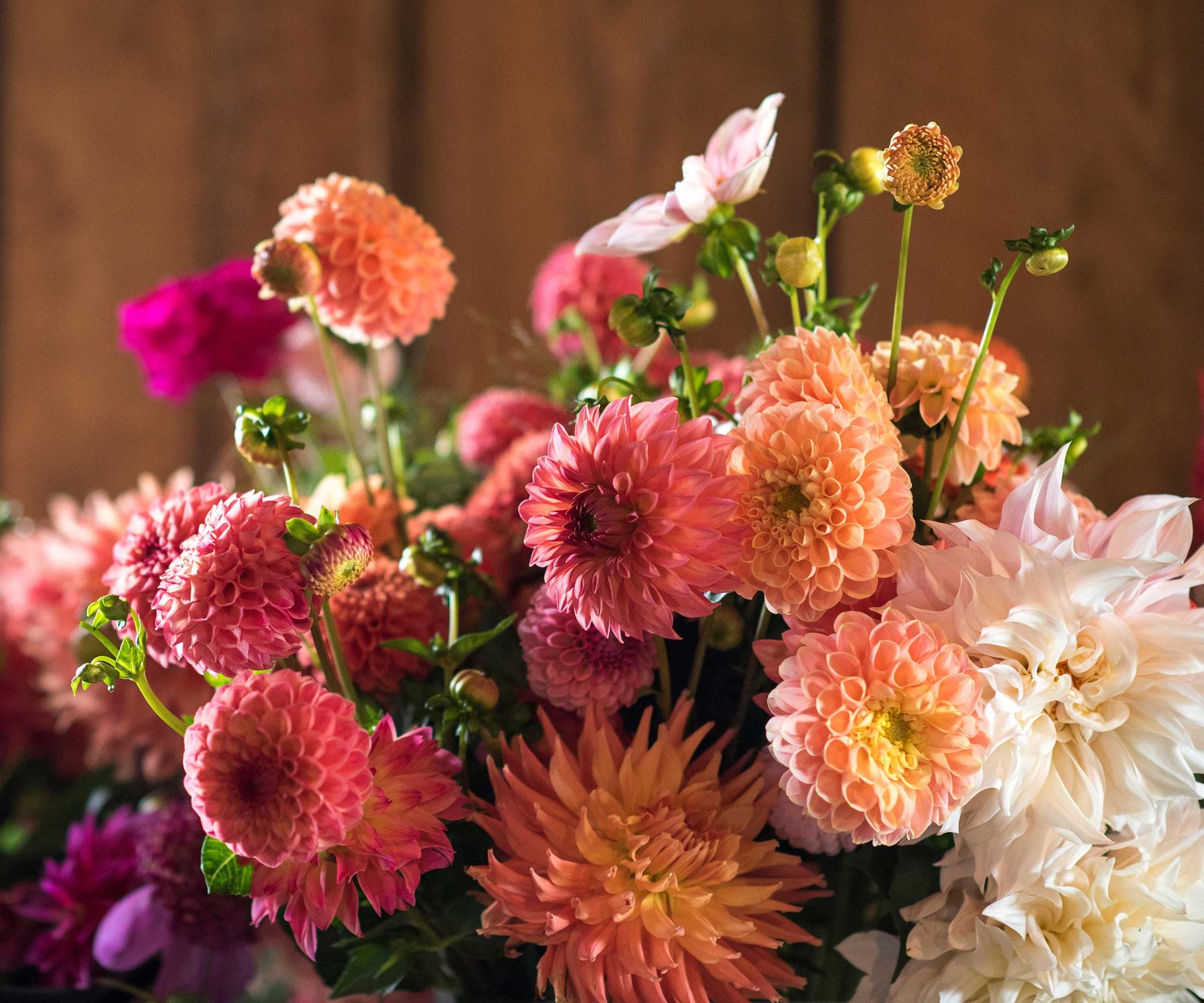 Height: 2-4ft
Hardiness: USDA 8-11
Vase Life: Up to 5 days
Dahlias have made a comeback in recent years, with varieties such as 'Café au Lait' – with its huge, soft-pink, blousy blooms – gracing Instagram feeds and stealing the hearts of many. 
The beauty of dahlias is there are so many colors and forms available. Some are open and informal, some are tightly packed and intricate. The ones with prominent centers are good for pollinators. All make excellent additions to an indoor floral display, either by themselves or in a mix. You can find a wide variety to buy from Burpee (opens in new tab).
These perennials will bloom until the first frosts. Overwinter dahlias by lifting and storing the tubers, or, in warmer climes, by covering them in mulch.
They do best when planted in full sun, in rich, well-drained soil. Like cosmos, you may need to provide supports. Cut them when the flowers are almost fully open, and then place the last inch of the stems in boiling water for 20 seconds or so to prevent them from flopping in the vase.
3. Roses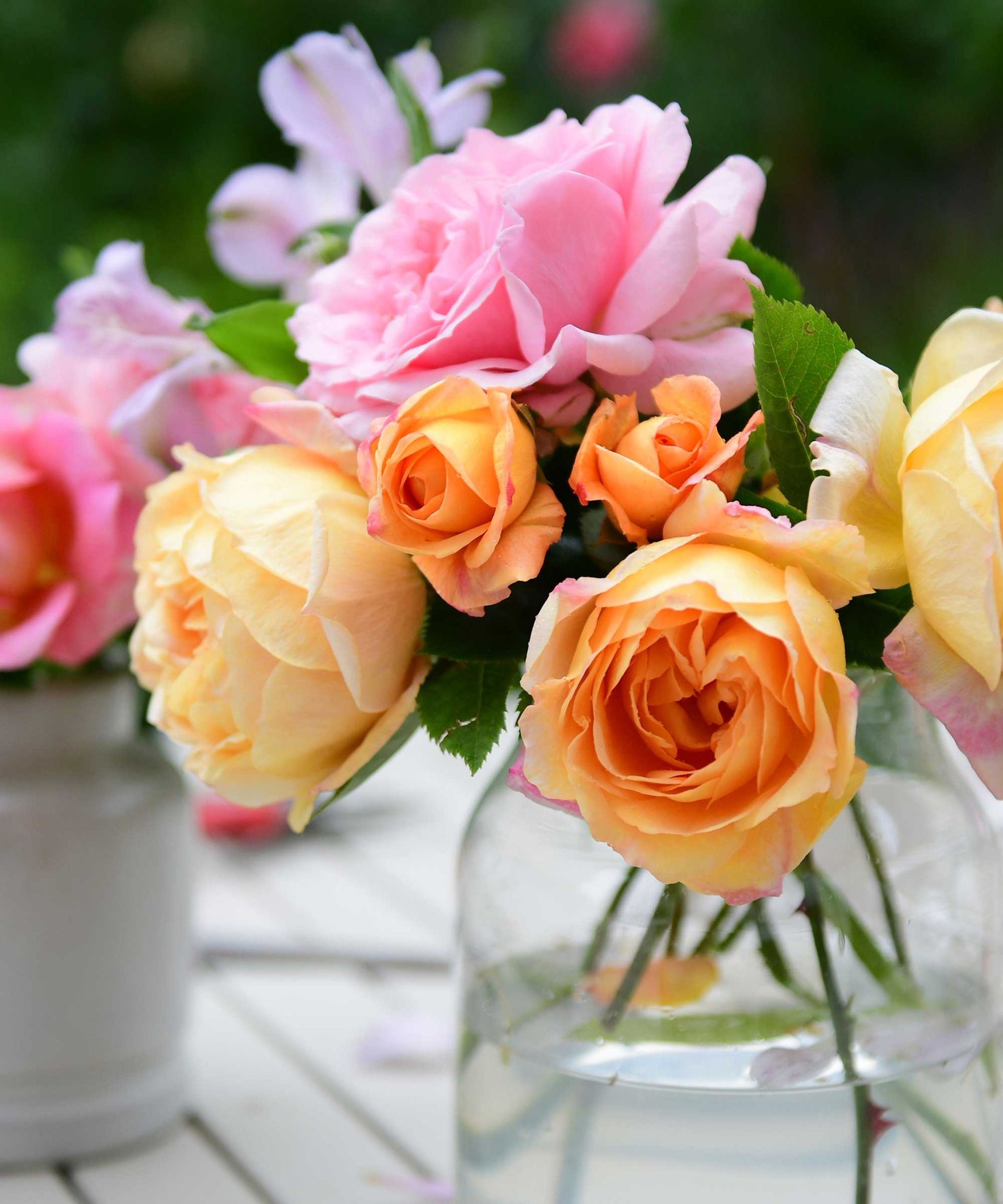 Height: 2-4ft
Hardiness: USDA 5-8
Vase life: 7-10 days
Every cutting garden will benefit from roses. From snowy white to pale pink, crimson, red, and even yellow, there are all kinds to choose from. And of course, the added bonus of these cottage garden stalwarts is their beautiful fragrance, which is sure to delight as it fills the room.
'I find that "Gertrude Jekyll" and "Constance Spry" [shown above], with their highly-scented pink rosettes, work well with a few stems of nigella, whose lime-green feathery leaves top the purply-blue flower like the ring-setting for a glamorous jewel,' says Jane Cumberbatch, author of Pure Style in the Garden, available on Amazon (opens in new tab). 
'The pink/blue/lime-green combination is a favorite,' Jane continues. 'I don't usually go for elaborate vases and containers. A simple, utilitarian look tends to be my choice: glass jam jars, rounded pudding basins, enameled jugs.' 
Plant roses in full sun, in rich soil that is neither parched nor waterlogged. When you go to harvest them, choose the ones where the first petals are just starting to unfold from the buds. For best results, cut the stems at an angle and dip them in hot water before arranging.
4. Alchemilla mollis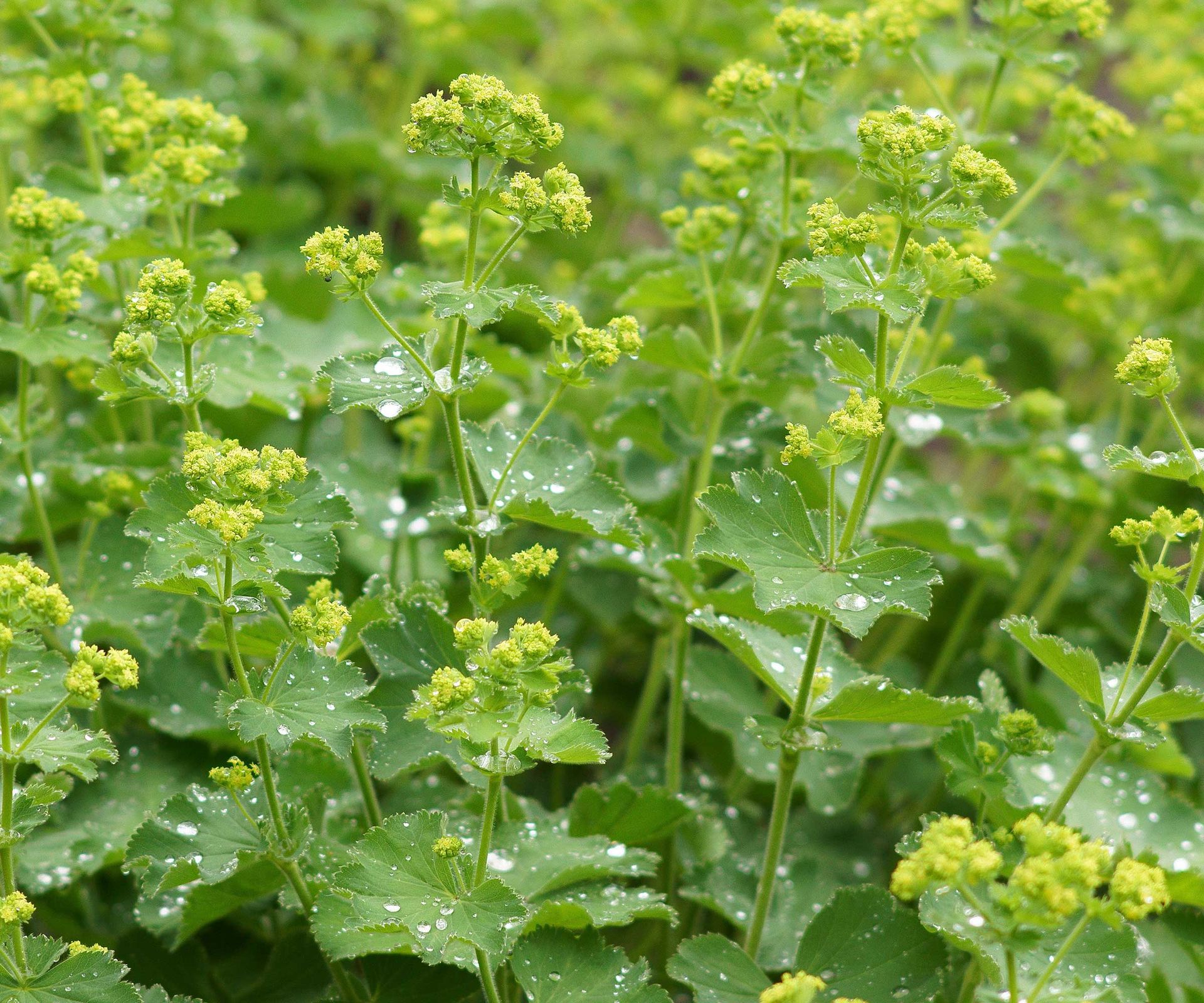 Height: 20in
Hardiness: USDA 3-8
Vase life: 7-10 days
The frilly-edged foliage of Alchemilla mollis is a feature in itself, which collects raindrops like small jewels. But, in spring and early summer, it also boasts tiny, star-like, acid-green blooms which add a zing of color to smaller floral displays: think buttonholes and crowns.
'Cut back hard after flowering for a second flush of blooms in late summer,' recommends Louise Curley, a garden expert from Amateur Gardening magazine. 'Cutting will stop it self-seeding everywhere.'
It grows best in sun or partial shade. Harvest just as the flowers are beginning to open.
5. Sweet peas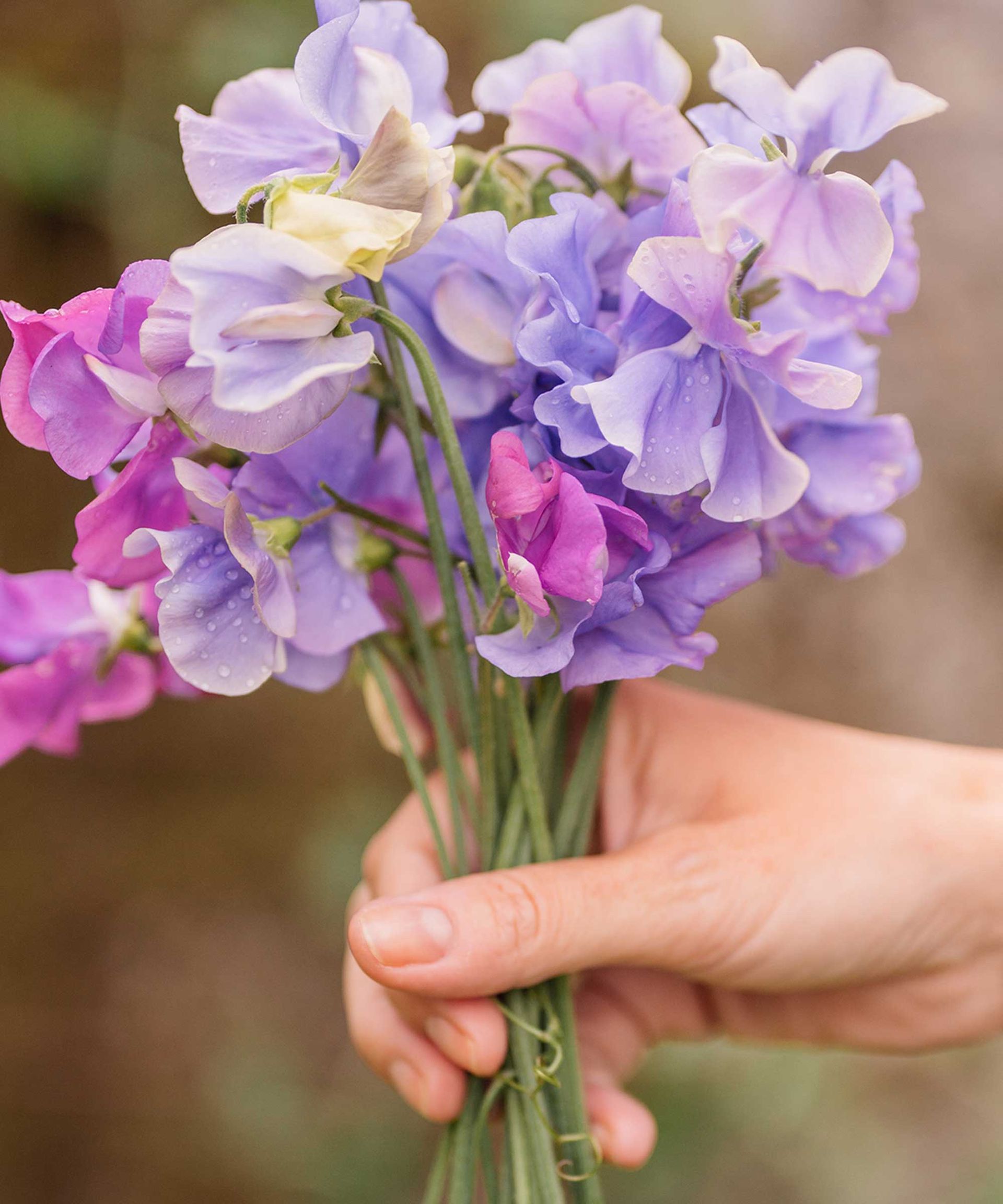 Height: 2-8ft
Hardiness: USDA 2-11
Vase life: 3-7 days
Sweet peas are another of my personal favorites, and you can buy the seeds from Amazon (opens in new tab). For me, their heady fragrance simply can't be beaten, and when grown correctly (they are hungry plants that need rich, well-drained soil and plenty of water and sunshine), they are amazingly prolific.
'This annual climber has one of the best perfumes in the garden,' agrees Louise Curley. 'Flowers last about three days when picked, but the more you cut, the more the plants will produce. Grow up netting, or use sturdy beanpoles for support.'
Cut stems where the lower flowers have opened, but the top ones are still unfurling.
6. Lagurus ovatus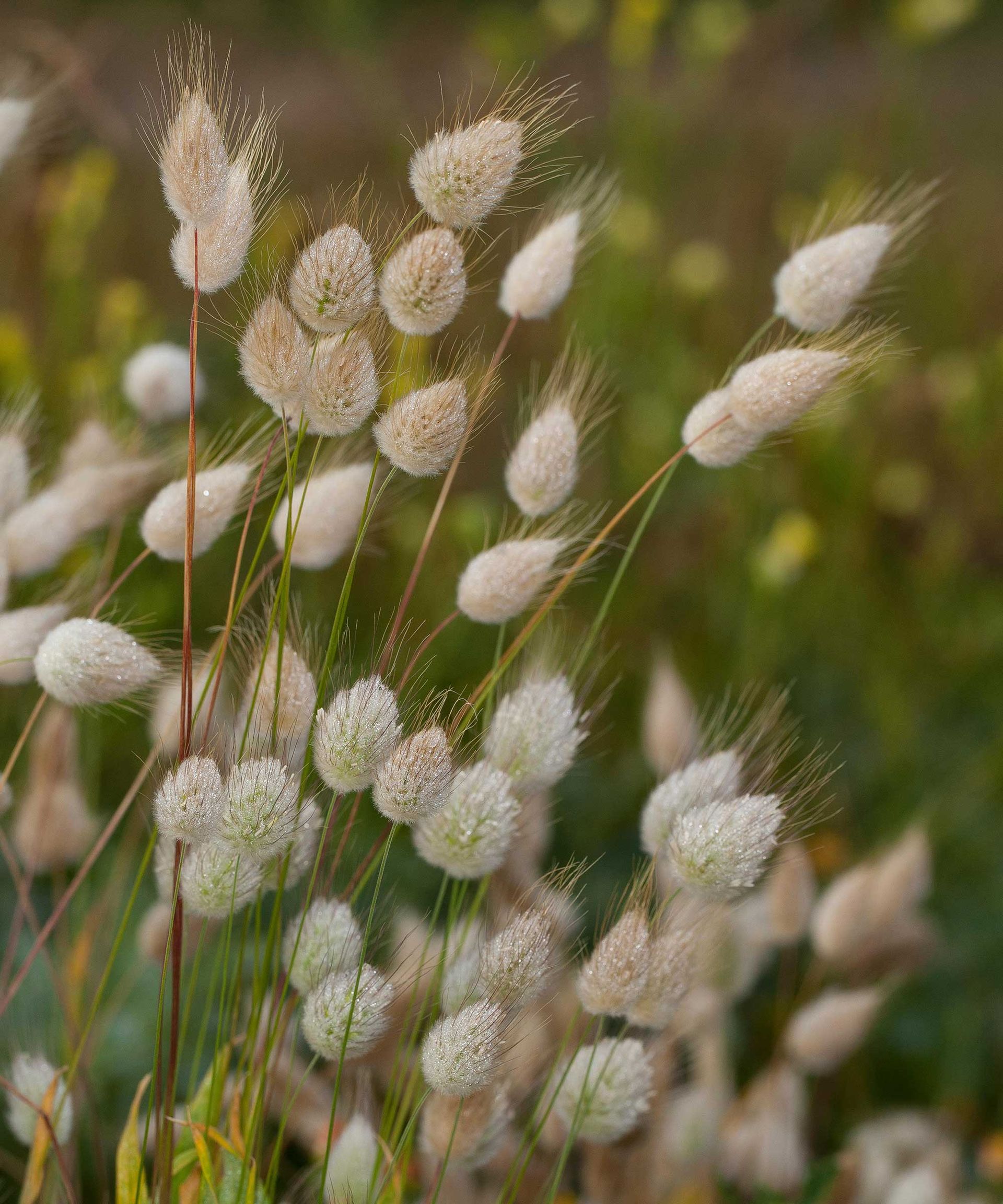 Height: 8in
Hardiness: USDA 4-10
Vase life: For months, when dried
Ornamental grasses make architectural additions to a floral display, and Lagurus ovatus is one of the best in our books. 
It's a hardy annual with thin, grassy leaves and soft, silver-gray flowers that look like bunny tails, says Louise Curley. She suggests pairing it with meadow flowers, such as ox-eye daisies and cornflowers. 
It thrives in full sun and well-drained soil.
7. Rudbeckia hirta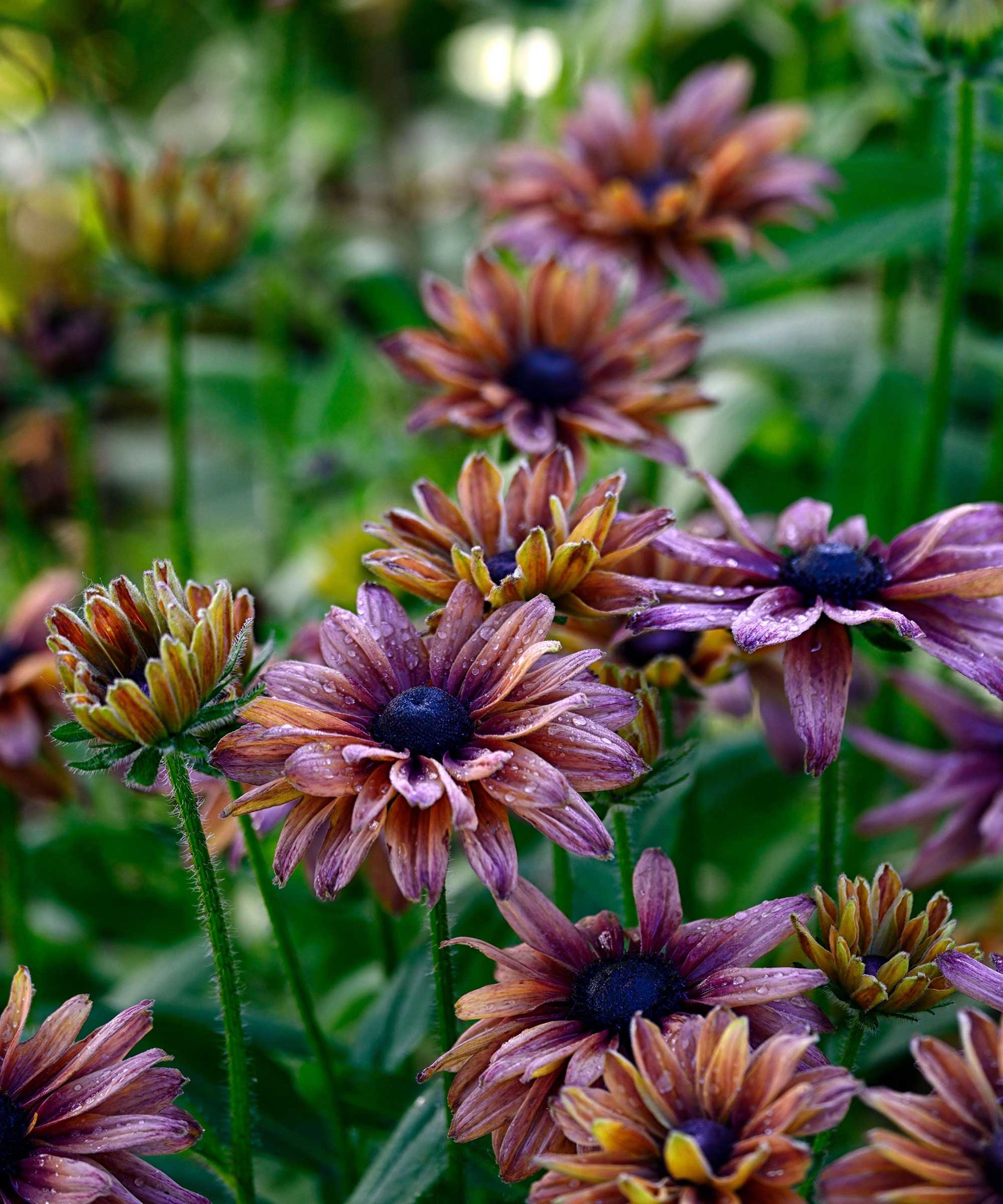 Height: 2ft
Hardiness: USDA 3-7
Vase life: 7-10 days
'While perennial rudbeckias are popular border plants, there's a range of half-hardy annuals that are great for cutting,' says Louise.
Keep an eye out for 'Autumn Shades' and 'Cherry Brandy', she suggests. 'Sahara' (shown above) is another lovely late summer flower, with its large, double blooms in warm tones of golden-yellow, russet, caramel, and sienna.
Sow these plants in early spring, in well-drained compost.
8. Achillea millefolium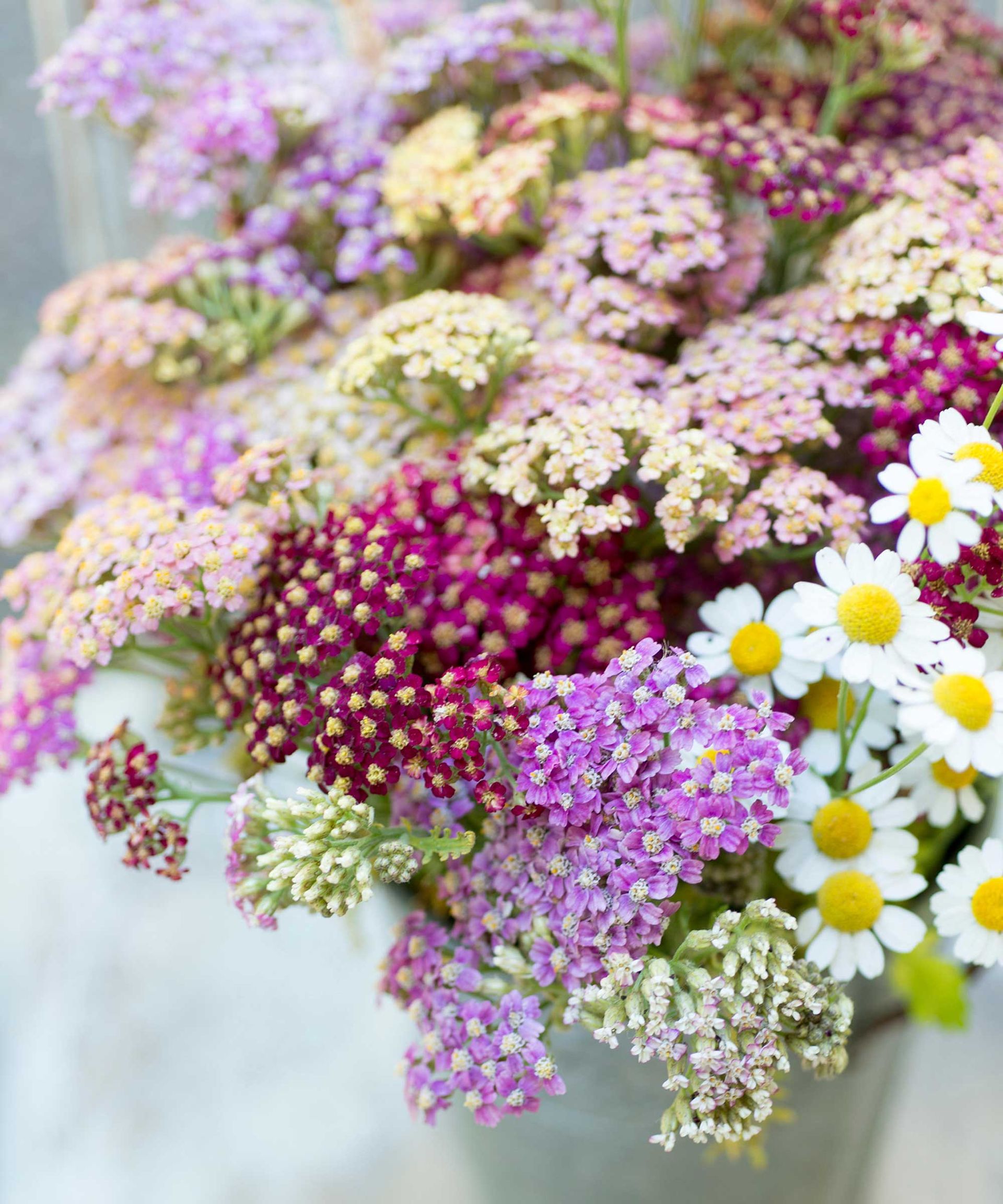 Height: 20in
Hardiness: USDA 4-8
Vase life: 5-10 days
Achilleas can be sown in late winter for midsummer flat-topped blooms in a range of colors, says Louise. The feathery foliage that is generally green but sometimes silver-gray is also attractive. While growing in your garden, it will attract butterflies.
'Summer Pastels' is a good choice for a mix of long-lasting flowers that offers shades of lemon-yellow, lilac, purple, white, red, and pink. Plant it in full sun for best results, and avoid rich or moist soils.
9. Zinnias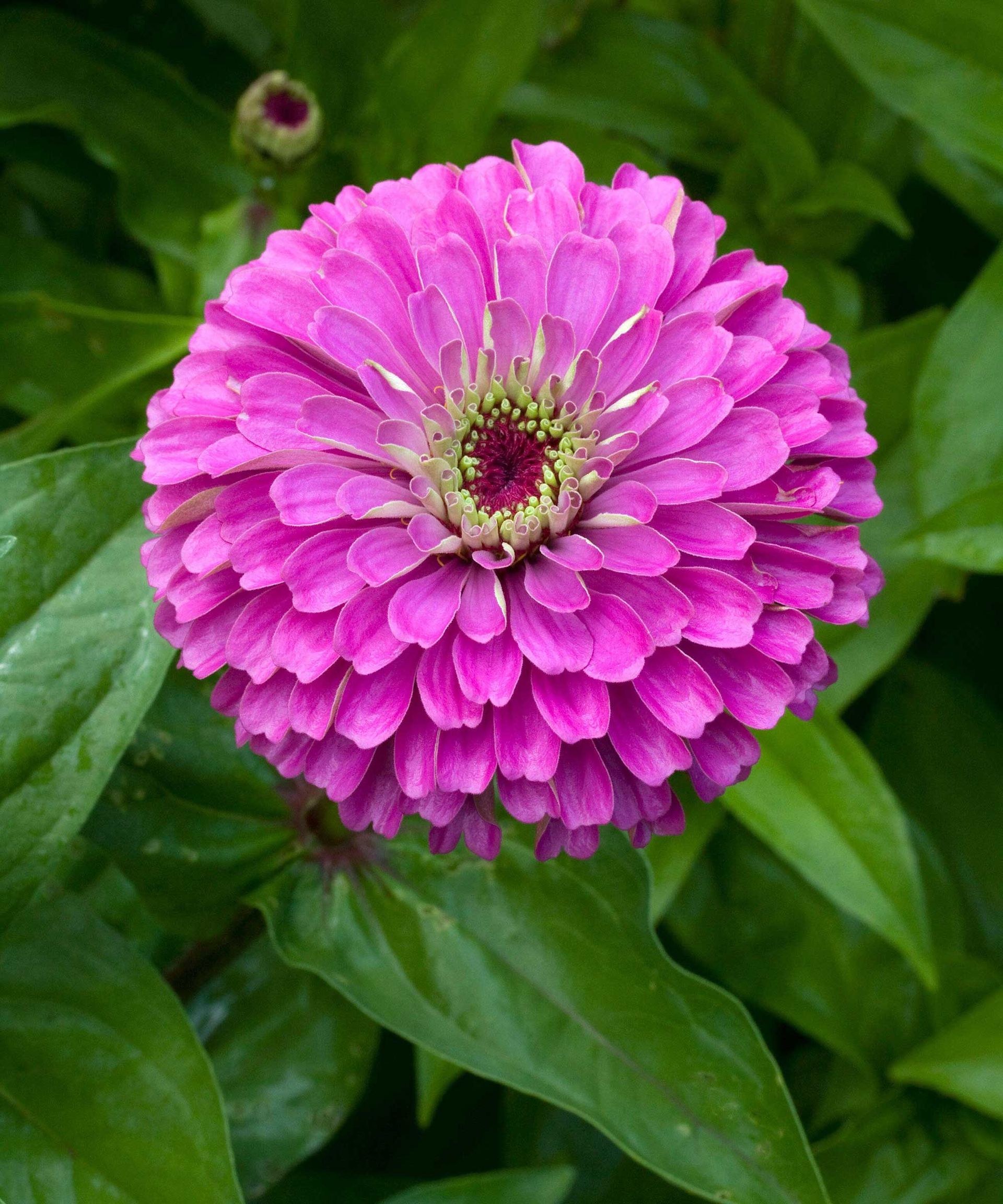 Height: 1-3ft
Hardiness: USDA 3-10
Vase life: 5-7 days
For a sense of opulence, add zinnias to your cut flower garden. There are plenty of spectacular varieties, but Zinnia elegans 'Purple Prince' (shown above, and available at Burpee (opens in new tab)) is one of the best, with its striking purple-pink blooms. For something a little more unusual, try 'Tequila Lime' which has acid-green petals.
Hailing from Mexico, these half-hardy plants prefer warm, sunny, sheltered positions, in well-drained soils rich in organic matter. They will offer flowers from midsummer to fall – harvest them when the stems feel stiff rather than bendy.
10. Sea holly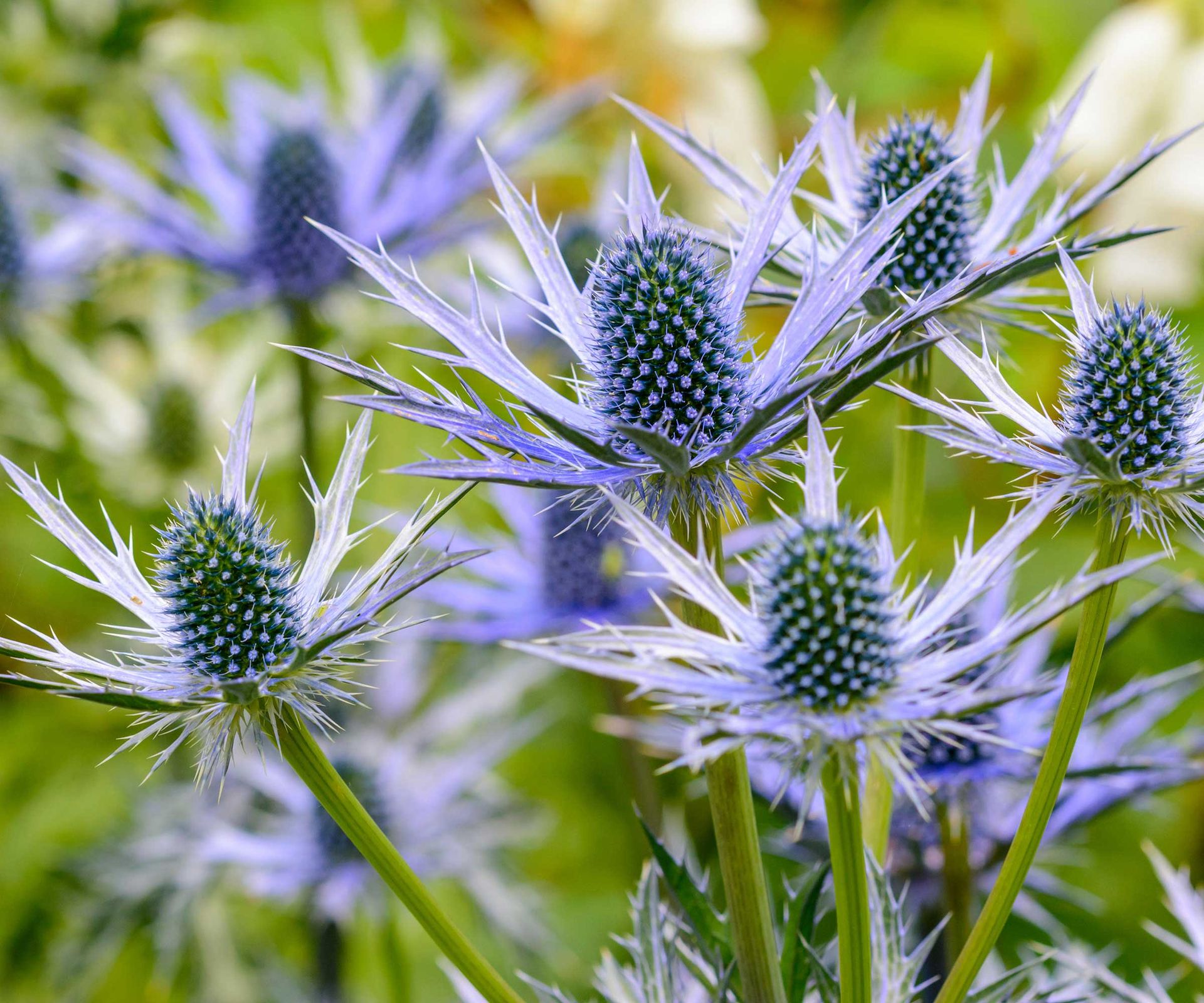 Height: 2-4ft
Hardiness: USDA 4-9
Vase life: 7-10 days
Add drama and structure to your bouquets with spiky sea holly, otherwise known as eryngium. A drought-tolerant plant that likes well-drained soil and plenty of sun, it's a perfect choice for dry gardens.
They come in a variety of sizes and colors – from blue and green to silvery white. Plunge them into a bucket of cold water once picked and before you start arranging – this will help them to last longer in your display.
What cutting garden flowers can you grow in a sunny space?
All of the planting choices above will thrive in a sunny spot. But there are many others to consider, too.
Try tall and airy Verbena bonariensis for graceful structure and tiny-yet-vibrant purple flowers. Long-flowering coreopsis adds a punchy pop of sunshine color, while Phlox paniculata has clusters of gorgeous fragrant flowers. The tall spires of erysimum bring masses of mauve flowers to the mix. Combine these to create a naturalistic arrangement. 
'Fill out your vase with stems of pittosporum, perfect for providing limitless foliage to use as a backdrop for brighter colors, plus a great filler shrub for sunny borders,' says garden designer Amelia Bouquet (opens in new tab).
What cutting garden flowers can you grow in a shady space?
Not everyone's cutting garden is blessed with ample sun. For shadier spots, astilbe is the star of summer with its elegant plumes of feathery flowers and attractive ferny foliage. Consider astrantia, too – its starry-shaped blooms are perfect for creating lacy drifts. 'Both are striking plants that love a shady, dappled spot and look equally good in the vase,' says Amelia Bouquet.
Alchemilla mollis, as listed above, is also a good plant for shade. And for a bold, fiery hue, try orange calendula (marigolds). They will tolerate shady conditions, can be grown in containers, and make excellent cut flowers for arrangements.